Jump to record #9005
Brothers of the Sacred Heart Cemetery
Private cemetery belonging to the Brothers of the Sacred Heart Order. Oldest grave is that of Brother Oraus, who died in September 1867. All headstones are alike: a white stone cross, made and maintained by the brothers themselves.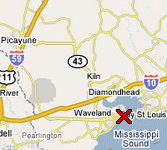 Directions:
From I-10 take the 603 South (= exit 13). Drive to Hwy 90 (about 5.4 miles) and go left. Follow Hwy 90 to Washington Street (1.2 miles), take a slight right turn there. Turn left on Hancock Street after approximately 1.6 miles. The cemetery will be on the left side of the road, between Bookter Street and Union.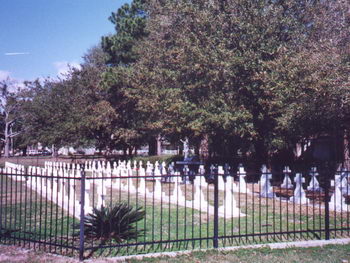 Note: The table below is sorted by grave layout. Use Ctrl+F to search for a specific name, or part of a name.
| | | | | | |
| --- | --- | --- | --- | --- | --- |
| # | Last Name | First Name | Birth | Death | Comment |
| 001 | Adalbert | Brother | 1827 | 1910 | |
| 002 | Adalbert | Brother | 1878 | 1925 | |
| 003 | Adeland | Brother | 1878 | 1949 | |
| 004 | Albert | Brother | 1909 | 1997 | |
| 005 | Albert | Brother | 1821 | 1905 | |
| 006 | Albert | Brother | 1921 | 2005 | |
| 007 | Alcuin | Brother | 1915 | 1998 | |
| 008 | Alexis | Brother | 1898 | 1978 | |
| 009 | Alfred | Brother | 1867 | 1895 | |
| 010 | Aloysius | Brother | 1873 | 1917 | |
| 011 | Alphonse | Brother | 1853 | 1929 | |
| 012 | Alphonse | Brother | 1910 | 1972 | |
| 013 | Alvin | Brother | 1912 | 1961 | |
| 014 | Ambrose | Brother | 1878 | 1945 | |
| 015 | Ambrosius | Brother | 1846 | 1885 | |
| 016 | Andrew | Brother | 1862 | 1939 | |
| 017 | Andres | Brother | 1918 | 1979 | |
| 018 | Antnon | Brother | 1917 | 1995 | |
| 019 | Anton | Brother | 1945 | 2000 | |
| 020 | Aqumas | Brother Sr. | 1908 | 1979 | |
| 021 | Armand | Brother | 1913 | 1977 | |
| 022 | Arnold | Brother | 1871 | 1943 | |
| 023 | Arsenius | Brother | 1866 | 1938 | |
| 024 | Athanasius | Brother | 1822 | 1905 | |
| 025 | Augustin | Brother | 1859 | 1919 | |
| 026 | Babriel | Brother | 1846 | 1877 | |
| 027 | Barrel | Brother | 1926 | 2001 | |
| 028 | Basil | Brother | 1903 | 1979 | |
| 029 | Benedict | Brother | 1907 | 1959 | |
| 030 | Benet | Brother | 1912 | 1940 | |
| 031 | Bennet | Brother | 1931 | 1994 | |
| 032 | Bernard | Brother | 1848 | 1922 | |
| 033 | Bernon | Brother | 1910 | 1995 | |
| 034 | Blaise | Brother | 1911 | 1996 | |
| 035 | Bonnette | Brother S.C. Hubert | 1924 | 2007 | |
| 036 | Bowers | Brother William | 1925 | 1980 | |
| 037 | Brian | Brother | 1955 | 1997 | |
| 038 | Bumanture | Brother | 1887 | 1972 | |
| 039 | Carlos | Brother | 1922 | 1969 | |
| 040 | Carol | Brother | 1907 | 1970 | |
| 041 | Charles | Brother | 1855 | 1917 | |
| 042 | Christopher | Brother | 1906 | 1992 | |
| 043 | Claude | Brother Jean | 1825 | 1911 | |
| 044 | Clement | Brother | 1868 | 1908 | |
| 045 | Clement | Brother | 1912 | 1991 | |
| 046 | Clothaire | Brother | 1844 | 1867 | |
| 047 | Collin | Brother | 1932 | 1997 | |
| 048 | Columban | Brother | 1881 | 1955 | |
| 049 | Commagere | Foster | 1887 | 1950 | |
| 050 | Conrad | Brother | 1822 | 03/15/1898 | Born in Munster, Westphalia, Germany |
| 051 | Constantius | Brother | 1841 | 1925 | |
| 052 | Cordian | Brother | 1920 | 1983 | |
| 053 | Cosmas | Brother | 1914 | 1944 | |
| 054 | Cosmas | Brother | 1928 | 1987 | |
| 055 | Cyprian | Brother | 1872 | 1988 | |
| 056 | Cyran | Brother | 1863 | 1987 | |
| 057 | Damian | Brother | 1874 | 1932 | |
| 058 | David | Brother | 1815 | 1889 | |
| 059 | Donald | Brother | 1917 | 2002 | |
| 060 | Edmund | Brother | 1898 | 1959 | |
| 061 | Edward | Brother | 1868 | 1945 | |
| 062 | Edward | Brother | 1846 | 1887 | |
| 063 | Elbert | Brother | 1913 | 1985 | |
| 064 | Emiliam | Brother | 1873 | 1897 | |
| 065 | Emmanuel | Brother | 1887 | 1939 | |
| 066 | Ephram | Brother | 1909 | 1978 | |
| 067 | Eugene | Brother | 1911 | 1979 | |
| 068 | Fabian | Brother | 1865 | 1949 | |
| 069 | Faustus | Brother | 1849 | 1937 | |
| 070 | Felician | Brother | 1914 | 1995 | |
| 071 | Felix | Brother | 1859 | 1935 | |
| 072 | Fernand | Brother | 1872 | 1936 | |
| 073 | Firmin | Brother | 1910 | 2000 | |
| 074 | Flavian | Brother | 1921 | 1999 | |
| 075 | Florian | Brother | 1896 | 1963 | |
| 076 | Foster | Brother | 1924 | 1988 | |
| 077 | Francis | Brother | 1853 | 1933 | |
| 078 | Francis | Brother | 1833 | 1867 | |
| 079 | Francis | Brother | 1833 | 1867 | |
| 080 | Frederick | Brother | 1898 | 1970 | |
| 081 | Gabriel | Brother | 1846 | 1877 | |
| 082 | Ganinaus | Brother | 1910 | 2002 | |
| 083 | Gaudin | Brother Adrian | 1933 | 2008 | |
| 084 | George | Brother Joe | 1907 | 1987 | |
| 085 | Gerald | Brother | 1899 | 1979 | |
| 086 | Germain | Brother | 1854 | 1942 | |
| 087 | Golman | Brother | 1908 | 1971 | |
| 088 | Gonazga | Brother | 1889 | 1908 | |
| 089 | Graham | Robert | 1926 | 1990 | |
| 090 | Green | Brother Louis | | | |
| 091 | Gregory | Brother | 1918 | 1993 | |
| 092 | Gunther | Brother | 1912 | 2001 | |
| 093 | Heney | Brother | 1880 | 1965 | |
| 094 | Henry | Brother William | 1904 | 1951 | |
| 095 | Hilbert | Brother | 1917 | 1987 | |
| 096 | Howard | Brother | 1919 | 1986 | |
| 097 | Hugh | Brother | 1826 | 1908 | |
| 098 | Hugh | Brother | 1912 | 1982 | |
| 099 | Humbert | Brother | 1874 | 1962 | |
| 100 | Ilbertus | Brother | 1874 | 1965 | |
| 101 | John Baptist | Brother | 1812 | 1884 | |
| 102 | Joseph | Brother | 1878 | 1940 | |
| 103 | Jules | Brother | 1916 | 1968 | |
| 104 | Julius | Brother | 1892 | 1977 | |
| 105 | Justinian | Brother | 1878 | 1951 | |
| 106 | Klinieke | Brother Roy | 1916 | 2007 | |
| 107 | Kolb | Brother S.C. Alfred | 1917 | 2007 | |
| 108 | Lambert | Brother | 1876 | 1950 | |
| 109 | Lawrence | Brother | 1827 | 1901 | |
| 110 | Lawrence | Brother | 1886 | 1955 | |
| 111 | Leo | Brother | 1872 | 1906 | |
| 112 | Leo | Brother | 1914 | 1991 | |
| 113 | Leon | Brother | 1925 | 1997 | |
| 114 | Linus | Brother | 1906 | 1980 | |
| 115 | Lloyd | Brother | 1917 | 1983 | |
| 116 | Louis | Brother | 1863 | 1927 | |
| 117 | Louis | Brother | 1913 | 1990 | |
| 118 | Luke | Brother | 1906 | 1976 | |
| 119 | Luke | Brother | 1816 | 1869 | |
| 120 | Magarius | Brother | 1871 | 1948 | |
| 121 | Marion | Brother | 1912 | 1990 | |
| 122 | Martin | Brother | 1904 | 1991 | |
| 123 | Martinian | Brother | 1885 | 1959 | |
| 124 | Masse | Joseph | 1876 | | |
| 125 | Matthews | Brother | 1913 | 1989 | |
| 126 | Maurice | Brother | 1873 | 1967 | |
| 127 | Max | Brother | 1914 | 1991 | |
| 128 | Mike | Brother | 1912 | 1992 | |
| 129 | More | Brother | 1932 | 1983 | |
| 130 | Mundy | Brother F.E. | 1845 | 1919 | |
| 131 | Norman | Brother | 1921 | 2001 | |
| 132 | Odon | Brother | 1853 | 1920 | |
| 133 | Odon | Brother | 1886 | 1968 | |
| 134 | Orans | Brother | 1833 | 1867 | |
| 135 | Osmond | Brother | 1851 | 1919 | |
| 136 | Oswald | Brother | 1884 | 1958 | |
| 137 | Pascal | Brother | 1910 | 1996 | |
| 138 | Paul | Brother | 1883 | 1951 | |
| 139 | Peter | Brother | 1889 | 1948 | |
| 140 | Pieora | Brother Galixto | 1900 | | |
| 141 | Pierre | Brother | 1925 | 2000 | |
| 142 | Quintin | Brother | 1910 | 1991 | |
| 143 | Quintinus | Brother | 1842 | 1898 | |
| 144 | Raaker | Brother | 1907 | 1982 | |
| 145 | Ralph | Brother | 1909 | 1987 | |
| 146 | Raymond | Bro | 1856 | 1933 | |
| 147 | Rehnard | Brother | 1907 | 1978 | |
| 148 | Remigius | Brother | 1888 | 1904 | |
| 149 | Remigus | Brother | 1913 | 1996 | |
| 150 | Rene | Brother | 1925 | 2000 | |
| 151 | Rian | Brother | 1925 | 2004 | |
| 152 | Robert | Brother | 1884 | 1947 | |
| 153 | Rodolph | Brother | 1865 | 1939 | |
| 154 | Rodrigue | Brother Gasdpard | 1910 | 2006 | |
| 155 | Roland | Brother | 1911 | 1978 | |
| 156 | Saen | Brother Felix | 1881 | 1899 | |
| 157 | Schaeffer | John | 1902 | | |
| 158 | Stanslaus | Brother | 1843 | 1932 | |
| 159 | Stephen | Brother | 1848 | 1921 | |
| 160 | Stock | Brother Agnes L. | 1899 | 1981 | |
| 161 | Sylvius | Brother | 1852 | 1939 | |
| 162 | Theodore | Brother | 1853 | 1915 | |
| 163 | Theodosius | Brother | 1870 | 1924 | |
| 164 | Vila | Luis | 1890 | 1906 | |
| 165 | Vincent | Brother | 1937 | 1998 | |
| 166 | Wilfred | Brother | 1863 | 1956 | |
| 167 | Zozimus | Brother | 1818 | 1905 | |
| 168 | Kuhn | Brother Ray (Honore) | 1942 | 2008 | |