Jump to record #164
Bayou Caddy Cemetery
Bayou "Caddy" was originally called Bayou Cadet by the French. Jean Cadet LaFontaine (1790-1852) is buried here.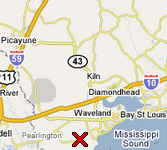 Directions:
Head west on Highway 90. Approximately 2 miles after the intersection with the 603 turn left on Lower Bay Road. Follow this road for about 6.9 miles, then take a slight left on Bud Ladner Road. Go past the farm (check out that old Creole cottage with the goats and pigs on the porch!), the road will veer to the left. You will drive straight into the cemetery.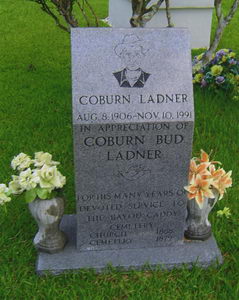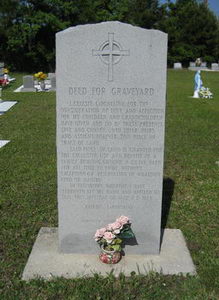 Note: The table below is sorted by grave layout. Use Ctrl+F to search for a specific name, or part of a name.
| | | | | | |
| --- | --- | --- | --- | --- | --- |
| # | Last Name | First Name | Birth | Death | Comment |
| 001 | Lafontaine | Jesse P. | 11/29/1894 | 09/29/1971 | W. W. I. |
| 002 | Lafontaine | Cecile Ladner | 04/01/1900 | 12/01/1946 | |
| 003 | Lafontaine | Helen Bond | 10/03/1930 | | |
| 004 | Lafontaine | Thelma C. | 11/25/1927 | 10/20/1930 | |
| 005 | Lafontaine | Terida | 01/18/1930 | 01/19/1930 | |
| 006 | Lafontaine | Elsie | | | |
| 007 | Charles | Louis | 01/28/1938 | 01/28/1938 | |
| 008 | Lafontaine | Antoine Coon | 02/08/1839 | 10/10/1909 | |
| 009 | Lafontaine | Ruth Claire Green | 11/03/1923 | | |
| 010 | Lafontaine | Fannie Favre | 02/20/1836 | 12/24/1890 | Wife of Antoine Lafontaine |
| 011 | Lafontaine | Iona Green | 11/25/1921 | 05/03/1990 | |
| 012 | Breland | F. Irene Hose | 02/24/1902 | 04/14/1978 | |
| 013 | Lafontaine | Alcey | 08/15/1861 | 05/06/1878 | |
| 014 | Carter | Helen Ladner | 01/24/1933 | | |
| 015 | Lafontaine | Albert | 05/27/1872 | 03/12/1890 | |
| 016 | Ladner | Elvina Coradine Lafontaine | 1874 | 07/16/1955 | widow of Charles Ladner. (date of death and info from obit) |
| 017 | Lafontaine | Josephine L. Ladner | 09/19/1898 | 02/16/1983 | |
| 018 | Ladner | Charles Gilbert | 1862 | 1934 | |
| 019 | Zingerling | Edna Ladner | 03/12/1904 | 04/12/1983 | |
| 020 | Pinson | Mary Ladner | 1914 | 1959 | |
| 021 | Ladner | J. L. | 02/17/1929 | 02/18/1929 | |
| 022 | Necaise | Bertha Mae Ladner | 03/28/1930 | | |
| 023 | Ladner | Molly | | | infant of Charles Ladner |
| 024 | Ladner | Lottie Louise Lafontaine | 10/23/1904 | 08/15/1988 | |
| 025 | Lafontaine | John Wesley | 08/17/1911 | 03/11/1930 | |
| 026 | Lafontaine | Nellie | | 10/22/1916 | Wife of Seymour Carver; Age 18 years |
| 027 | Young | Theresa M. Lafontaine | 03/19/1936 | 04/02/1985 | |
| 028 | Ladner | Georgia Lafontaine | 08/07/1906 | 10/24/1978 | |
| 029 | Lafontaine | Louis | 02/25/1868 | 03/03/1933 | |
| 030 | Lafontaine | Tony | 02/08/1908 | 11/11/1934 | |
| 031 | Lafrance | Annie Mae Lafontaine | 11/13/1923 | | |
| 032 | Lafontaine | Virginia | 03/08/1873 | 09/26/1956 | Wife of Louis |
| 033 | Lafontaine | Mary Carver | 04/06/1874 | 03/25/1947 | Wife of Charlie Lafontaine |
| 034 | Yarbrough | Oliva C. Lafontaine | 07/01/1921 | | |
| 035 | Lafontaine | Charlie | 04/13/1878 | 11/30/1940 | Husband of Mary |
| 036 | Lafontaine | Carrie Nelson | 11/09/1910 | | |
| 037 | Lafontaine | Frank | 05/11/1904 | 01/14/1938 | |
| 038 | Lafontaine | Ramond | 1827 | 03/08/1899 | |
| 039 | Lafontaine | Margarite Favre | | 03/08/1899 | wife of Ramond Lafontaine |
| 040 | Schwartz | Louise Marie Schenck | 09/10/1924 | 05/25/1993 | |
| 041 | Lafontaine | Antionette L. Carver | 04/23/1881 | 11/25/1940 | |
| 042 | Evans | Velma Yarbrough | 11/26/1908 | 07/30/1993 | |
| 043 | Lafontaine | Raymond G. | 01/08/1869 | 09/16/1943 | |
| 044 | Davis | Edna Zingarling | 09/24/1921 | 05/29/1991 | |
| 045 | Lafontaine | infant | | | child of Albert and Carrie Lafontaine |
| 046 | Abram | Eula Mae | 04/01/1912 | 05/05/1986 | |
| 047 | Smith | Susanne Teresa | | 06/14/1964 | |
| 048 | McArthur | Marion F. | 04/17/1892 | 01/03/1963 | |
| 049 | Lafontaine | Alice Louvina Barr | 02/11/1914 | | |
| 050 | McArthur | Viola F. | 04/09/1921 | 07/02/1922 | |
| 051 | Barr | Hugh William | 11/09/1911 | 10/01/1990 | |
| 052 | Stoufflet | David Mathew | 1940 | 1964 | |
| 053 | Bates | Raymond Lee | 06/05/1981 | 08/15/1981 | |
| 054 | Rutherford | Wm. Barton | 01/12/1951 | 07/12/1967 | |
| 055 | Baughman | Jennifer J. | 10/28/1976 | 01/22/1977 | |
| 056 | Lafontaine | Infants | | | children of Forrest and Lucy Lafontaine |
| 057 | Baughman | Clarence E. Sr. | 07/10/1928 | 09/04/1985 | |
| 058 | Little | Joseph M. | 05/11/1895 | 07/22/1937 | |
| 059 | Baughman | Emma J. Lafontaine | 11/19/1926 | | |
| 060 | Little | Anna Malvina Lafontaine | 1899 | 1935 | wife of Joseph M. Little |
| 061 | Green | Chas. L. | 05/16/1882 | 04/26/1905 | |
| 062 | Bennett | Jack | 11/15/1895 | 05/06/1985 | |
| 063 | Green | Clarence E. | 11/10/1904 | 05/07/1905 | |
| 064 | Krankey | Henry H. | 08/15/1815 | 05/24/1887 | |
| 065 | Bosarge | Elmade L. Lafontaine | 04/08/1895 | 12/27/1976 | |
| 066 | O'Brien | Ellen | | | wife of Henry H. Krankey; native of Ireland |
| 067 | Lafontaine | Jean Cadet | 03/17/1790 | 04/20/1852 | |
| 068 | Bosarge | James Monroe | 08/04/1925 | 01/22/1987 | |
| 069 | Lafontaine | Charles Valcour | 12/25/1837 | | |
| 070 | Lafontaine | Celeste Favre | 06/1844 | | wife of Charles Valcour Lafontaine |
| 071 | Favre | Linda Cecilia | 09/18/1946 | | |
| 072 | Favre | Leon Griswell | 1827 | 03/22/1922 | |
| 073 | Carco | Louis Armanda | 1836 | 1909 | |
| 074 | Carco | Victoria L. Lafontaine | 12/26/1913 | 02/18/1991 | |
| 075 | Lafontaine | Richard | 03/13/1858 | 05/05/1933 | |
| 076 | Carter | Norman Marion | 08/14/1927 | 07/12/1981 | |
| 077 | Lafontaine | Madeline Ploux | 11/20/1861 | 11/16/1922 | |
| 078 | Carver | Delmas | 07/05/1853 | | |
| 079 | Sellers | Lillie Lafontaine | | 1967 | Age 79 |
| 080 | Lafontaine | J. R. | 1897 | 1900 | |
| 081 | (Unmarked) | | | | (unmarked, probably remainder of family. ) |
| 082 | (Unmarked) | | | | (unmarked, probably remainder of family. ) |
| 083 | (Unmarked) | | | | (unmarked, probably remainder of family. ) |
| 084 | (Unmarked) | | | | (unmarked, probably remainder of family. ) |
| 085 | Dawsey | Charles Gilbert | 08/10/1959 | 12/15/1978 | |
| 086 | Lafontaine | Sidonia | 01/05/1887 | 11/30/1959 | |
| 087 | Evans | William H. Jr | 03/11/1905 | 03/09/1973 | |
| 088 | Garcia | Manuel | 1841 | 03/04/1893 | |
| 089 | Favre | Adlar Shoot | 1820 | 1893 | |
| 090 | Necaise | Roland Dale | 01/10/1969 | 04/14/1969 | |
| 091 | Necaise | David James | 11/24/1955 | 05/31/2000 | |
| 092 | Favre | Forest C. | 03/02/1909 | 02/29/1968 | |
| 093 | Schwartz | Charles F. | 03/29/1888 | 12/17/1963 | |
| 094 | Favre | Larry Leroy | 12/28/1939 | 11/15/1989 | |
| 095 | Lafontaine | Lillie Barr | 01/31/1909 | 05/15/1969 | |
| 096 | Barr | Hugh R. | 11/23/1866 | 06/30/1956 | |
| 097 | Fredrick | Gary | 04/17/1985 | 04/18/1985 | |
| 098 | Ladner | Monroe Leo | 02/20/1895 | 09/16/1961 | |
| 099 | Schneider | Charles M. | 06/27/1910 | 03/12/1961 | |
| 100 | Cooney | Frank | 05/22/1865 | 08/01/1939 | |
| 101 | Cooney | Thomas | 02/08/1885 | 04/28/1926 | |
| 102 | Gill | Paul Vernon | 09/10/1919 | 12/23/1993 | |
| 103 | Schwartz | Henry F. | 11/22/1885 | 03/10/1960 | |
| 104 | Schwartz | John J. | 02/07/1891 | 11/08/1937 | |
| 105 | Dorn | Children | | | otherwise unmarked |
| 106 | Hall | Shelby Toxie | 08/21/1927 | | |
| 107 | Hall | Ceyrelia Marie Rodriguez | 08/07/1922 | 04/19/2010 | |
| 108 | Usher | Henrietta Louise Schwartz | 09/05/1883 | 02/13/1961 | |
| 109 | Heitzmann | Theodore A. | 07/14/1914 | 02/28/1983 | |
| 110 | Usher | Jacob Paul | 01/13/1885 | 10/01/1961 | |
| 111 | Kneip | Edward Leo | 11/05/1916 | 04/22/1963 | Washington SPS 3, USNR WW II |
| 112 | McKinney | Sam | | | |
| 113 | Yarbrough | Viola | 1890 | 01/02/1912 | |
| 114 | King | Michael Carl | 06/30/1972 | 08/28/1980 | |
| 115 | Yarbrough | sister of Viola | | | otherwise unmarked |
| 116 | Yarbrough | sister of Viola | | | otherwise unmarked |
| 117 | LaFrance | Jules S. | 07/17/1886 | 11/10/1946 | |
| 118 | Buffa | Anita Pastereau | 07/26/1863 | 07/29/1952 | Born at Mantensey, Cuba |
| 119 | Buffa | Fred | 07/12/1869 | 01/26/1948 | Native of France |
| 120 | Ladner | Andrew Joseph | 08/14/1901 | 07/15/1974 | |
| 121 | Ladner | Stanley J. | 1937 | 1938 | |
| 122 | Ladner | Coburn Bud Eugene | 08/08/1906 | 11/10/1991 | |
| 123 | Lafontaine | Joseph | | | |
| 124 | Lafontaine | Mary Mayfield | 1848 | 01/22/1928 | wife |
| 125 | Lafontaine | Joseph M. | 11/08/1890 | 01/09/1970 | Miss. U. S. Army WW I |
| 126 | Mayfield | Tom and family | | | |
| 127 | Lafontaine | John | | | Father |
| 128 | Lafontaine | Ceciel Ladner | 11/20/1891 | 02/04/1986 | |
| 129 | Lafontaine | Mary | | | Mother |
| 130 | Bennett | Evelyn L. | 06/18/1902 | 09/11/1962 | |
| 131 | Lafrance | Fannie Ladner | 04/19/1884 | 12/21/1976 | |
| 132 | Lafontaine | Abe | | | |
| 133 | Lafontaine | Deborah Ann | 08/27/1954 | 02/01/1986 | |
| 134 | Lafontaine | Louisia | | | Infant |
| 135 | Lafontaine | Floyd S. | 08/31/1932 | 12/14/1984 | |
| 136 | Wall | Josephine | 1878 | 1897 | |
| 137 | Garcia | Eugene | | | brother of Josephine Wall; Co. F, New Orleans Infantry |
| 138 | Hose | Georgia M. | 04/25/1898 | 12/13/1902 | |
| 139 | Hose | Julia | 12/12/1874 | 05/07/1966 | |
| 140 | Lafontaine | Albert | 1897 | 1918 | |
| 141 | Hose | George A. | 09/07/1868 | 07/15/1958 | |
| 142 | Duke | George Douglas | 04/07/1906 | 05/14/1972 | Age 66 |
| 143 | Lafontaine | Thomas H. | 12/18/1891 | 03/30/1977 | |
| 144 | Ladner | Sylvan | | | |
| 145 | Lafontaine | Leandre Joseph | 12/07/1861 | | |
| 146 | Favre | Martha | | 09/30/1969 | |
| 147 | Lafontaine | Daniel Put | 01/13/1892 | 10/20/1972 | |
| 148 | Sellers | Dave | 12/24/1870 | 08/12/1953 | |
| 149 | Bosarge | Henry Francis | 01/11/1906 | 08/30/1956 | |
| 150 | Bosarge | Jeff Davis | 07/22/1896 | 10/20/1956 | |
| 151 | Ladner | Infant | | | child of Clyde and Betty Ladner |
| 152 | Lafontaine | Monroe S. Chink | 02/06/1918 | 11/27/1981 | |
| 153 | Lafontaine | Sylvester | 02/26/1887 | 10/20/1968 | |
| 154 | Lafontaine | Mary E. Fayard | 11/25/1892 | 10/12/1969 | |
| 155 | Lafontaine | Ruben U. | 03/25/1914 | 11/26/1933 | |
| 156 | Lafontaine | Gerald Joseph | 02/15/1930 | 08/21/1975 | |
| 157 | Lafontaine | Sgt. Russell R. | 10/04/1919 | 01/18/1945 | Co. H, 36 Engrs. (C); Killed in France |
| 158 | Lafontaine | Zoe | 1871 | 1900 | |
| 159 | Lafontaine | Victor | 1865 | 1937 | |
| 160 | Carver | Ida | 07/15/1884 | 09/17/1911 | |
| 161 | Carver | Robert | 05/15/1877 | 10/01/1941 | |
| 162 | Garcia | Laura C. Lafontaine | 08/03/1886 | 07/31/1949 | |
| 163 | Lafontaine | Cobin | 09/06/1859 | 01/17/1906 | |
| 164 | Lafontaine | Seymour Carver | 1900 | 10/22/1918 | |
| 165 | Pinson | Cloyde C. Jr. | 10/01/1946 | 05/12/1967 | 2211184, PFC 1st Battalion, 5th Marines D Co., 2nd Platoon; Native of Louisiana; Killed in Vietnam. |
| 166 | Lafontaine | Ursin | 1833 | 1902 | |
| 167 | Lafontaine | Lewis | | 01/21/1938 | |
| 168 | Lafontaine | Forrest | 03/20/1901 | 01/11/1974 | |
| 169 | Lafontaine | Charles | 04/21/1909 | 11/24/1976 | |
| 170 | Lafontaine | John J. | 08/08/1901 | 04/26/1961 | |
| 171 | Lafontaine | Wallace P. | 01/15/1935 | 08/06/1977 | |
| 172 | Lafontaine | Albert | 04/26/1903 | 07/07/1977 | |
| 173 | Lafontaine | Lawrence | 01/15/1917 | 05/27/1981 | |
| 174 | Lafontaine | Bertha Lohman | 07/06/1920 | | |
| 175 | Lafontaine | Jessie Jr. | 09/29/1921 | | |
| 176 | Lafontaine | Robert Dick | 12/03/1920 | 08/29/1990 | |
| 177 | Ladner | Louise A. Lafontaine | 08/02/1909 | 10/20/1974 | |
| 178 | Ingersoll | Geraldine Lafontaine | 02/15/1930 | 11/17/1986 | |
| 179 | Lafrance | Mabel A. Dorn | 09/12/1904 | 12/06/1997 | |
| 180 | LaFrance | Jules George | 05/25/1913 | 07/18/2008 | |
| 181 | Lafrance | Lester J. Kizer | 08/04/1920 | | |
| 182 | Leech | Richard E. | 07/31/1938 | 06/18/1987 | |
| 183 | Leech | Joseph W. | 01/19/1915 | 01/23/1986 | |
| 184 | Leech | Marjorie B. | 02/02/1915 | | |
| 185 | Lott | Hilary Tinker | 08/03/1923 | 09/02/1994 | |
| 186 | Lott | Lillian Lafrance | 05/09/1929 | | |
| 187 | Mcarthur | Kathie V. | 06/14/1902 | 05/23/1981 | |
| 188 | Mcdowell | Ora V. | 06/22/1912 | 03/24/1980 | |
| 189 | Mcdowell | William J. | 08/07/1914 | 02/06/1981 | |
| 190 | Moss | James Harold | 04/04/1988 | 05/26/1991 | |
| 191 | Ploue | Cleve | | | in one plot with Katie and rest of family |
| 192 | Ploue | Katie | | | in one plot with Cleve and rest of family |
| 193 | Ploue | family | | | in one plot with Cleve and Katie |
| 194 | Proux | Louise | 05/24/1856 | | |
| 195 | Rolph | Edwin A. | 07/01/1898 | 10/25/1981 | |
| 196 | Rolph | Lottie Mae | 10/15/1896 | 06/30/1982 | |
| 197 | Schneider | Virgina L. | 02/23/1915 | 08/31/1986 | |
| 198 | Schwartz | Bernhardine | 12/08/1893 | 06/22/1983 | |
| 198 | Schwartz | Nicholas S. | 09/21/1916 | 12/22/1983 | |
| 200 | Schwartz | Genevieve | 11/17/1888 | 02/25/1975 | |
| 201 | Skinner | Jonathan Lee | 07/27/1982 | 03/28/1986 | |
| 201 | Skinner | Terrence Joseph | 07/04/1981 | 03/28/1986 | |
| 203 | Tartavoulle | Alvina | 09/27/1923 | | |
| 204 | Tartavoulle | William (Bill) | 01/01/1917 | 09/01/1995 | |
| 205 | Usher | August F. Jr. | 10/04/1943 | 08/02/1981 | |
| 206 | Wagner | James M. | 1904 | 1991 | |