Jump to record #1153
Caesar Cemetery
The town of Caesar is actually located in Pearl River County, but was part of Hancock County up until 1890.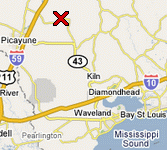 Directions:
From I-10 take the 603 North (= exit 13), then turn left on State Road 43 after about 5.7 miles. Turn right on Leetown Road after about 7.4 miles, then left at Caesar Necaise Road after 5.7 miles. Follow this road for about 2 miles until you get to the intersection with Bouie Road. You will see the West Union Baptist church and their large cemetery across the road on the left hand side.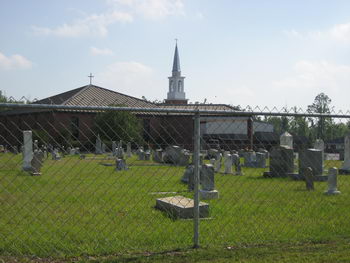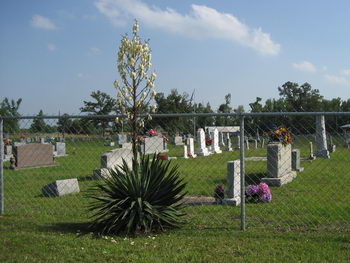 Note: The table below is sorted by grave layout. Use Ctrl+F to search for a specific name, or part of a name.
| | | | | | |
| --- | --- | --- | --- | --- | --- |
| # | Last Name | First Name | Birth | Death | Comment |
| 001 | Bilbo | Troy | 1901 | 1955 | |
| 002 | Bilbo | Edner | 1908 | 1954 | |
| 003 | Svendson | Plina McCurdy | 02/06/1878 | 05/20/1940 | |
| 004 | Varnado | Samantha C. | 09/29/1849 | 03/19/1938 | |
| 005 | Bilbo | Andrew J | 1868 | 1945 | |
| 006 | Bilbo | America | 1867 | 1952 | |
| 007 | Lee | Thomas F | 09/1860 | 08/10/1933 | |
| 008 | Lee | Virginia E | 07/11/1867 | 02/25/1939 | |
| 009 | Jarrell | DC | 11/08/1887 | 02/06/1928 | |
| 010 | Odom | Freeman | 1848 | 1913 | |
| 011 | Odom | Mary | 1858 | 1944 | |
| 012 | Stockstill | Fredy | 04/08/1909 | 12/20/1912 | |
| 013 | Stockstill | Earnest | 03/06/1911 | 05/23/1913 | |
| 014 | Lee | Laura L | 06/28/1868 | 09/30/1897 | |
| 015 | Stockstill | Alex P. | 06/28/1896 | 12/19/1897 | son of F.M. and Laura E. Stockstill |
| 016 | Stockstill | Randolph | 09/19/1901 | 03/06/1904 | son of W.L. and Rose Ann Stockstill |
| 017 | Hickman | Senever P | 05/11/1888 | 06/04/1908 | |
| 018 | Lee | Hester Ann | 04/27/1829 | 07/27/1913 | |
| 019 | (Illegible) | | | | infant |
| 020 | Spiers | Alexander S | 10/26/1856 | 02/16/1904 | |
| 021 | Spiers | Lourenda | 01/06/1943 | 04/24/1943 | |
| 022 | Jarrell | Cassie | 06/04/1863 | 07/25/1901 | wife of Willie Jarrell |
| 023 | Jarrell | Willie | 09/08/1866 | 08/06/1916 | |
| 024 | Varnado | Leonard | 1905 | 1958 | |
| 025 | Spence | F M | 07/09/1830 | 02/27/1909 | |
| 026 | Spence | Louisa A | 08/15/1832 | 10/05/1903 | |
| 027 | Varnado | Daniel Bracy | 01/07/1913 | 09/14/1913 | |
| 028 | Varnado | ? | 04/28/1907 | 04/28/1907 | infant |
| 029 | Lee | Robert E | 1865 | 1948 | |
| 030 | Lee | Laura L | 1868 | 1897 | |
| 031 | Lee | Jessie M | 09/05/1827 | 09/29/1911 | |
| 032 | Lumpkin | Everette G | 09/24/1894 | 01/17/1912 | son of J.H. and M.A. Lumpkin |
| 033 | Lee | James Wesley | 12/24/1829 | 02/12/1901 | |
| 034 | (Unmarked) | | | | |
| 035 | (Unmarked) | | | | |
| 036 | Jarrell | Artie | | | |
| 037 | Varnado | Missouri M. | 05/22/1875 | 03/30/1914 | wife of T.G. Varnado |
| 038 | Downey | Mary L | 1861 | 1889 | wife of J.I. Cooper |
| 039 | Smith | Levi S | 12/20/1865 | 12/03/1943 | |
| 040 | Smith | Louis | 1858 | 1910 | |
| 041 | Smith | Sam | 1850 | 1943 | |
| 042 | Jones | James Freeman | 04/11/1869 | 11/22/1910 | |
| 043 | Martin | Maranda P | 03/15/1842 | 05/07/1898 | |
| 044 | Lee | R.S. | 07/27/1832 | 11/27/1901 | |
| 045 | Lumpkin | Mary A | 11/14/1849 | 01/17/1928 | wife of J.H. Lumpkin |
| 046 | Lumpkin | John H | 09/15/1848 | 05/21/1920 | |
| 047 | Lee | Freeman W | 02/28/1857 | 11/15/1950 | |
| 048 | Lee | Lillian | 07/11/1893 | 10/29/1918 | wife of Roger S. Lee |
| 049 | Infant | | 10/29/1918 | 10/29/1918 | mother Lillian Lee (#48) died same day |
| 050 | Jones | Rebecca C | 09/12/1849 | 01/06/1877 | first wife of Z.T. Jones |
| 051 | Smith | Rebecca A | 02/18/1805 | 10/20/1903 | |
| 052 | Downey | Catherine | | 08/12/1891 | 10 on 1880 Hancock Co. Census, Ms. |
| 053 | Smith | Nancy J | 09/17/1883 | 09/10/1886 | |
| 054 | Spiers | AP | 05/06/1879 | 02/28/1883 | |
| 055 | Jones | Missouri Ann | 11/29/1843 | 08/09/1880 | second wife of Z.T. Jones |
| 056 | Jarrell | Asa D | 05/13/1880 | 12/25/1948 | |
| 057 | Jarrell | Christine | 08/04/1880 | 04/05/1957 | |
| 058 | Martin | Ellen | 09/08/1882 | 11/01/1955 | |
| 059 | Martin | Alfred Ulman | 05/23/1882 | 09/15/1956 | |
| 060 | Spiers | Artie | 12/26/1837 | 03/26/1916 | |
| 061 | Spiers | Alex | 1829 | 04/07/1907 | |
| 062 | Spiers | John | 04/01/1864 | 10/15/1899 | |
| 063 | Smith | infant | 02/22/1888 | 03/14/1888 | son of L.A. and R.A. Smith |
| 064 | Downey | William | | 03/14/1892 | |
| 065 | Hinton | Milton | 09/16/1879 | 10/07/1960 | |
| 066 | Smith | Fred | 03/18/1907 | 11/20/1907 | |
| 067 | Allen | Nick | 12/20/1893 | 05/12/1911 | son of G.W. and N.R. Jarrell |
| 068 | Smith | Nathan M. | 03/24/1899 | 04/21/1962 | |
| 069 | Smith | Nina M | 07/23/1901 | | |
| 070 | Lee | Samuel Ottis | 09/26/1897 | 01/06/1898 | son of J.A. and R. Lee |
| 071 | Jarrell | Freeman Hezekiah | 05/22/1882 | 10/02/1887 | son of G.W. and N.E. Jarrell |
| 072 | Cooper | N.E. | 11/09/1889 | 01/05/1919 | |
| 073 | Cooper | Daniel C. | 1867 | 1938 | |
| 074 | Cooper | Delphine | 1875 | 1952 | |
| 075 | Cooper | Cornelius | 06/04/1834 | 12/11/1907 | |
| 076 | Jarrell | Nancy Elizabeth Lee | 03/10/1856 | 12/04/1906 | wife of G. W. Jarrell |
| 077 | Mitchell | Blondie Marie | 1926 | 1954 | |
| 078 | Flanigan | W.B. | 11/28/1866 | 11/23/1917 | |
| 079 | Flanagan | Frankie Varnado | 03/16/1872 | 04/06/1931 | wife of W.B. Flanagan |
| 080 | Flanigan | Mary Louisa | 01/17/1896 | 01/18/1931 | |
| 081 | Lee | Luther A | 04/14/1895 | 10/18/1918 | son of James D. and Claudia V. Lee |
| 082 | (Unmarked) | | | | |
| 083 | Rester | John S | 1885 | 1953 | |
| 084 | Rester | Elizabeth | 1879 | 1961 | |
| 085 | Breland | Vera | 1911 | 1944 | wife of Murdoc C. Breland |
| 086 | Cooper | Isabella | 04/19/1881 | 12/12/1906 | |
| 087 | (Unmarked) | | | | adult |
| 088 | Lee | James H | 04/11/1882 | 09/27/1886 | son of D and C Lee |
| 089 | Jarrell | George W | 1856 | 1928 | |
| 090 | Ireland | Cordelia | 1861 | 1930 | |
| 091 | Smith | Jeptha B | 07/15/1880 | 12/26/1962 | |
| 092 | Smith | Bertha B | 03/24/1883 | 09/07/1961 | |
| 093 | (Unmarked) | | | | infant |
| 094 | Fornea | | 01/30/1911 | 01/30/1911 | daughter of S and T. Fornea |
| 095 | Lee | Claudia U | 04/09/1857 | 10/09/1942 | |
| 096 | (Unmarked) | | | | infant |
| 097 | Davis | Elizabeth | 06/09/1812 | 05/25/1894 | |
| 098 | Davis | James | 07/19/1804 | 08/21/1892 | |
| 099 | Davis | Anna | 05/26/1841 | 03/28/1917 | |
| 100 | Rester | James | 01/22/1865 | 10/18/1933 | |
| 101 | Rester | Annie | 04/26/1863 | 01/06/1935 | |
| 102 | Davis | Henry I | 04/24/1842 | 08/15/1922 | husband of Anna Davis |
| 103 | Tate | infant | 11/03/1899 | 11/04/1899 | son of E.E. and L.E. Tate |
| 104 | Stockstill | Awertie | 09/28/1900 | 10/15/1902 | |
| 105 | Fornea | Simeon | 02/17/1880 | 03/11/1911 | |
| 106 | Flanigan | infant | 07/20/1913 | 07/30/1913 | daughter of Wylie B. and Frankie Flanigan |
| 107 | Carbonnet | Mabel | 10/07/1915 | 04/02/1917 | |
| 108 | Flanigan | Melburn | 02/07/1896 | 05/09/1927 | |
| 109 | Smith | P.P. | 01/13/1866 | 11/06/1919 | Reverend |
| 110 | Smith | Josephine | 02/27/1874 | 02/22/1953 | wife of Rev. P.P. Smith |
| 111 | Lenoir | Elizabeth | | | wife of Hon. A.S. Lenoir; dates illegible |
| 112 | Lumpkin | Josephine W. | 08/23/1895 | 07/06/1896 | son of J.L. and M.A. Lumpkin |
| 113 | Jones | infant | | | infant |
| 114 | Jones | infant | | | infant |
| 115 | Brady | Zula O. | 08/04/1901 | 05/03/1902 | daughter of E.M. and E.J. Brady |
| 116 | Haskell | | 07/01/1900 | 07/13/1900 | son of E.M. and E.J. Brady |
| 117 | Welsh | Bettie | 08/03/1892 | 12/29/1912 | wife of Willie Welsh |
| 118 | (Unmarked) | | | | infant |
| 119 | Stockstill | Elizabeth L. | 1852 | 1897 | |
| 120 | Stockstill | J. Leonard | 1852 | 1935 | |
| 121 | Brewer | Condace | 12/13/1888 | 10/07/1904 | |
| 122 | Lee | | 10/07/1917 | 10/07/1917 | infant of T. W. Lee |
| 123 | Lee | Emily R. | 12/17/1839 | 08/10/1923 | wife of W. H. Lee |
| 124 | Farmer | Glenna May | 09/18/1910 | 03/01/1930 | |
| 125 | Farmer | Charlie L. | 04/08/1877 | 02/03/1919 | |
| 126 | Stewart | A. Jane | 05/05/1879 | 02/03/1940 | |
| 127 | Spiers | George W | 1855 | 1925 | |
| 128 | Spiers | Sarah E. | 1860 | 1952 | |
| 129 | (Unmarked) | | | | infant |
| 130 | Lumpkin | Charlie R | 09/04/1895 | 10/11/1913 | |
| 131 | Smith | Hettie Lorena | 06/12/1903 | 09/12/1903 | dautghter of D.F. and Cora E. Smith |
| 132 | Dossett | Winnie | 05/01/1872 | 07/05/1900 | |
| 133 | Lumpkin | Mary Ann | 01/30/1827 | 09/08/1896 | wife of William Lumpkin |
| 134 | McLeod | N.E. | 07/1855 | 12/01/1900 | wife of A.J. McLeod |
| 135 | Bond | Lora | 12/04/1906 | 05/21/1923 | wife of Wm. B. Bond |
| 136 | Stewart | Annie Jane | 04/20/1874 | 08/01/1949 | |
| 137 | Stewart | Hiram Andrew | 10/03/1872 | 04/03/1949 | |
| 138 | (Unmarked) | | | | adult |
| 139 | (Unmarked) | | | | infant |
| 140 | Blair | L.V. | 10/06/1858 | 09/08/1899 | wife of J.G. Blair |
| 141 | Lumpkin | William | 02/08/1821 | 03/26/1902 | |
| 142 | Lumpkin | Morgan C. | 08/15/1886 | 09/07/1903 | son of A.L. and Magnolia Lumpkin |
| 143 | Spiers | Thomas D. | 04/20/1887 | 06/03/1911 | |
| 144 | Spiers | Lorena May | 05/09/1897 | 09/21/1914 | |
| 145 | Stockstill | Frances M. | 01/07/1848 | 10/23/1907 | wife of J.W. Mitchell |
| 146 | Mitchell | James Wellington | 07/02/1847 | 12/05/1926 | husband of Frances M. Mitchell |
| 147 | Smith | Sara Jane | 07/17/1846 | 12/18/1903 | wife of Hardy Smith |
| 148 | Stockstill | Martha J. | 09/11/1850 | 05/23/1910 | wife of L.D. Stockstill |
| 149 | (Unmarked) | | | | adult |
| 150 | Evans | Lucyetta | 11/14/1904 | 06/10/1907 | daughter of M.M. and M.J. Evans |
| 151 | Smith | Rosena Catherine | 09/12/1883 | 11/25/1941 | |
| 152 | Stewart | James Randall | 10/21/1928 | 06/19/1944 | |
| 153 | Lee | Lawson L | 12/08/1854 | 06/02/1936 | |
| 154 | Lee | Mary | 02/06/1855 | 04/06/1941 | |
| 155 | Gill | R.G. | 02/11/1878 | 03/19/1912 | |
| 156 | (Unmarked) | | | | |
| 157 | (Unmarked) | | | | |
| 158 | (Unmarked) | | | | |
| 159 | (Unmarked) | | | | |
| 160 | Smith | Hardy | 11/23/1838 | 05/26/1919 | Reverend |
| 161 | Smith | Mason M. | 07/09/1886 | 04/19/1929 | |
| 162 | Evie | Irene | 09/06/1916 | 11/23/1922 | daughter of H. H. and Stella Lee |
| 163 | Lee | George Walden | 1921 | 1944 | |
| 164 | Lee | Infant girl | 10/11/1918 | | daughter of S. L. and B. Lee |
| 165 | Mitchell | Samuel R. | 03/16/1871 | 11/12/1949 | |
| 166 | Smith | Ferris M. | 1910 | 1932 | |
| 167 | Slaydon | Stanford Smith | 10/06/1864 | 02/11/1955 | |
| 168 | Haithcoke | Mary | 05/14/1819 | 03/20/1902 | wife of Henry Haithcoke |
| 169 | (Unmarked) | | | | |
| 170 | Thompson | Mary M. | 01/17/1896 | 07/20/1901 | dau of Robert and Isabelle Thompson |
| 171 | Breland | Belmer Cornelia | 12/05/1903 | 09/25/1904 | |
| 172 | Gill | infant son | 12/17/1910 | 12/17/1910 | son of R. G. and R. Gill |
| 173 | Necaise | Mrs.Mary Rebecca | | 04/15/1963 | age 85 yrs. |
| 174 | Stewart | Laton Creel | 03/05/1905 | 11/14/1963 | |
| 175 | Necaise | Denease | 03/04/1881 | 07/20/1949 | |
| 176 | Dossett | Thomas William | 10/21/1884 | 07/01/1958 | |
| 177 | Dossett | Nancy Jean | 02/24/1887 | | |
| 178 | Dossett | Infant girl | 02/11/1910 | | dau of T. W. and N. J. Dossett |
| 179 | Dossett | infant boy | | | son of T. W. and N. J. Dossett; born on 11/03/19??, dates otherwise illegible |
| 180 | Dossett | T. J. | 07/05/1917 | 05/11/1921 | |
| 181 | Dossett | Infant girl | 02/08/1926 | | dau of T. W. and N. J. Dossett |
| 182 | Dossett | Helen | | | |
| 183 | Dossett | Jimmy | | | |
| 184 | Dossett | Kathleen | | | |
| 185 | Batson | May | 05/12/1897 | 03/06/1900 | dau of A. and I. Batson |
| 186 | (Unmarked) | | | | |
| 187 | Smith | Mary A. | 01/10/1842 | 10/17/1900 | wife of A. B. Smith |
| 188 | Smith | Andrew | 1815 | 02/04/1892 | |
| 189 | (Unmarked) | | | | |
| 190 | Lee | Samuel L. | 04/19/1878 | 12/03/1930 | |
| 191 | Lee | Bessie S. | 02/24/1888 | | |
| 192 | Lee | S. L. | 04/19/1878 | 12/03/1930 | |
| 193 | Lee | Joseph L. | 09/05/1918 | 12/28/1921 | son of T. J. and Mary Lee |
| 194 | (Unmarked) | | | | |
| 195 | Davis | Myrtle F. | 09/28/1907 | 04/13/1908 | |
| 196 | Molver | Arabelle P. | 09/16/1893 | 04/12/1903 | dau of E. W. and Lillie Molver |
| 197 | Stewart | Young son | 11/23/1895 | 06/09/1904 | son of H. A. and A. J. Stewart |
| 198 | Furr | Infant son | 01/18/1903 | 01/18/1903 | son of J. H. and Ella A. Furr |
| 199 | Burge | Alverta M. | 11/28/1896 | 12/07/1896 | infant dau of A. and S. M. Burge |
| 200 | Furr | Ella A. Farmer | 04/30/1868 | 02/07/1903 | wife of J. H. Furr |
| 201 | Smith | Farly | 11/03/1867 | 05/09/1904 | |
| 202 | Ferguson | Duncan James | 07/31/1869 | 05/08/1951 | |
| 203 | Batson | Alpheus | 02/09/1869 | 05/08/1951 | |
| 204 | Batson | Infant | | | |
| 205 | Batson | Isabel | 04/21/1879 | 02/21/1953 | |
| 206 | Furr | James Troy | 06/27/1897 | 02/18/1908 | |
| 207 | Mitchell | Mrs. Laura Louisa | | 04/15/1962 | age 76 yrs. |
| 208 | McIver | Lillie | | 02/10/1941 | 77 yrs. |
| 209 | Moeler | Oscar | 1853 | 1935 | |
| 210 | Moeller | Emily M. | 1871 | 1935 | |
| 211 | (Unmarked) | | | | |
| 212 | Lee | Robert Luther | 04/24/1896 | 03/30/1925 | |
| 213 | Lee | Frances M. | 06/26/1891 | 06/09/1953 | |
| 214 | Lee | Hattie E. | 10/03/1899 | 10/15/1943 | wife of Harvey L. Lee |
| 215 | (Unmarked) | | | | |
| 216 | Lee | JamesAndrew | 01/08/1897 | 01/16/1919 | |
| 217 | (Unmarked) | | | | |
| 218 | Mitchell | Dolphus | 07/05/1901 | 06/05/1914 | |
| 219 | Mitchell | Newton Rutilus | | 11/10/1963 | age 91 yrs. |
| 220 | Farmer | Eveline I.Haggett | 03/21/1852 | 05/06/1923 | |
| 221 | Farmer | William L. | | 03/1939 | |
| 222 | Haithcoke | Georgi Ann Thompson | 06/25/1860 | 12/27/1927 | |
| 223 | Thompson | Robert | 07/23/1869 | 11/22/1929 | |
| 224 | Ferguson | James A. | 05/21/1871 | 08/15/1952 | |
| 225 | Ferguson | Annie Jane | 03/10/1880 | 03/08/1952 | |
| 226 | Bilbo | Infant | 04/08/1917 | 04/08/1917 | child of Mr. and Mrs. B. B. Bilbo |
| 227 | Jordan | Michael | | | date of death 10/10/193?; age 1 yr. |
| 228 | Stewart | James E. | 07/21/1911 | 01/21/1942 | |
| 229 | Lee | Mrs. Ellen Louisa | | 07/05/1960 | age 85 yrs. |
| 230 | Lee | Jessie J. | | 08/17/1941 | 67 yrs. |
| 231 | (Unmarked) | | | | |
| 232 | Landrum | Alford Forrest | 04/19/1915 | 04/19/1915 | infant of L. Q. and Agnes Landrum |
| 233 | Rester | Jae L. | 02/03/1907 | 11/16/1925 | (Mae Lee) wife of Otho Rester |
| 234 | (Unmarked) | | | | |
| 235 | Lee | Isadore | 09/05/1850 | 05/02/1927 | wife of Payton Luther Lee |
| 236 | Lee | Payton L. | 03/02/1850 | 02/06/1939 | |
| 237 | Smith | Albert R. | 09/13/1891 | | no date of death or illegible |
| 238 | Smith | Rachel V. | 08/19/1888 | 07/1962 | |
| 239 | Smith | R. Ford | 1882 | 1959 | |
| 240 | Smith | Matilda | 08/04/1894 | 10/11/1921 | wife of Ford Smith |
| 241 | Dossett | George Lamar | 08/20/1941 | 12/14/1941 | |
| 242 | Gieger | George W. | 1887 | 1940 | |
| 243 | Gieger | James W. | 07/16/1944 | 09/28/1944 | |
| 244 | Goss | F. Z., M. D. | 12/31/1878 | 10/16/1956 | (Forrest Zeno Goss) |
| 245 | Quarles | Winnie W. | 08/28/1884 | 12/31/1936 | wife Dr. F. Z. Goss |
| 246 | Milligton | Theodore Hansen | 1867 | 1944 | |
| 247 | Smith | Albert | 10/25/1863 | 01/05/1925 | |
| 248 | Smith | Permelia | 1890 | 1958 | |
| 249 | Hill | John M. | 10/08/1835 | 02/04/1923 | |
| 250 | Lee | infant girl | 1925 | | daughter of Ora and Cora Lee; no date of death or illegible |
| 251 | Strain | Lucy Ann Smith | 03/26/1907 | 08/09/1939 | |
| 252 | Smith | John Issac | 06/07/1895 | 12/09/1944 | |
| 253 | Lee | Deborah Jean | 06/07/1953 | 09/22/1956 | |
| 254 | Lee | Maranda | 12/05/1895 | 05/05/1930 | |
| 255 | (Unmarked) | | | | baby |
| 256 | (Unmarked) | | | | baby |
| 257 | Lee | J. W. | 1883 | 1941 | |
| 258 | (Unmarked) | | | | |
| 259 | Stockstill | Ira Louis | 04/26/1856 | 08/20/1940 | |
| 260 | Stockstill | Martha | 06/13/1874 | 01/14/1960 | |
| 261 | Fincher | Edward | 01/18/1885 | 08/26/1959 | |
| 262 | Skinner | A. M. Roy | 03/19/1888 | 10/13/1950 | |
| 263 | Lee | James W. | | 09/19/1941 | 24 yrs. |
| 264 | Lee | Mr. Roger | | | date of death 10/13/????; 50 yrs. |
| 265 | Lee | William P., Sr. | 12/18/1862 | 10/14/1938 | |
| 266 | Lee | Virginia | 02/13/1868 | 05/19/1948 | wife of William P. Lee |
| 267 | Mitchell | William Jasper | 03/18/1874 | 05/02/1956 | |
| 268 | Lee | William Shelby | 01/01/1899 | 12/25/1952 | |
| 269 | McMillagan | Novella A. | 09/08/1899 | 12/22/1926 | |
| 270 | Gill | Mack Neal | 04/12/1882 | 07/15/1957 | |
| 271 | Gill | Lula Burkett | 05/05/1882 | 08/20/1948 | |
| 272 | L(?)enton | Daisy Dell | 03/21/1932 | 01/14/1941 | |
| 273 | Thompson | Mazile M. | 08/11/1890 | 02/25/1963 | |
| 274 | Pearson | James M. | 1885 | 1953 | |
| 275 | Dwyer | Annie | 1874 | 1938 | |
| 276 | Lee | Mr. Clinton | | 05/14/1964 | 52 yrs. |
| 277 | Lee | Joseph C. | 02/01/1893 | 02/10/1961 | |
| 278 | Bounds | Cordia Bond | 1900 | 1938 | |
| 279 | Lee | Ruth | 10/09/1895 | 07/12/1937 | |
| 280 | Spiers | Mrs. Lillian Eloise | | 06/03/1942 | 22 yrs. |
| 281 | Lee | Infant | 09/30/1935 | 09/30/1935 | child of Mr. and Mrs. A. W(?) Lee |
| 282 | Lee | James Dewey | 07/15/1927 | 05/1944 | |
| 283 | (Unmarked) | | | | |
| 284 | Cole | Cathryn | 11/03/1920 | 07/18/1950 | |
| 285 | Morgan | Ophelia | 12/25/1885 | 10/18/1962 | |
| 286 | Tate | Donna Lynn | 03/03/1952 | 03/04/1952 | |
| 287 | McCoy | James Mark | | | date of death 10/05 or 06 (rest illegible) |
| 288 | McGovern | Mary A. | 10/04/1891 | 04/04/1961 | wife of Carl E. Tabor |
| 289 | Olson | Edward W. | 1894 | 1963 | |
| 290 | (Unmarked) | | | | |
| 291 | Bounds | John | 04/05/1860 | 03/31/1957 | |
| 292 | Bounds | Maria | 03/27/1869 | 02/22/1943 | |
| 293 | Bounds | June Allen | 08/17/1940 | 05/31/1942 | |
| 294 | Lee | Fitzhugh | 1893 | 1963 | |
| 295 | Roddie | Julia Victoria | 04/14/1857 | 07/27/1955 | |
| 296 | Roddie | Gertrude A. McCabe | 1880 | 1963 | |
| 297 | Ferguson | Shirley L. | 06/02/1896 | 04/18/1962 | |
| 298 | Lee | Hester Ferm | 1896 | 1950 | |
| 299 | Spiers | James C. | 01/18/1885 | 09/24/1962 | |
| 300 | (Unmarked) | | | | |
| 301 | Palmer | infant son | 03/31/1964 | 03/31/1964 | son of Reginold and Marilyn Palmer |
| 302 | Spiers | George A. | 1894 | 1953 | |
| 303 | Spiers | Blanche C. | 1894 | 1956 | |
| 304 | Lee | Thomas W. | 02/29/1892 | 11/09/1956 | |
| 305 | Lee | Maggie S. | 02/07/1897 | 10/27/1963 | |
| 306 | Stockstill | W. L. | 03/02/1875 | 05/13/1959 | |
| 307 | Stockstill | Rose Ann | 03/02/1877 | 10/31/1959 | |
| 308 | Smith | Louella Stockstill | 05/15/1884 | 11/03/1961 | |
| 309 | Seals | Rickey DeWayne | 04/26/1961 | 04/26/1961 | son of Mr. and Mrs. R. K. Seals |
| 310 | Rester | Otho L., Jr. | 03/01/1928 | 03/30/1958 | |
| 311 | Rester | Ronald Mark | 02/21/1959 | 06/22/1961 | |