Jump to record #1218
Catahoula Cemetery
Catahoula was never a settlement, just a rural district located on a tributary of the Jordan River in the central part of the county.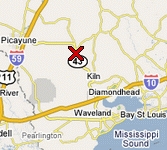 Directions:
From I-10 take the 603 North (= exit 13), then turn left on State Road 43 after about 5.7 miles. After about 6.1 miles, you will see the Catahoula Missionary Baptist Church and its cemetery on the right hand side of the road.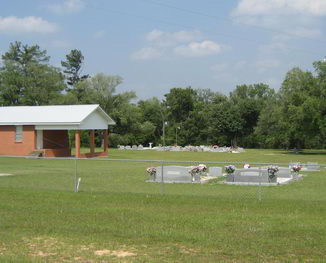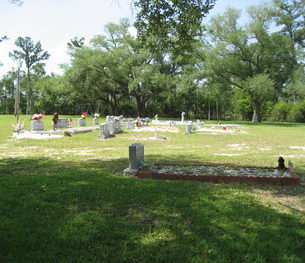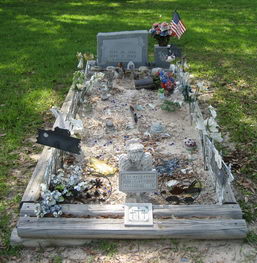 Note: The table below is sorted by grave layout. Use Ctrl+F to search for a specific name, or part of a name.
| | | | | | |
| --- | --- | --- | --- | --- | --- |
| # | Last Name | First Name | Birth | Death | Comment |
| 01-01 | Seal | Cora R. | 07/28/1911 | 09/06/1967 | mother |
| 01-02 | Seal | Elmer W. | 12/07/1904 | 03/10/1978 | father |
| 01-03 | Lee | Elizabeth | 11/08/1934 | | |
| 01-04 | Lee | Clark | 03/30/1918 | 11/09/1983 | |
| 02-01 | Bilbo | Jesse T. | 12/08/1921 | 07/13/1969 | |
| 02-02 | Bilbo | Irene M. | 05/23/1929 | | |
| 02-03 | Shaw | Melvin Arvil | 06/30/1934 | 02/14/2003 | |
| 02-04 | Bilbo | Larmon Jesse | 08/20/1947 | | |
| 03-01 | Bilbo | James Luston | 02/03/1925 | 10/27/1985 | Pfc US Air Force WW II |
| 03-02 | Bilbo | Louvenia S. | 06/25/1927 | | |
| 04-01 | Dougherty | Lester James | 08/23/1949 | 04/01/2006 | |
| 05-01 | (unmarked) | | | | |
| 05-02 | Dossett | Thomas | 1947 | 2008 | |
| 05-03 | Dossett | Jason Stone | 10/18/1980 | 06/17/2007 | |
| 05-04 | Dossett | B. L. | 03/27/1922 | 06/01/2004 | |
| 05-05 | Dossett | Myrtis Seal | 01/09/1925 | | |
| 05-06 | Seal | Cornelius C. | 08/25/1902 | 09/05/1973 | |
| 05-07 | Seal | Lucy B. | 10/09/1906 | 09/28/1987 | |
| 05-08 | Lee | Vivian S. | 12/20/1928 | | |
| 05-09 | Lee | Forest M. | 11/09/1920 | 06/06/1998 | |
| 05-10 | Dossett | Ony Ann F. | 08/25/1961 | 01/16/1996 | |
| 05-11 | Lee | August | 08/02/1901 | 12/13/1963 | |
| 05-12 | Lee | Dora B. | 10/28/1899 | 01/09/1982 | mother |
| 05-13 | Lee | Samuel A. | 04/05/1933 | 11/07/2002 | |
| 05-14 | Everett | Blondie Lee | 05/21/1926 | 02/25/2001 | |
| 06-01 | Wheat | Kermit "Kim" L. Jr. | 08/24/1962 | 02/14/1996 | US Navy |
| 06-02 | Cuevas | Barbara F. | 12/11/1941 | 05/28/1997 | |
| 06-03 | Cuevas | Gene F. | 04/19/1942 | | |
| 06-04 | Seal | Daniel | 06/27/1916 | 08/21/2007 | |
| 06-05 | Seal | Willie Mae | 12/26/1914 | 08/02/1995 | |
| 06-06 | Necaise | Edward Louis | 08/23/1926 | 12/29/1984 | Sgt US Air Force WW II |
| 06-07 | Cuevas | Tunas Toney | 11/02/1918 | 03/29/1988 | |
| 06-08 | Cuevas | Annie Maude | 03/07/1923 | | |
| 06-09 | (unmarked) | | | | |
| 06-10 | Cuevas | Mae Elizabeth | 01/18/1944 | 04/05/2004 | |
| 07-01 | Adams | Matthew Jason | 10/14/1974 | 10/14/1974 | |
| 07-02 | Adams | Shaun Michael Rae | 03/14/1976 | 03/16/1976 | |
| 07-03 | Brumfield | Julia Frances | 08/06/1922 | 05/09/2002 | |
| 07-04 | Sheridan | Leslie Reese | 07/02/1956 | 06/16/2003 | |
| 07-05 | Rutherford | Lewis Beauford | 02/08/1933 | 02/19/2001 | |
| 07-06 | Sager | Donald L. | 03/06/1935 | | |
| 07-06a | Sager | Douglas "Doug" Lawson | 03/11/1957 | 12/26/2006 | father of Kari and Lyndsi |
| 07-07 | Sager | Myra Ann Seal | 08/01/1935 | | |
| 07-08 | Seal | Oren L. | 11/13/1906 | 09/26/1986 | |
| 07-09 | Seal | Louise E. | 10/02/1911 | 05/08/1999 | |
| 08-01 | Stutts | Thomas Ray | 09/26/1986 | 09/02/2001 | |
| 09-01 | Van Lieu | Robert James | 10/11/1948 | 11/06/2001 | |
| 09-02 | Van Lieu | Alice Price | 12/15/1950 | | |
| 09-03 | Johnson | Toni D. | 10/23/1952 | 03/13/2006 | |
| 10-01 | Carlisle | Stonewall J. | 04/12/1927 | 10/26/1985 | |
| 10-02 | Long | Ida Pearl | 10/24/1892 | 12/09/1987 | |
| 11-01 | Lee | Kevin Richard | 03/29/1977 | 07/31/2006 | |
| 11-02 | Lee | Harold E. | 07/17/1929 | 01/14/1976 | |
| 11-03 | Cain | Gladys S. | 07/27/1931 | 01/08/2002 | |
| 11-04 | Lee | Michael E. | | 11/26/1952 | |
| 11-05 | Lee | Dolphus William | 11/08/1915 | 12/18/2001 | father |
| 11-06 | Lee | Geneva Marie | 11/29/1940 | | mother |
| 11-07 | Lee | Gary Dolphus | 11/21/1961 | 10/20/2001 | father |
| 11-08 | Lee | Cecilia Ann | 10/03/1963 | | mother |
| 12-01 | Adams | Sybil Lenora | 08/12/1927 | 08/13/1997 | |
| 12-02 | Adams | "Ray" Madison Quincy | 02/17/1926 | 11/03/1977 | S1 US NAVY WW II |
| 12-03 | Lee | Curtis D. | 04/04/1900 | 09/19/1990 | |
| 12-04 | Lee | Ina S. | 08/07/1912 | 08/30/1980 | |
| 12-05 | Lee | Rufus N. | 11/17/1906 | 12/12/1983 | |
| 12-06 | Lee | Katie M. | 08/25/1914 | 03/28/1990 | |
| 13-01 | Westbrook | Emma M. | 03/16/1933 | 05/02/1997 | |
| 13-02 | Westbrook | Wilfred H. | 11/01/1920 | 07/14/1996 | Sgt US Army Air Corps WW II |
| 13-03 | Cuevas | Billy R. | 08/16/1947 | | |
| 13-04 | Cuevas | Betty W. | 10/13/1948 | 07/10/1985 | |
| 14-01 | Haas | Betty Younger | 08/04/1929 | 03/22/1990 | |
| 14-02 | Murray | Justin Andrew | 03/20/1990 | 08/08/1993 | |
| 14-03 | Cousins | Elvera Z. | 05/12/1919 | 08/19/1995 | |
| 14-04 | Cousins | James P. | 10/26/1921 | | |
| 14-05 | Waterhouse | James E. III | 01/24/1942 | 12/22/1993 | |
| 14-06 | Waterhouse | Barbara M. | 02/08/1947 | | |
| 15-01 | Pennington | Eugene E. | 1930 | 1976 | Cpl US Army |
| 15-02 | Lyons | Cynthia | 06/14/1960 | 07/11/2006 | |
| 15-03 | Page | Ethel M. | 09/29/1939 | 06/28/2004 | |
| 15-04 | Page | James W. | 11/23/1928 | | |
| 15-05 | Murray | James W. | 03/06/1929 | 12/25/2003 | HN US Navy Korea |
| 15-06 | Murray | Regina Lee Victoria | 08/22/1939 | 05/05/2003 | HN US Navy |
| 15-07 | Fleming | Elma Hoffmann | 09/07/1940 | 07/18/2008 | |