Bayou Coco Cemetery
Fairly large, active cemetery. More than 500 people are buried here, the oldest grave dating back to 1865.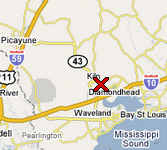 Directions:
From I-10 take the 603 North (= exit 13), then turn right on Kiln-DeLisle Road after about 4.5 miles. (The sign just says 'Kiln Rd'). Follow this road for about 1.7 miles, then turn right on Bayou Coco Cemetery Road. In 2008 it still had the "Charlotte Farms" sign. (The road before it is called 'Bayou Coco Point Dr', don't mistake that one for it.) After approximately 0.2 miles you will see the cemetery to your right.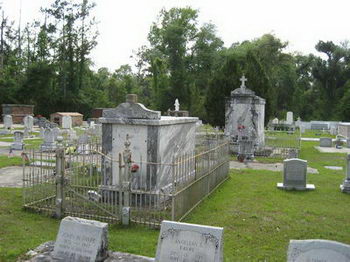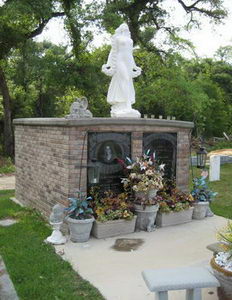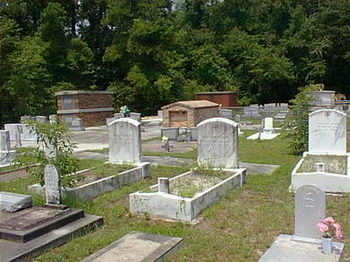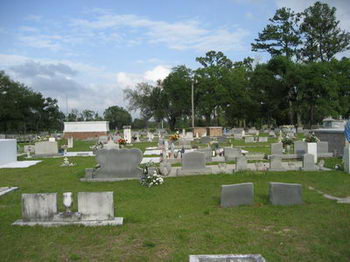 Note: The table below is sorted by grave layout. Use Ctrl+F to search for a specific name, or part of a name.
| | | | | | |
| --- | --- | --- | --- | --- | --- |
| # | Last Name | First Name | Birth | Death | Comment |
| 001 | Koch | G. A. Stanley | 09/27/1877 | 05/19/1947 | |
| 002 | Koch | Marylillie Favre | 09/12/1886 | 03/30/1945 | |
| 003 | Touquet | Naomi | 12/26/1878 | 01/20/1942 | |
| 004 | Touquet | Mary A. | 10/08/1854 | 11/18/1930 | |
| 005 | Touquet | Henry | 07/19/1849 | 11/20/1914 | |
| 006 | Touquet | Henry | 06/12/1876 | 01/01/1887 | |
| 007 | Labondera | Magdalina | 10/04/1874 | 02/14/1906 | wife of Frank Labondera |
| 008/012 | (Unmarked) | | | | |
| 013 | Williams | Thomas Leonadis | 02/18/1927 | 06/08/1929 | son of Mr. and Mrs. S. L. Williams |
| 014 | (Unmarked) | | | | |
| 015 | Necaise | Nellie Ladner | 11/15/1895 | 10/13/1950 | mother |
| 016 | Necaise | Jarius C. | 04/09/1891 | 01/19/1976 | father; Cpl. U. S. Army World War I |
| 017 | Cameron | Loise Marie | 03/08/1927 | 03/11/1937 | daughter of Mr. & Mrs. Louis Cameron |
| 018 | Cameron | Louis | 05/18/1889 | 12/02/1959 | Sgt. 7 Field Artillery World War I; husband of Nola Necaise |
| 019 | Cameron | Nola A. | 01/26/1893 | 01/29/1965 | mother |
| 020 | Genin | (Unmarked) | | | |
| 021 | Genin | (Unmarked) | | | |
| 022 | Genin | Annie Farve | 02/19/1884 | 03/04/1918 | |
| 023 | Farve | Mary A. | 03/27/1888 | 01/03/1970 | |
| 024 | Farve | (Unmarked) | | | |
| 025 | Farve | Samuel L. | 03/24/1890 | 01/10/1966 | |
| 026 | Farve | Baby | 08/15/1940 | 08/15/1940 | |
| 027 | Fuente | Elizabeth N. | 02/25/1900 | | |
| 028 | Fuente | Andrew R. | 06/01/1896 | 07/28/1969 | Sgt. U. S. Army Miss. World War I |
| 029 | Fuente | Stella Farve | 04/06/1879 | 07/03/1959 | |
| 030 | Fuente | Frutus | 1873 | 12/12/1949 | from Spain--state Asturias, Niembra age 75 yrs, 9 mos., 7 days |
| 031 | Fuente | Lucille | 1911 | 1932 | |
| 032 | Fuente | Adrien | 1915 | 1915 | child |
| 033 | Fuente | Joe Amisetto | | | iron cross from Spain-- Vitarosca |
| 034 | Fuente | Louisa Necaise | | | wife |
| 035 | Epperson | Patrice | | | |
| 036 | Farve | Allige (Alice ?) | 1882 | 1917 | name not clearly written; wife of ? |
| 037 | Traverica | T | | | |
| 038 | (Unmarked) | | | | child |
| 039 | (Unmarked) | | | | |
| 040 | Johnston | (Unmarked) | | | |
| 041 | Johnston | (Unmarked) | | | |
| 042 | Cameron | Nora R. | 12/17/1913 | 09/24/1963 | |
| 043 | Cameron | Renalder L. | 08/02/1891 | | |
| 044 | Tyner | Anna N. | 1887 | 1887 | |
| 045 | Tyner | Andrew Jackson | 1877 | 1947 | |
| 046 | (Unmarked) | | | | child |
| 047 | Cameron | J. L. | 09/21/1887 | 09/20/1956 | father |
| 048 | Cameron | Theresa Fayard | 11/11/1891 | 02/27/1953 | |
| 049 | Cameron | Mary Grave | 06/03/1919 | 07/15/1923 | infant daughter of Mr. & Mrs. J. L. Cameron |
| 050 | Cameron | (Unmarked) | | 10/1908 | |
| 051 | Cameron | Carrie T. Monti | 08/28/1908 | 05/17/1953 | |
| 052/053 | (Unmarked) | | | | |
| 054 | Shiyou | Craton A. | 02/20/1911 | 05/27/1967 | |
| 055 | Shiyou | Lola P. | 03/04/1916 | 03/04/1916 | |
| 056 | Shiyou | Ronald C. | 02/11/1948 | 07/14/1969 | |
| 057 | (Unmarked) | Child | | | |
| 058 | (Unmarked) | Child | | | |
| 059 | Smith | Theodore V. | 1916 | 1916 | |
| 060 | Smith | Betty Travirca | 1924 | 1970 | |
| 061 | (Unmarked) | | | | |
| 062 | Necaise | infants | | | may be Farve (Mary E.) infants |
| 063 | Spera | Morris | 1892 | 1948 | |
| 064 | Wagner | Francois Joseph | 06/10/1939 | 03/03/1940 | son of Mary and Fr. Wagner |
| 065 | Gatewood | Kenneth W. | 1897 | 1966 | |
| 066 | Haas | Rinaldo Alexander | 05/24/1892 | 10/03/1948 | |
| 067 | Haas | Viola Elizabeth | 03/02/1892 | 01/05/1960 | |
| 068 | Haas | Margie Lou Mary | 01/26/1939 | 04/10/1939 | |
| 069/070 | (Unmarked) | | | | |
| 071 | Saucier | Mary Necaise | | | |
| 072 | Saucier | Elmo | | | |
| 073 | (Unmarked) | | | | |
| 074 | Glass | William M. | 09/27/1892 | 07/09/1943 | |
| 075 | (Unmarked) | | | | |
| 076 | Ladner | Ray Thomas | 09/04/1924 | 10/27/1957 | Ms. YN2--U. S. Navy W. W. II |
| 077 | Ladner | Frank | 1894 | 1960 | |
| 078 | Ladner | Agnes P. | 1897 | | |
| 079 | Ladner | Edward J. | 1920 | 1923 | |
| 080 | Ladner | John E. | 1930 | 1930 | dates not certain |
| 081 | Lacoste | Rufus C. | 06/13/1892 | 12/16/1949 | father |
| 082 | Lacoste | Rose B. | 07/22/1899 | | mother |
| 083 | Lacoste | Richard P. | 04/26/1967 | | son of Doris and Robert Lacoste; dod 05/15/???? |
| 084 | Shiyou | Gerline L. | 07/28/1935 | 02/04/1936 | |
| 085 | (Unmarked) | | | | |
| 086 | Haas | Adam Jeremiah | 04/26/1898 | 12/29/1968 | Ms. P. F. C. Co. A, 9 Mg Bn WWI |
| 087 | Haas | Ira | 03/04/1911 | 03/07/1938 | |
| 088 | Haas | Jeremiah | 04/17/1858 | 09/27/1940 | father |
| 089 | Haas | Mary | 03/08/1871 | 04/28/1936 | mother |
| 090 | (Unmarked) | | | | |
| 091 | Hart | Henry Alex | 03/29/1879 | 03/17/1965 | Papa |
| 092 | Hart | Louisa Farve | 09/30/1869 | 09/29/1952 | Mama |
| 093 | (Unmarked) | | | | child's grave |
| 094 | Rivers | Armotine | 02/21/1867 | 04/17/1933 | mother |
| 095/114 | (Unmarked) | | | | |
| 115 | Castro | Henry J. | 04/05/1873 | 01/04/1944 | |
| 116 | Castro | Manuel A. | 01/01/1879 | 05/25/1953 | |
| 117 | Castro | Ella J. Necaise | 03/17/1890 | 09/10/1959 | wife of Manual Castro |
| 118 | Curet | Mozella | 10/05/1900 | 04/14/1949 | |
| 119 | Herron | John C. | 1893 | 1961 | |
| 120 | Herron | Laura B. | 1896 | | |
| 121 | Lacoste | Heather Brea | | 01/20/1976 | 16 months |
| 122a | (Unmarked) | | | | |
| 122b | Lacoste | Cynthia Denise | 11/06/1962 | 08/04/1979 | daughter of Doris and Robert Lacoste |
| 123 | Fuente | Lee | 07/08/1899 | 11/24/1961 | Ms. F. C. Co. B-9 Machine Gun Btn. |
| 124 | Fuente | Mildred B. Curet | 08/24/1903 | 01/14/2003 | |
| 125 | Mauffray | Victor | 04/22/1878 | 04/04/1953 | |
| 126 | Curet | Joseph I. | 07/14/1870 | 06/08/1941 | |
| 127 | Curet | Emily Josephine Mauffray | 03/18/1876 | 09/17/1958 | |
| 128 | Gonzales | Randolph O. | 02/19/1938 | 02/19/1938 | Ms. Pvt. 20 Field Art. 5 Div. |
| 129 | Curet | Joseph G. | 03/21/1886 | 09/21/1918 | |
| 130 | Curet | Elizabeth G. | 03/08/1887 | 01/12/1967 | |
| 131 | Curet | Lorraine Marie | 04/07/1909 | 09/24/1931 | dau. of Elizabeth Curet, age 22 yrs. |
| 132 | Favre | Horatio | 10/11/1890 | 07/04/1940 | |
| 133 | Favre | Horatio | 03/05/1893 | 12/17/1967 | |
| 134 | Gonzales | Lavis J. D. | | 11/12/1944 | age 92 yrs. native of Spain |
| 135 | Gonzales | Victoria | 10/04/1857 | 12/05/1947 | |
| 136 | (Unmarked) | | | | |
| 137 | Cue | Emilia | 1860 | 1905 | native of Hiembra, Spain |
| 138 | Cue | Emilia, Jr. | 05/05/1893 | 08/03/1960 | |
| 139 | Cue | Ellen | 06/12/1867 | 12/19/1960 | |
| 140 | Cue | Rita | | | |
| 141 | Favre | John | 1832 | 1899 | |
| 142 | (Unmarked) | | | | |
| 143 | Seal | Harriet Virginia | 06/17/1855 | 02/19/1913 | wife of William Riley Seal and James C. Osbourn; mother of Joseph A. Seal and Leo W. Seal |
| 144 | Seal | Charles H. | 1860 | 1910 | |
| 145 | Campbell | Carrie Favre | 05/19/1875 | 07/13/1958 | widow of Jesse Campbell |
| 146 | Beach | George | | | sgt. Co. E 88 N. Y. Inf. |
| 147 | Beach | Mary C. | 09/05/1867 | 10/21/1942 | |
| 148 | Henley | Adella Mora | 1842 | 03/04/1907 | wife of J. A. Henley |
| 149 | Henley | John A. | | | |
| 150 | Haas | Nicholas | 05/06/1801 | 01/07/1883 | |
| 151 | Haas | Francois | 08/30/1831 | 08/21/1900 | |
| 152 | Haas | Evelyn | 03/29/1839 | 12/25/1916 | |
| 153 | Haas | Samuell J. | 06/28/1881 | 07/12/1920 | |
| 154 | Haas | Mary Ann | 04/1900 | 11/1929 | |
| 155 | Haas | Infant Son | | | dates illegible |
| 156 | Haas | (Unmarked) | | | next to Samuel J. Haas |
| 157 | Drummond | Agnes Lott | 10/04/1898 | 04/12/1972 | |
| 158 | Lott(?) | Child | | | illegible |
| 159 | Bloom | Clyde | 03/19/1894 | 12/28/1968 | Ms. PVT Army WWI |
| 160 | Byrd | Larry Filmore | 09/16/1931 | 08/22/1975 | |
| 161 | Byrd | Eric Norma | 05/21/1923 | 07/12/1965 | |
| 162 | Byrd | Louise Lott | 1904 | 1943 | wife of M. F. |
| 163 | Haas | Melva | 05/14/1907 | 04/07/1969 | "mother" |
| 164 | Haas | Sam J. | 09/04/1900 | 09/17/1947 | "father" |
| 165 | Haas | Mary E. | | | infant; born on 07/08/????, dates otherwise illegible |
| 166 | Haas | Child | 01/25/1903 | 1906 | no name on marker |
| 167 | Haas | Child | | | illegible |
| 168 | Haas | Infant | | | child of J.M. and M.V. Haas |
| 169 | Haas | Infant | | | illegible |
| 170 | Haas | Infant | | | unmarked |
| 171 | Haas | Infant | | | unmarked |
| 172 | Lott | Elizabet | 09/25/1872 | 05/25/1944 | |
| 173 | Lott | Andrew | 07/04/1871 | 06/28/1934 | |
| 174 | Lott | Mary Burke Lott | 09/14/1904 | 09/27/1965 | |
| 175 | Moore | Franklin A. | 1834 | 1894 | |
| 176 | (Unmarked) | | | | |
| 177 | (Illegible) | Grover C. | | | son of John and Emma |
| 178 | (Unmarked) | | | | |
| 179 | Scerolers | Joseph J. | 11/01/1857 | 06/14/1913 | |
| 180 | Scerolers | Frances | 03/19/1863 | 03/17/1907 | |
| 181 | Scerolers | Timothy F. | 06/15/1888 | 04/29/1907 | |
| 182 | Scerolers | Elizabeth F. | 08/20/1895 | 07/26/1913 | |
| 183 | Shifalo | Mary Louise | 09/02/1869 | 07/09/1948 | |
| 184 | Shifalo | Joseph M. | 03/12/1869 | 01/20/1925 | husband of Louisa |
| 185 | Shifalo | Daisy B. | 09/10/1899 | 07/09/1900 | |
| 186 | Shifalo | Margarette | | 01/25/1902 | age 67 |
| 187 | Curet | Eugene | 1857 | 1913 | husband of Leona Favre |
| 188 | Curet | Leona E. Favre | 1862 | 1942 | wife of Eugene |
| 189 | Curet | Eugene R. Jr. | 05/08/1925 | 12/29/1925 | |
| 190 | Curet | Annie Mae | 05/01/1902 | 12/30/1945 | |
| 191 | Curet | Rudolph Pat | 03/17/1889 | 11/29/1953 | |
| 192a/c | (Unmarked) | | | | |
| 193 | Favre | Jesse T. | 09/10/1898 | 05/19/1955 | |
| 194 | Favre | Ruby M. | 06/26/1942 | 12/07/1973 | |
| 195 | Favre | Infant | | | marked as "brother and sister" |
| 196 | Favre | Infant | | | marked as "brother and sister" |
| 197 | Erwin | George W. | 1855 | 1923 | capt. |
| 198 | Erwin | Ruby E. | 1883 | 1971 | |
| 199 | Erwin | Miriam M. | 1911 | 1918 | |
| 200 | Erwin | Edith D. | 1917 | 1917 | |
| 201 | Erwin | Richard F. | 1925 | 1929 | |
| 202 | (Unmarked) | | | | |
| 203 | Prince | Lawrence H. Md | 12/30/1858 | 11/29/1946 | |
| 204 | Prince | Katherine K. | 1873 | 1955 | |
| 205 | Prince | Florence E. | 1880 | 1956 | |
| 206 | C. | J. H. | | | otherwise unmarked, buried next to Florence Prince |
| 207 | (Unmarked) | | | | |
| 208a | Marson | William | 06/09/1874 | 12/18/1950 | "father" |
| 208b | Marson | Elizabeth S. | 07/13/1879 | 01/27/1960 | "mother" |
| 208c | Marson | Ramena M. Necaise | 08/24/1904 | 06/14/1963 | "wife" |
| 208d | Marson | Arthur Morrison | 02/10/1901 | | "son" |
| 209 | Craddock | Quincy Q. | 09/07/1890 | 12/30/1952 | |
| 210 | Curet | Gregary J. | 09/24/1953 | 03/27/1966 | |
| 211 | Curet | Ruth | 01/19/1897 | 01/18/1951 | |
| 212 | Sardos | Julia | 12/19/1902 | 11/05/1918 | |
| 213 | Sardos | Adele | 03/11/1916 | 03/11/1916 | |
| 214 | Sardos | Lawrence | 08/10/1858 | 03/17/1948 | |
| 215 | Sardos | Felecity | 08/03/1880 | 01/05/1975 | |
| 216 | Brooks | Willie Audrey | 08/03/1916 | 03/02/1917 | |
| 217a | (Unmarked) | | | | footstone marked "L" |
| 217b | (Unmarked) | | | | footstone marked "L" |
| 217c | (Unmarked) | | | | footstone marked "L" |
| 217d | (Unmarked) | | | | footstone marked "L" |
| 218 | (Unmarked) | | | | |
| 219 | Mauffrey | James Barry | 07/22/1949 | 09/30/1974 | US Army |
| 220 | Gonzales | Joseph Edward | 12/01/1885 | 07/05/1953 | "father" |
| 221 | Gonzales | Ella Moran | 05/15/1897 | 05/15/1897 | "mother"; dates uncertain |
| 223 | Har (..?) | Joseph | | | illegible |
| 224 | (Unmarked) | | | 04/19/1968 | age 83 yrs, 6 mos.; no headstone |
| 225 | (Unmarked) | Anthony | 03/27/1879 | 01/31/1973 | |
| 226 | (Unmarked) | Eva Marie | 01/06/1898 | 01/06/1898 | |
| 227/228 | (Unmarked) | | | | |
| 229 | Kenmar | Charles | 07/14/1916 | 01/10/1965 | "father" |
| 230 | Kenmar | Gloria E. | 02/08/1923 | 01/14/1966 | |
| 231a | (Unmarked) | | | | |
| 231b | (Unmarked) | | | | |
| 232a | Necaise | Joan Strong | 12/08/1941 | 12/22/2000 | |
| 232b | Necaise | Robert J. (Rocky) | 01/27/1966 | 01/19/1994 | |
| 233a | Holden | James M. | 07/29/1888 | 08/23/1970 | |
| 233b | Holden | Samantha | 04/09/1896 | 06/12/1972 | |
| 233c | Strong | (?)a Louise Holden | | | |
| 233d | (Unmarked) | | | | |
| 234 | Henly | Mattie Ruth | 07/22/1930 | 12/10/1930 | |
| 235 | Henly | Almo | 09/23/1904 | 01/10/1925 | |
| 236 | Henly | Mrs. Elizabeth | 04/27/1951 | 04/27/1951 | 87 yrs, 2 mos, 7 days |
| 237 | Henly | Samuel | 11/19/1846 | 09/20/1925 | husband of E. H. |
| 238 | Sims | John W. | 01/10/1914 | 07/29/1938 | |
| 239 | Niolet | Lydia Ida N. | 06/19/1894 | 10/22/1934 | |
| 240 | Sims | William | 09/07/1874 | 04/15/1914 | |
| 241 | (Unmarked) | | | | |
| 242 | Barge | Minnie | 05/08/1917 | 05/08/1917 | |
| 243 | Barge | Baby | 09/29/1917 | 09/29/1917 | daughter of Hawzy and Pearl Penton |
| 244 | Bilbo | William | 12/22/1852 | 12/13/1917 | "father" |
| 245 | Bilbo | Amanda | 01/13/1861 | 10/15/1954 | "mother" |
| 246/247 | (Unmarked) | | | | |
| 248 | (Unmarked) | Infant | 07/19/1911 | 07/19/1911 | dates not certain, illegible |
| 249 | (Unmarked) | Infant | 07/20/1912 | 07/20/1912 | child of Wiley and Victoria (? illegible) |
| 250a/b | (Unmarked) | | | | |
| 251 | (Unmarked) | | | | |
| 252 | Carlisle | Brantley | 09/07/1822 | 10/14/1904 | |
| 253 | Carlisle | Martha T. Chandler | 09/15/1827 | 05/02/1906 | wife of B. H. Carlisle |
| 254 | Crowe | Edward Alga | 06/1899 | 09/1947 | |
| 255 | Crowe | Louise Moran | 01/06/1870 | 09/06/1928 | |
| 256 | Crowe | L. C. | 01/24/1905 | 03/17/1924 | son of Mr. and Mrs. C. C. Crowe |
| 257a | Ulyses | John B. | | 07/29/1944 | 73 yrs |
| 257b | Ulyses | Willie May | | 02/20/1926 | |
| 257c | Ulyses | Mary E. Favre | 02/09/1865 | 08/31/1948 | wife of John B. |
| 258 | Favre | Alphonsine | 1887 | 1962 | |
| 259 | Favre | Joseph E. | 1879 | 1949 | |
| 260 | Mauffrey | Noel Theophile | 12/25/1873 | 05/05/1918 | |
| 261 | Mauffrey | Sidonia Haas | 12/05/1875 | 04/14/1964 | L.O.A. WOW marker |
| 262 | Herlihy | Timothy H. | 01/13/1861 | 10/1916 | |
| 263 | Herlihy | Louisa M. Haas | 05/13/1869 | 12/13/1928 | wife of Timothy |
| 264 | Herlihy | George T. | 11/25/1895 | 05/21/1937 | |
| 265 | Mollere | John Peter | 07/05/1889 | 11/12/1954 | L.O.A. WOW marker |
| 266 | Mollere | Charles B. | 03/22/1894 | 07/12/1964 | US NAVY WW I MS. C.W.T. |
| 267 | Curet | Harry D. Sr. | 03/01/1902 | 01/29/1966 | L.O.A. |
| 268 | Herlihy | ? | 07/15/1839 | 04/21/1901 | L.O.A. |
| 269a | Swanson | Catherine | | | |
| 269b | Swanson | Alex | | | |
| 269c | Swanson | William | | | |
| 269d | Swanson | Cecelia | | | |
| 269e | Swanson | Eldry | | | |
| 269f | Swanson | Godfrey | | | |
| 269g | Swanson | Beatrice | | | |
| 270 | Swanson | Basil Alexander | | | |
| 271 | Haas | Alice Norton Herlihy | 07/10/1870 | 02/23/1907 | wife of E. N. Haas |
| 272 | Haas | E. N. | 05/16/1866 | 03/10/1931 | L.O.A. |
| 273 | Mcleod | Albert James | 12/21/1855 | 11/29/1931 | |
| 274 | Mcleod | Virginia A. | 09/05/1878 | 01/06/1973 | ?.O.A |
| 275 | Wyatt | Edwina Haas | 03/06/1906 | 07/21/1960 | "mother" |
| 276 | Wyatt | Edward Floyd | 03/12/1944 | 09/18/1966 | MS PFC US Marine Corps; F.O.A. |
| 277 | Haas | Ester | 02/25/1914 | 06/22/1964 | R.O.A. |
| 278 | Haas | John A. | 04/15/1857 | 10/15/1938 | "father" |
| 279 | Haas | Laura Anne | 04/27/1868 | 04/01/1938 | "mother"; R.O.A. |
| 280 | Haas | Thomas Elisha | 08/29/1892 | 12/22/1944 | |
| 281 | Haas | Josephine Veronica | 03/19/1892 | 03/04/1954 | |
| 282 | Haas | Lazarus Mcbride | 07/07/1905 | 06/22/1962 | |
| 283 | Haas | Iven Benedict | 06/24/1907 | 03/22/1963 | |
| 284 | Haas | Francois B. | 04/22/1897 | 08/14/1971 | |
| 286 | (Unmarked) | John Lea | | 08/25/1973 | age 77; R.O.A. |
| 287 | Thomas | William C. | 04/18/1891 | 11/29/1951 | "father" |
| 288 | Thomas | Rachel Shifala | 09/03/1901 | 09/03/1901 | R.O.A. |
| 289 | Favre | Adolph P. | 1877 | 1960 | |
| 290 | Favre | Stella E. | 1892 | 1962 | |
| 291 | Favre | Rudolph | 02/13/1922 | 02/15/1922 | |
| 292 | Rohm | ? | 11/06/1898 | 08/28/1964 | |
| 293 | Rohm | Myrtle J. | 05/26/1907 | 07/14/1974 | |
| 294 | Favre | John H. | 1872 | 1947 | husband of Lillie Graves |
| 295 | Favre | Angelean L. | 12/12/1903 | 05/30/1981 | |
| 295 | Haas | Joseph J. | 11/17/1898 | 10/23/1971 | R.O.A. |
| 296 | Holden | Thelma L. | 08/10/1920 | 08/10/1920 | dates not certain |
| 297 | Holden | Crosby (Bud) | 05/26/1909 | 07/07/1972 | R.O.A. |
| 298 | Henley | Doskie | 04/27/1902 | | no date of death or illegible |
| 299 | Henley | James A. | 12/23/1898 | 02/1946 | |
| 300 | Henley | Andrew Jr. | 1922 | 1976 | PFC US Army WW II; ?.O.A. |
| 301 | Henley | Mrs. Edna | | 09/12/1951 | 34 yrs, 11 mos, 20 days |
| 302 | (Unmarked) | | | | no headstone |
| 303 | Glunt | Sarah Jane | | 02/05/1947 | age 55 |
| 304 | Bilbo | Odis | 01/23/1899 | 02/03/1929 | |
| 305a | Necaise | Willie | 06/20/1929 | 01/24/1944 | |
| 305b | Necaise | Cyril | 11/24/1932 | 08/15/1943 | |
| 306 | Henley | Samuel | 11/1846 | 09/20/1925 | husband of E. H. Henley; R.O.A. |
| 307 | Henley | Mrs. Elizabeth | | 04/27/1951 | 87 yrs, 2mos, 7 days; R.O.A. |
| 308 | Henley | Alma | 09/23/1905 | 01/10/1924 | |
| 309 | Henley | Mattie Ruth | 07/22/1930 | 12/10/1930 | |
| 310 | Holden | James M. | 07/29/1888 | 08/23/1970 | |
| 311 | Holden | Samantha | 04/09/1896 | 06/12/1972 | |
| 312/316 | (Unmarked) | | | | |
| 317 | Travirca | Anthony | 03/27/1879 | 01/31/1973 | |
| 318 | Travirca | Eva Marie | 01/06/1898 | 1976 | R.O.A.; date of death ??/09/1976, month illegible |
| 319 | Travirca | Joseph Horace | | 04/19/1968 | 88 yrs; R.O.A. |
| 320 | Travirca | Forrest A. | 10/23/1903 | 05/07/1963 | |
| 321 | Lott | William Horatio | 1898 | 1953 | |
| 322 | Garriga | Oliver J. | 04/09/1891 | 07/17/1958 | |
| 323 | Garriga | Anna L. | 10/10/1893 | 12/23/1965 | |
| 324 | Garriga | Timothy Ray | 03/03/1952 | 07/26/1975 | |
| 325 | (Unmarked) | | | | child |
| 326 | (Unmarked) | | | | |
| 327 | Bilbo | William E. | 01/21/1916 | 09/28/1954 | |
| 328 | Herndon | Roy Charles | 03/22/1966 | 03/22/1966 | stillbirth |
| 329 | Johnston | Mickey D. | 09/11/1963 | 09/11/1963 | |
| 330 | (Unmarked) | | | | child |
| 331 | Bilbo | Chester Morris | 02/20/1938 | 07/04/1960 | Ms. S.2 USNR WWII |
| 332 | (Unmarked) | | | | |
| 333 | Bilbo | Joseph Wylie | | 05/1958 | 78 yrs |
| 334 | Bilbo | Mrs. Victoria | | 10/29/1949 | 56 yrs, 3 mos, 24 days |
| 335 | Depreo | Wallace Adolph | 09/19/1919 | 12/29/1943 | Pfc. 145 Inf. 37th Div. - WW II |
| 336 | Depreo | Virgie Mae | | 03/05/1938 | age 24 |
| 337 | Depreo | Laura Self | | 10/16/1961 | Age 65 |
| 338 | Depreo | A. J. | 1888 | 1926 | |
| 339 | Depreo | Julian | 04/11/1896 | 10/06/1896 | |
| 340a | Depreo | Batron | 01/27/1852 | 02/24/1946 | husband |
| 340b | Depreo | Alice Mary | 04/29/1856 | 05/02/1935 | wife |
| 341 | Depreo | Forest F. | 11/25/1902 | 04/09/1955 | |
| 342a | Depreo | Ferdinand E. | 09/28/1885 | 09/24/1963 | husband |
| 342b | Depreo | Mary Arminia | 04/20/1889 | 01/23/1951 | wife |
| 342c | Depreo | Infant | | | unmarked |
| 342d | Depreo | Infant | | | unmarked |
| 342e | Depreo | Infant | | | unmarked |
| 342f | Depreo | Infant | | | unmarked |
| 343 | (Unmarked) | | | | |
| 344 | Nicaise | Jarvis C. | 04/09/1891 | 01/19/1976 | father; Cpl U S Army WW I |
| 345 | Nicaise | Nellie Ladner | 11/15/1898 | 10/13/1950 | mother |
| 346 | Depreo | Jann Marie | 08/20/1952 | 08/21/1952 | |
| 347 | (Unmarked) | | | | |
| 348 | Selph | Willie D. | | 08/09/1963 | aged 59 |
| 349 | Varnado | Harrison Pruitt | | 03/22/1975 | |
| 350/352 | (Unmarked) | | | | |
| 353a | Necaise | Casimere | 03/04/1864 | 09/23/1930 | husband |
| 353b | Necaise | Celina Marson | 08/11/1870 | 09/21/1956 | wife |
| 354/355 | (Unmarked) | | | | |
| 356 | Necaise | Alphonsine Dubuisson | 10/02/1864 | 02/07/1938 | wife of Nolas Necaise |
| 357/358 | (Unmarked) | | | | |
| 360 | Roulot | Marie (Necaise) | 08/15/1825 | 08/25/1891 | wife of Anatole Necaise |
| 361 | Necaise | Anatole | 07/14/1818 | 04/20/1891 | husband of Marie Roulot |
| 362 | Necaise | Louis | 08/25/1856 | 09/06/1905 | husband of Aimee Dubuesson |
| 363 | Necaise | Emma (Aimee) Dubuisson | | 02/04/1928 | 68 yrs |
| 364 | Necaise | Leila Agnes | 06/15/1892 | 10/31/1912 | wife of W.E. Garrett |
| 365 | Necaise | Ola Sylvan | | 01/20/1889 | |
| 366 | Necaise | Tommy | 09/12/1886 | 12/18/1941 | |
| 367 | Necaise | Alcide | 1888 | 1919 | |
| 368 | (Unmarked) | Child | | | child of Alcide Necaise? |
| 369 | (Unmarked) | Child | | | child of Alcide Necaise? |
| 370 | Necaise | Sylvanie | 03/06/1862 | 12/31/1937 | |
| 371 | Bourgois | Nola | 04/30/1897 | 05/21/1970 | in Necaise plot |
| 372 | (Unmarked) | | | | |
| 373 | Necaise | Etienne | 02/13/1871 | 01/22/1928 | husband of Angelina Travaca |
| 374/375 | (Unmarked) | | | | |
| 376a | Necaise | Octavie | | | reserved?; wife of Jack Lizana |
| 376b | Lizana | Jack | | | reserved?; husband of Octavie Necaise |
| 377a | Necaise | Henry Sylvester | 09/17/1871 | 02/18/1940 | |
| 377b | Serola | Annette | 06/15/1880 | 11/22/1953 | |
| 378a | Necaise | Pierre | | | reserved? |
| 378b | Mauffrey | Locadie | | | reserved? |
| 379 | Necaise | Alice | 10/29/1867 | 05/24/1893 | wife of B. Favre |
| 380 | (Unmarked) | Child | | | |
| 381 | (Unmarked) | Child | | | |
| 382 | Necaise | Olige C. | 1914 | 1970 | |
| 383 | Necaise | Annette | | 06/08/1940 | infant |
| 384 | Necaise | Vernon A. | 12/06/1931 | 11/01/1958 | |
| 385 | Necaise | Salvadore Joseph | 12/16/1865 | 03/02/1941 | husband of Mary M. Moran |
| 386 | Necaise | Mary M. Moran | 11/12/1871 | 01/22/1919 | wife of Salvadore Joseph Necaise |
| 387 | Moran | Frank | 04/22/1873 | 05/10/1914 | |
| 388 | Necaise | Monroe | 03/11/1895 | 11/22/1912 | |
| 389 | Necaise | Herbert L. | 11/02/1901 | 06/16/1962 | |
| 390 | Necaise | Rita | 09/11/1935 | 09/11/1936 | |
| 391 | (Unmarked) | Child | | | |
| 392 | (Unmarked) | Child | | | |
| 393 | Necaise | Donald James Jr. | | 01/23/1965 | infant |
| 394 | Necaise | Infant | | | |
| 395 | Necaise | Infant | | | |
| 396 | Necaise | Infant | | | illegible |
| 397 | Necaise | Wilson L. | 07/08/1921 | 12/07/1941 | |
| 398 | Necaise | Irvin Evan | 05/14/1917 | 10/19/1918 | |
| 399 | Necaise | Onelia | 05/26/1903 | 10/25/1975 | mother |
| 400 | Necaise | Ray | 03/14/1931 | 03/28/1945 | |
| 401a | Necaise | John | 1955 | 1955 | twin of Joseph |
| 401b | Necaise | Joseph | 1955 | 1955 | twin of John |
| 402a | Necaise | Arvis | | | twin of Ardis |
| 402b | Necaise | Ardis | | | twin of Arvis |
| 403 | Necaise | Acnis | 03/03/1922 | 10/25/1924 | |
| 404 | Necaise | Floren | 03/03/1906 | 07/17/1963 | |
| 405 | Necaise | Melva Louise | 02/12/1938 | 04/12/1940 | |
| 406 | Necaise | Mazel Ann | 08/05/1942 | 06/28/1943 | |
| 407 | Necaise | Horace A. | 02/23/1922 | 05/24/1945 | |
| 408 | Necaise | Baby Earl | | | |
| 409 | Necaise | Henry C. | 02/05/1891 | 10/20/1966 | father |
| 410 | Necaise | Emily Ladner | 11/10/1897 | 05/25/1925 | mother |
| 411 | (Unmarked) | Infant | | | |
| 412 | Mitchell | Corelia Necaise | 08/28/1910 | 01/18/1974 | |
| 413 | Necaise | Rosa Henley | 07/09/1871 | 12/14/1964 | |
| 414 | Necaise | Tunas Turner | 07/09/1879 | 06/27/1951 | |
| 415 | (Unmarked) | Infant | | | |
| 416 | Necaise | Elias | 06/14/1895 | 1915 | |
| 417 | Necaise | Malvina | 09/12/1877 | 05/15/1938 | |
| 418 | Necaise | Donatien | 04/15/1873 | 06/16/1920 | |
| 419/421 | (Unmarked) | | | | |
| 422 | Necaise | H. Natalie | 07/27/1869 | 04/01/1926 | |
| 423 | Necaise | Cicilia | | 11/18/1885 | wife of Anatole Necaise |
| 424 | Necaise | Anatole | 06/21/1841 | | husband of Cicilia |
| 425 | Necaise | Mary Agnais | 1874 | 1949 | |
| 426 | Necaise | Samuel L. | | 11/14/1941 | Pvt. 10 L. QM Corps |
| 427 | Necaise | Willie | 01/27/1894 | 01/27/1940 | |
| 428 | Necaise | Edna Curet | 07/19/1898 | 10/01/1972 | |
| 429 | Necaise | Willie E. | 1929 | 1944 | |
| 430 | Necaise | Cyril T. | 1932 | 1943 | |
| 431 | Necaise | Joseph C. | 08/16/1868 | 02/11/1945 | |
| 432 | Necaise | Phrasine M. | 04/26/1876 | 11/26/1907 | |
| 433 | Necaise | Rowena Marson | 08/24/1902 | 06/14/1963 | |
| 434 | Necaise | Amelia E. | 02/21/1906 | 09/19/1970 | |
| 435 | Ladner | Roland D. | 07/21/1950 | 09/28/1972 | |
| 436 | Ladner | Earl Edward Sr. | | 10/03/1965 | |
| 437 | Pace | Glenn E. | 04/23/1951 | 04/23/1973 | |
| 438 | Landtroop | Donald E. | | 03/09/1976 | 37 yrs |
| 439 | Favre | Cameron "Nick" | 10/05/1888 | 12/18/1969 | |
| 440 | Favre | Viola F. | 05/03/1896 | 05/05/1970 | |
| 441 | Glass | Lancelot Sr. | 08/12/1921 | 01/11/1970 | |
| 442 | Ladner | Brian S. | 09/17/1965 | 06/23/1967 | |
| 443 | Moran | Sylvan | 08/20/1890 | 06/02/1972 | Pvt. MS. U. S. Army WWI |
| 444 | Moran | Sylvania | 06/09/1891 | 08/01/1969 | |
| 445 | Henley | William S. | 06/29/1924 | 08/06/1975 | |
| 446 | Carver | Henry S. | 02/25/1918 | 11/13/1973 | Ms. PTR 2 U. S. Army WW II |
| 447 | Babinger | Marvin J. | 10/01/1911 | 07/08/1967 | |
| 448 | Nelson | Oler E. | 01/11/1890 | 05/14/1966 | |
| 449 | Goddard | Jim | 1890 | 1966 | |
| 450 | Breaux | Patrick H. | 07/06/1965 | 09/07/1968 | |
| 451 | Haas | | 1949 | 1954 | |
| 452 | (Unmarked) | Baby | | | |
| 453 | Haas | John L. Sr. | 01/16/1916 | 09/20/1974 | S. Sgt. Army Air Force |
| 454 | Haas | J. Godfrey | 02/26/1922 | 04/20/1936 | |
| 455 | Haas | Thomas Renaldo | 08/08/1922 | 10/05/1963 | Ms. EM2 U. S. Coast Guard Reserve, WW II |
| 456 | Haas | Mrs. Myemyne Rebecca | | 10/27/1973 | 82 yrs |
| 457 | Travirca | Carrie H. | 04/12/1909 | 06/18/1967 | |
| 458 | Travirca | Alton A. | 09/30/1911 | 03/07/1971 | |
| 459 | Travirca | Joseph Leon | 08/31/1939 | 03/14/1969 | Ms. A. D. JAN. U. S. Navy |
| 460 | Rhode | Laura Ann | 06/09/1894 | 06/09/1971 | |
| 461 | Haas | Don R. | 08/07/1931 | 12/26/1971 | |
| 462 | Merrile | Thomas D. | 07/09/1877 | 04/22/1968 | |
| 463 | Negrotto | Lamar | | 01/02/1976 | 68 yrs |
| 464/466 | (Unmarked) | | | | |
| 467 | Shiyou | Baby Girl | | 02/16/1971 | |
| 468 | Thurman | Betty Ann | | 05/05/1969 | 7 yrs old |
| 469 | (Unmarked) | Baby | | | |
| 470 | Mitchell | Kire Claudius Sr. | 09/08/1897 | 09/23/1970 | |
| 471 | Woods | Sidney Dalton Jr. | | 04/14/1976 | 11 yrs, 3 mos, 21 days |
| 472 | Calix | William A. | 1951 | 1971 | |
| 473 | Mcdonald | Mabel M. | 1904 | 1971 | |
| 474 | Coleman | Terrance M. | 1958 | 1973 | |
| 475 | Adcock | Francis J. | 08/01/1907 | 06/13/1973 | CM2--U. S. Navy WWII Missouri |
| 476 | (Unmarked) | | | | |
| 477 | Moran | Eugene | 05/02/1922 | 10/20/1967 | |
| 478 | Moran | Nolan Joey | 05/10/1974 | 05/11/1974 | |
| 479 | Moran | Joseph | 01/15/1954 | 01/15/1954 | |
| 480 | Wyatt | Bernadette W. | 10/23/1918 | 05/06/1975 | |
| 481 | Lee | Alice V. | 06/28/1898 | 08/15/1973 | |
| 482 | Lee | Roy G. | 07/22/1903 | 10/01/1969 | |
| 483 | Cuevas | Rodney D. | 04/08/1962 | 10/24/1962 | |
| 484 | Bennett | Sidney A. | 12/31/1930 | 04/30/1965 | |
| 485 | Bennett | Sidney J. | 02/12/1900 | 12/09/1968 | |
| 486 | Bennett | Etheline | 07/06/1904 | 03/09/1969 | |
| 487 | Whichard | Cyril Calvin | 06/11/1883 | 04/23/1967 | |
| 488 | Whichard | Theresa M. | 03/23/1890 | 04/17/1971 | |
| 489 | Mauffrey | Norbert E. | 08/24/1909 | 01/16/1967 | |
| 490 | Mauffrey | Hazel G. | 10/29/1909 | 05/27/1972 | |
| 491 | Olsen | Baby | | 11/25/1906 | |
| unk | Gatewood | Carrie Necaise | 1903 | 1984 | |
| unk | Necaise | Lander H. | 12/08/1898 | 11/25/1983 | |
| unk | Necaise | Roosevelt "Rudy" Franklin | 11/10/1932 | 07/26/1993 | |
| unk | Nicaise | Angeline | 1876 | 1933 | |