Cowand Cemetery
Private family cemetery of Jesse Cowand and descendants. Hancock County Records, book G, page 342.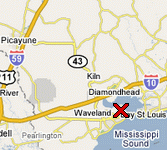 Directions:
Cowand cemetery is located in Bay Saint Louis. From I-10 take the 603 South (= exit 13). Drive to Hwy 90 (about 5.4 miles) and turn left. Follow Hwy 90 for about 2.6 miles, then turn left on Dunbar Avenue. Turn right on Melody Lane (it's the second right you can take), then left on Leopold Street. The cemetery will be on the left hand side.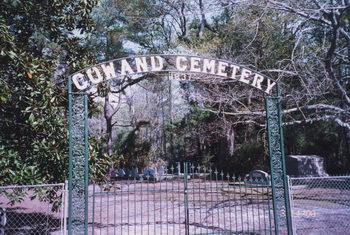 Note: The table below is sorted by grave layout. Use Ctrl+F to search for a specific name, or part of a name.
| | | | | | |
| --- | --- | --- | --- | --- | --- |
| # | Last Name | First Name | Birth | Death | Comment |
| 01 | Cowand | Jesse (I) | 02/16/1786 | 05/06/1852 | Cpl., Capt. Thomas Beale's Co. of Orleans Riflemen Battle of New Orleans - 12/16/1814 - 3/14/1815; born in Norfolk, Va. |
| 02 | Cowand | Ann McKenzle | 1795 | 01/15/1837 | born in Pennsylvania; 1st wife of Jesse Cowand (I) |
| 03 | Bryan | Lucinda Cowand | 01/15/1819 | 02/09/1856 | born in New Orleans, La.; died in New Orleans, La.; Married: (1) Gottleib Leonard Wagner (2) William Bryan |
| 04 | Cowand | Joseph O. | 10/13/1824 | 01/28/1849 | born in New Orleans, La. |
| 05 | Cowand | Joseph B. | 06/1848 | 02/19/1849 | son of Joseph D. Cowand |
| 06 | Cowand | Norman Charles | 02/14/1909 | 10/28/1921 | born in Bay St. Louis, Miss.; son of Jesse A. and Inga Cowand |
| 07 | Cowand | Charles Taylor | 12/13/1846 | 12/31/1917 | Pvt., 4th Co. Battn., Washington Arty., La. Confederate Soldiers; born in Bay St. Louis, Miss.; son of Jesse Cowand (I) and Elizabeth Scholes |
| 08 | Cowand | Helena Johanna Dorhauer | 1849 | 01/15/1907 | born in New Orleans, La.; wife of Charles T. Cowand |
| 09 | Cowand | Jesse (II) | 12/04/1836 | 05/18/1890 | Sgt., Ord. Sergt., Co. G.F. and S., 7th La. Infty. Confederate Soldiers; born in Bay St. Louis, Miss. |
| 10 | Cowand | Eliza Ames | 1838 | 08/30/1898 | born in Bay St. Louis,; wife of Jesse Cowand II |
| 11 | Penney | Gertrude Cowand | 1875 | 1906 | 1st wife of Stephen Penney |
| 12 | Cowand | J. Sidney L. | 1878 | 1960 | Im Memoriam only - buried in Louisiana; son of Jesse Cowand II and Eliza Ames Cowand. |
| 13 | Gaudet | Cora Wagner | 02/23/1878 | 08/20/1955 | died in Waveland, Miss.; granddaughter of Lucinda Cowand Wagner; wife of Clarence Gaudet |
| 14 | Gaudet | Charles Clarence | 05/28/1881 | 10/29/1957 | born in Louisiana |
| 15 | Gaudet | William George | 09/21/1908 | 01/19/1981 | born in Louisiana |
| 16 | Leibrook | Mary Elizabeth | 12/15/1828 | 09/03/1861 | wife of Francis Leibrook |
| 17 | Leibrook | Mary Lucinda | | 05/03/1875 | daughter of Mary Elizabeth and Francis Leibrook |
| 18 | Cowand | Alfred Scholes | 02/05/1839 | 09/28/1917 | son of Jesse Cowand (I) and Elizabeth Scholes; Pvt., 4th Co. Battn., Washington Arty., La. Confederate Soldiers; born in Bay St. Louis, Miss.; died in New Orleans, La. |
| 19 | Cowand | Angeline Moore | 1844 | 1881 | born in Shepardstown, Pa.; wife of Alfred S. Cowand |
| 20 | Cowand | Charles | 1872 | 02/22/1936 | died in New Orleans, La.; son of Alfred and Angeline Cowand |
| 21 | Cowand | Clara | 1874 | 1963 | died in New Orleans, La.; daughter of Alfred and Angeline Cowand |
| 22 | Penney | May Cowand | 1879 | 1962 | died in New Orleans, La.; daughter of Alfred and Angeline Cowand; 2nd wife of Stephen Penney |
| 23 | Penney | Stephen | 1876 | 1943 | died in New Orleans, La. |
| 24 | Jones | Laura B. | 10/29/1829 | 10/17/1907 | born in Rahway, N.J. |
| 25 | Crowell | Ann E. | 02/05/1821 | 02/07/1883 | born in Rahway, N.J. |
| 26 | Jones | Eula | 1856 | 07/31/1926 | born in New Orleans, La.; daughter of Laura B. Jones |
| 27 | Crowell | Hettie | 09/29/1841 | 01/23/1925 | born in Rahway, N.J.; daughter of Ann Crowell |
| 28 | Aken | Joel F. | 04/14/1838 | 08/26/1884 | born in Rahway, N.J. |
| 29 | Aken | Albertus K. | 03/17/1819 | 11/03/1894 | born in Rahway, N.J.; Husband of Jane Cowand of Deer Island (buried in Biloxi, Miss.) |
| 30 | Cowand | Jesse August (III) | 02/20/1878 | 08/14/1964 | son of Charles T. and Helena Cowand; Pvt., Light Battery "B", Washington Artillery, La. Spanish American War; born in Bay St. Louis, Miss. |
| 31 | Cowand | Inga Karlson | 11/24/1883 | 09/10/1983 | born in Whitehall, Mich.; wife of Jesse A. Cowand |
| 32 | Cowand | Jesse Robert Sr. (IV) | 04/20/1907 | 10/21/1980 | son of Jesse A. and Inga Cowand; Major, U.S. Army Signal Corps World War II; born in Bay St Louis, Miss.; died in Norfolk, Va. |
| 33 | Cowand | Malcolm Alfred Sr. | 12/31/1910 | 05/08/1985 | son of Jesse A. and Inga Cowand; CWO, U. S. Navy World War II; born in Bay St. Louis, Miss. |