Jump to record #10179
Bayou LaCroix Cemetery
Located where the Holy Cross Church once stood. It has an Indian burial ground in the center of the cemetery.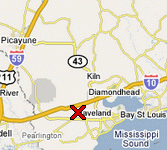 Directions:
From the 603 take Hwy 90 West. After 6.8 miles (= 2 miles after you pass Lakeshore Road, the road to the Silver Slipper casino) take the dirt road to your right. (Signs for the B&C dirt pit in 2008). Follow this dirt road for 1.5 miles, then take a right hand turn. You will drive right into the cemetery.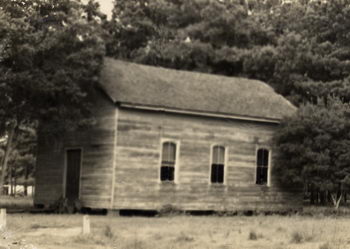 Note: The table below is sorted by last name. Use Ctrl+F to search for a first, middle or maiden name, or part of a name.
| | | | | | |
| --- | --- | --- | --- | --- | --- |
| # | Last Name | First Name | Birth | Death | Comment |
| 001 | Alexander | Angeline | 03/21/1884 | | Shares a headstone with Antoine Alexander. |
| 002 | Alexander | Antoine | 01/11/1883 | 06/11/1952 | Shares a headstone with Angeline Alexander |
| 003 | Asher | Albert Alphonse | 11/15/1935 | | Reserved; next to and h/o Clara Lee (Ketchum) Asher; m. 10-1-1957 |
| 004 | Asher | Albert Eugene | 05/20/1905 | 1924 | |
| 005 | Asher | Andrew A. | 10/05/1927 | 04/02/1992 | |
| 006 | Asher | Bobby J. | 09/01/1961 | 10/26/1983 | |
| 007 | Asher | Bobby Joseph Louis | 08/03/1979 | 03/28/1984 | |
| 008 | Asher | Clara Lee (Ketchum) | 11/13/1938 | | Reserved; next to and w/o Albert Alphone Asher; m. 10-1-1957 |
| 009 | Asher | Clementine | 02/18/1888 | 09/08/1931 | Shares a headstone with Micael A. Asher |
| 010 | Asher | David Wayne Jr. | 01/09/1983 | 01/01/2003 | Funeral home marker |
| 011 | Asher | Evelyn Mary | 03/29/1919 | 03/17/1993 | entombed next to Norris S. Asher & Wilford J. Asher |
| 012 | Asher | Infant Son | | | s/o John and Frances Asher |
| 013 | Asher | Irene I. | 02/09/1899 | 06/16/1965 | Buried near Joseph F. Asher |
| 014 | Asher | John Joseph | 09/27/1879 | 12/23/1961 | entombed next to and h/o Mary Rebecca Asher |
| 015 | Asher | John M. | 05/12/1856 | 03/03/1923 | Shares a headstone with Victoria Asher |
| 016 | Asher | Joseph F. | 03/19/1921 | 07/15/1974 | Buried near Irene I. Asher; Military marker |
| 017 | Asher | Lillian Mary | 08/14/1908 | 01/06/1990 | |
| 018 | Asher | Louis P. | 10/08/1885 | 01/25/1968 | Buried near Lucricia P. Asher |
| 019 | Asher | Lucricia P. | 11/11/1889 | 06/30/1930 | Buried near Louis O. Asher |
| 020 | Asher | Marie Vivian | 02/20/1928 | 10/09/1928 | |
| 021 | Asher | Mary Rebecca Garcia | 06/28/1880 | 01/24/1958 | entombed next to and w/o John Joseph Asher |
| 022 | Asher | Micael M. | 07/05/1883 | 04/04/1962 | Shares a headstone with Clementine Asher |
| 023 | Asher | Morris J. | 01/22/1943 | 05/23/1990 | |
| 024 | Asher | Nora | | 1916 | |
| 025 | Asher | Norris S. | 01/29/1919 | | Reserved; Will be entombed next to Evelyn Mary Asher |
| 026 | Asher | Oswald J. | 11/04/1945 | 02/17/1996 | |
| 027 | Asher | Prentice M. | 12/15/1909 | 03/17/1994 | h/o Vansy A. Asher; m. 7-3-1963 |
| 028 | Asher | Vansy A. | 03/04/1919 | 10/02/2003 | w/o Prentice M. Asher; m. 7-3-1963 |
| 029 | Asher | Victoria | 12/03/1859 | 12/21/1940 | Shares a headstone with John M. Asher |
| 030 | Asher | Wilford J. | 12/16/1953 | 06/05/2007 | entombed next to and s/o Evelyn Mary Asher |
| 031 | Asher | Willie Mae | 01/15/1910 | 08/01/1983 | Buried near Lucricia P. Asher |
| 032 | B | C | | | Just the letters C B on the crypt; no dates; shares crypt w "Miss Lee" |
| 033 | Barelette | Eliza (Wainwright) | 02/10/1907 | 06/30/1991 | w/o Joseph Gratien Barelette |
| 034 | Barelette | Joseph Gratien | 01/31/1897 | 10/17/1983 | h/o Eliza (Wainwright) Barelette; Military marker |
| 035 | Barrios | Harold J. | 10/23/1933 | 05/09/1978 | h/o Wilma Jean Barrios |
| 036 | Barrios | Harold J. Jr. | 10/15/1957 | 04/08/1995 | |
| 037 | Barrios | Wilma Jean | 11/24/1935 | 08/28/1997 | w/o Harold J. Barrios |
| 038 | Beam | Marie Beatrice (Cospelich) | 04/23/1918 | 11/25/1984 | d/o Joseph & Roselia (Favre) Cospelich |
| 039 | Bennett | Edith Marie Robicheaux | 10/11/1915 | 07/2003 | daughter of Michael and Velida Robicheaux; wife of Lawrence Claiborne Bennett |
| 040 | Bennett | Fern (Bailey) | 09/17/1920 | 02/22/1981 | w/o Grover Edwin Bennett |
| 041 | Bennett | Grover Edwin | 12/03/1916 | 08/28/1988 | h/o Fern Bailey Bennett |
| 042 | Berry | Bonnie Jean (Wainwright) | 04/02/1934 | 02/25/2005 | w/o James Berry; Funeral home marker |
| 043 | Berry | Carl Joe | 09/06/1964 | 10/12/1985 | s/o James & Bonnie(Wainwright) Berry |
| 044 | Blanke | Natosha Lynne | 05/24/1980 | 09/13/1987 | |
| 045 | Boden | Michael Andrew | 05/23/1966 | 12/05/1994 | Buried near Rosann (Tartavoulle) Boden; Funeral home marker |
| 046 | Boden | Roseann (Tartavoulle) | 02/10/1951 | 07/18/1999 | Buried near Michael Andrew Boden; Funeral home marker |
| 047 | Bosarge | Alvin | 10/31/1908 | 06/11/1986 | Buried near Nora Bosarge |
| 048 | Bosarge | Nora | 06/01/1908 | 11/23/1999 | Buried near Alvin Bosarge |
| 049 | Boykin | Idus Joseph | 03/23/1902 | 11/08/1972 | Buried near Olga L. Boykin |
| 050 | Boykin | Olga L. | 09/01/1909 | 07/14/1982 | Buried near Idus Elijah Boykin |
| 051 | Brown | Patricia K. "Kay-Kay" | 01/22/1974 | 03/16/2001 | |
| 052 | Brown | Richard Lynn | 07/08/1960 | 03/31/2004 | Buried near Tim Brown; Funeral home marker |
| 053 | Brown | Tim | 01/02/1931 | 07/14/1978 | Buried near Richard Lynn Brown |
| 054 | Browning | Josephine L. | 03/12/1860 | 08/11/1921 | Shares a headstone with William J. Browing |
| 055 | Browning | William J. | 10/28/1831 | 10/15/1921 | Shares a headstone with Josephine L. Browing |
| 056 | Burch | Debi | 04/11/1954 | | Reserved; next to and h/o Stephen M. Burch; m. 4-8-1981. Her first name is Debra |
| 057 | Burch | Donald W. | 09/22/1935 | 12/05/2007 | Buried near Elaine W. Burch |
| 058 | Burch | Elaine W. | 06/21/1946 | 05/15/2006 | Buried near Donald W. Burch |
| 059 | Burch | Stephen M. | 07/20/1944 | | Reserved; next to and w/o Debi Burch; m. 4-8-1981 |
| 060 | Burch | Sylvia Elaine | 06/21/1946 | 05/25/2006 | Funeral home marker |
| 061 | Bye | Carmen Denise (Sanders) | 03/25/1959 | 11/08/2005 | Her ashes are buried near her daughter Reikay D. Waltman |
| 062 | Carbonette | Laura B. | 03/1922 | 06/2003 | |
| 063 | Carver | Ella Louise | 01/23/1931 | 07/17/1978 | |
| 064 | Carver | Julia F. | 07/28/1888 | 10/31/1953 | w/o Manuel O. Carver |
| 065 | Carver | Manuel O. | 11/16/1890 | 01/22/1975 | h/o Julia F. Carver |
| 066 | Carver | Peter | 03/04/1886 | 06/24/1968 | Military marker |
| 067 | Carver | Seymour | 01/19/1899 | 03/01/1965 | |
| 068 | Carver | Sylvian J. Jr. | 07/02/1932 | 09/24/1976 | |
| 069 | Carver | Virginia (Luxich) | 12/23/1907 | 06/20/1940 | |
| 070 | Chatman | Clifton | 04/27/1946 | 03/31/2005 | |
| 071 | Chatman | Elmore E. | 01/12/1920 | 12/17/1980 | Military marker |
| 072 | Childs | Manolito | 05/29/1971 | 11/25/1989 | |
| 073 | Childs | Mya Alexis | 11/04/2000 | 11/04/2000 | |
| 074 | Choat | Betty Turner | 10/26/1944 | 01/25/2011 | |
| 075 | Choat | Curtis Joe "Boats" Sr. | 11/06/1929 | 04/08/1986 | Military marker |
| 076 | Cospelich | Joseph Sr. | 12/15/1940 | 10/11/1974 | s/o Viola Cospelich |
| 077 | Craft | Milford Louis Sr. | 12/02/1922 | 12/22/2001 | Funeral home marker |
| 078 | Crawford | Beverly K. | 01/10/1933 | 12/13/1990 | Buried near James E. Crawford |
| 079 | Crawford | James E. Sr. | 06/03/1927 | 12/03/1987 | Buried near Beverly K. Crawford; Military marker |
| 080 | Cucinella | Mildred M. | 10/01/1913 | 03/06/1994 | |
| 081 | Cuevas | Donatien | 07/03/1886 | 05/25/1932 | Buried near Edwina H. Cuevas |
| 082 | Cuevas | Edwina E. (Holden) | 02/21/1877 | 12/04/1957 | Buried near Donatien Cuevas |
| 083 | Cuevas | Elizabeth (Bennette) | 03/08/1907 | 12/1975 | Buried near Lewis "Sonny" Cuevas |
| 084 | Cuevas | Elvena L. "Beany" | 12/17/1918 | 10/23/1996 | Shares a headstone with Saul J. Cuevas |
| 085 | Cuevas | Lewis "Sonny" | 09/04/1901 | 07/01/1962 | Buried near Elizabeth Bennette Cuevas |
| 086 | Cuevas | Saul J. | 06/02/1918 | 12/26/1988 | Shares a headstone with Elvena L. Cuevas |
| 087 | Donze | Helene S. | 1909 | 1972 | |
| 088 | Douglas | Letha | 08/18/1935 | | Reserved; Will be buried next and w/o William Douglas; m. 4-3-1953 |
| 089 | Douglas | Russell L. | 11/29/1960 | 08/12/2004 | Military marker |
| 090 | Douglas | Samuel | 01/07/1932 | 03/10/1983 | h/o and buried next to Viola Douglas |
| 091 | Douglas | Viola | 03/26/1938 | | Reserved; next to and w/o Samuel Daouglas |
| 092 | Douglas | William "Buck" | 04/01/1935 | 02/01/2001 | h/o and buried next to Letha Douglas; m. 4-3-1953 |
| 093 | Doussan | Sidney J. Sr. | 05/19/1938 | 07/23/2007 | |
| 094 | Favre | Myrna Poolson | | 05/31/2010 | |
| 095 | Flannery | Yvonne (McLain) | 03/31/1943 | 08/31/1989 | Funeral home marker |
| 096 | Franklin | Marguerite S. | 05/17/1954 | 05/17/1997 | Maiden name is probably Strehle; and probably d/o Rebeil Lee Strehle |
| 097 | Garcia | Alizia M. | 05/12/1912 | 01/22/1978 | w/o and entombed next to Noah Garcia |
| 098 | Garcia | Alvin Jr. | 09/20/1969 | 06/18/2001 | |
| 099 | Garcia | Noah | 12/19/1911 | 06/30/1988 | h/o and entombed next to Alizia M. Garcia |
| 100 | Genna | George David | 01/07/1945 | 04/07/2001 | s/o Andrew Frank & Rose (Little) Genna |
| 101 | Gilbert | Aline (Lind) | 01/08/1932 | 12/05/2007 | w/o and buried next to Aline Gilbert; m. 6-30-1956 |
| 102 | Gilbert | Paul Daniel | 12/06/1919 | 03/20/2001 | h/o and buried next to Aline Gilbert; m. 6-30-1956 |
| 103 | Gilbert | Paul II | | | Shares a headstone with Elwood Lind & Betty Ann Lind |
| 104 | Glass | Arthur Charles | 08/10/1956 | | Reserved; next to and h/o Mary Rebedda Glass |
| 105 | Glass | Mary Rebecca (Layne) | 06/02/1952 | 09/01/2007 | |
| 106 | Gregory | Adolph | 06/08/1911 | 02/16/1970 | |
| 107 | Guagliardo | Sylvester | 01/23/1914 | 08/29/1971 | Has a headstone and a Military marker |
| 108 | Herron | Ludie (Jarrell) | 05/28/1925 | 06/20/1996 | |
| 109 | Hill | Anthony | 08/21/1979 | 09/02/2006 | Funeral home marker |
| 110 | Hill | Asa C. "Ace" | 12/03/1968 | 06/05/1999 | |
| 111 | Hill | Freddie Leonard | 1913 | 03/03/1975 | Died age 62; Funeral home marker |
| 112 | Hill | Hugh David "Butch" | 03/12/1952 | 07/19/1998 | Shares a headstone with Joan C. Hill |
| 113 | Hill | Joan C. | 01/17/1955 | | Reserved; next to Hugh David Hill |
| 114 | Hill | John Henry | 07/17/1950 | 10/01/1972 | s/o Rufus Edward Sr. & Viola Mildred (Cospelich) Hill |
| 115 | Hill | Joseph Marion | 05/24/1941 | 03/10/1991 | Funeral home marker |
| 116 | Hill | Mary (Ladner) | 10/01/1894 | 11/21/1917 | w/o Toney Hill; d/o J. G. & M. C. Ladner |
| 117 | Hill | Rufus Edward Jr. | 03/31/1948 | 05/10/2005 | s/o Rufus Edward Sr. & Viola Mildred (Cospelich) Hill |
| 118 | Hokanson | Mildred | 01/04/1923 | 08/31/2000 | |
| 119 | Hollingsworth | Laura R. | 04/21/1927 | | w/o and buried next to Willis L. Hollingworth |
| 120 | Hollingsworth | Willis L. | | | h/o and buried next to Laura R. Hollingworth |
| 121 | Homer | Martin J. Jr. | 03/24/1913 | 06/19/1998 | |
| 122 | Indians | Choctaw | | | |
| 123 | James | Elmer Troy | 02/20/1943 | 09/10/1991 | |
| 124 | Jarrell | Betty G. | 12/02/1936 | 02/10/2005 | |
| 125 | Karl | May Bell (Asher) | 01/15/1908 | 03/15/1985 | Entombed next to her parents; John Jospeh & Mary Rebecca Asher |
| 126 | Kelchum | Alberta Ruth (Kirsch) | 07/26/1901 | 03/20/1974 | |
| 127 | Kolstad | Richard O. | 06/03/1923 | 11/05/1996 | Military marker |
| 128 | Krause | Gloria A. | 02/09/1932 | | Reserved; next to and w/o Victor P. C. Krause; m. 6-22-1957 |
| 129 | Krause | Victor P. C. | 08/09/1925 | 03/02/2005 | h/o and buried near Gloria A. Krause; m. 6-22-1957 |
| 130 | Lachney | Jeannette | 12/12/1940 | 06/13/1995 | |
| 131 | Ladner | Adolph J. | 09/13/1889 | 05/21/1976 | h/o and buried near Lilian N. Ladner |
| 132 | Ladner | Albert Ola | 10/06/1910 | 03/17/1974 | |
| 133 | Ladner | Alcia | 09/1862 | 02/1938 | Buried near Hermogenia Ladner |
| 134 | Ladner | Alcide T. | 03/31/1873 | 12/28/1958 | Shares a headstone with Alfay J. Ladner |
| 135 | Ladner | Alfay J. | 08/24/1876 | 09/08/1925 | Shares a headstone with Alcide T. Ladner |
| 136 | Ladner | Aline | 05/1896 | 11/1916 | Buried near Alphonce Ladner |
| 137 | Ladner | Allen Joseph Sr. | 07/27/1959 | 04/24/1981 | Entombed; s/o Prince Jr & Betty Jean Smith Ladner |
| 138 | Ladner | Alphonse | 11/1900 | 01/1961 | Buried near Aline Ladner |
| 139 | Ladner | Alton John | 12/10/1933 | 04/29/2003 | Entombed; s/o August & Myrtle Ladner; Military marker" |
| 140 | Ladner | Angeline | 09/21/1879 | 12/31/1971 | w/o and buried near Leon T. Ladner |
| 141 | Ladner | August John | 08/02/1904 | 01/20/1980 | h/o and entombed next to Myrtle Elector Ladner |
| 142 | Ladner | Barbara E. (Bennett) | 05/28/1939 | 12/24/1985 | w/o James Arland Ladner; Sr |
| 143 | Ladner | Barry Louis | 09/28/1958 | 10/04/1958 | Buried near Karen Ann Ladner |
| 144 | Ladner | Beatrice Jessie (Williams) | 05/29/1916 | 08/17/2006 | Buried near Claiborne J. Ladner; Funeral home marker |
| 145 | Ladner | Bryan Keith | 09/12/1960 | 04/27/1981 | |
| 146 | Ladner | Carol Ann (Young) | 01/12/1942 | 08/04/1994 | w/o Prince Joseph Ladner; Jr |
| 147 | Ladner | Claiborne J. | 11/29/1891 | 12/06/1989 | Buried near Beatrice Jessie Williams Ladner; Military marker |
| 148 | Ladner | David Leon | 10/28/1905 | 08/23/1989 | Buried near Rosa Adella Ladner |
| 149 | Ladner | Donald Joseph | 11/06/1934 | 08/14/1993 | Buried near David Leon Ladner |
| 150 | Ladner | Edgar Manor | 01/19/1916 | 02/27/1987 | Military marker |
| 151 | Ladner | Edgar Manor Jr. | 05/28/1937 | 03/20/1990 | |
| 152 | Ladner | Ellen Elizabeth (Wainwright) | 08/24/1894 | 06/16/1969 | w/o and buried near Sylvan Ladner; Jr |
| 153 | Ladner | Elvira "Butsy" (Garcia) | 12/16/1915 | 10/21/1994 | w/o and entombed next to Ivy Archie Ladner |
| 154 | Ladner | Frances V. | 10/02/1927 | 05/29/1991 | w/o and shares a headstone with Lawrence H. Ladner |
| 155 | Ladner | Grace (Twilbeck) | 01/07/1934 | 02/03/2000 | |
| 156 | Ladner | Herman Ray Sr. | 04/13/1948 | | Reserved; next to Myra A. (Stieffel) Ladner |
| 157 | Ladner | Hermogenia | 03/1869 | 11/1917 | Buried near Alcia Ladner |
| 158 | Ladner | Hester | 03/29/1920 | 08/17/1981 | Military marker |
| 159 | Ladner | Ivy Archie | 08/12/1911 | 06/24/1986 | h/o and entombed next to Elvina (Garcia) Ladner |
| 160 | Ladner | James Arland Sr. | 01/26/1936 | | Reserved; Will be buried next and h/o Barbara E. Bennett Spiers |
| 161 | Ladner | Jeanette (Garcia) | 03/07/1939 | | Reserved; Will be entombed with husband Marvin W. Ladner; m. 4-23-1960 |
| 162 | Ladner | Josephine (Geis) | 02/05/1920 | 05/21/1995 | |
| 163 | Ladner | Karen Ann | 09/28/1949 | 10/07/1949 | Buried near Barry Louis Ladner |
| 164 | Ladner | Kenneth L. | 08/11/1931 | 01/16/1934 | |
| 165 | Ladner | Larry Anthony | 09/04/1943 | 03/10/2002 | |
| 166 | Ladner | Laura A. (Wainwright) | 05/20/1896 | 06/20/1992 | w/o and buried near Sylvester Ladner |
| 167 | Ladner | Laura Ann | 01/28/1951 | 01/28/1951 | Buried near Steven LeVerl Ladner |
| 168 | Ladner | Lawrence H. | 04/25/1907 | 08/15/1980 | h/o and shares a headstone with Frances V. Ladner; also has a Military marker |
| 169 | Ladner | Leon T. | 08/03/1879 | 08/18/1965 | h/o and buried near Angeline Ladner |
| 170 | Ladner | Lillian N. | 11/08/1890 | 05/30/1937 | w/o and buried near Adolph J. Ladner |
| 171 | Ladner | Lillie Mae | 05/20/1913 | 02/11/1986 | w/o Prince J. Ladner |
| 172 | Ladner | Linda Carol | 09/10/1957 | 09/11/1957 | |
| 173 | Ladner | Mamie Agnes | 06/20/1891 | 01/22/1950 | Shares a headstone with Willie Thomas Ladner |
| 174 | Ladner | Marvin W. | 05/14/1937 | | Reserved; Will be entombed with wife Jeanette (Garcia) Ladner; m. 4-23-1960 |
| 175 | Ladner | Mary E. | 07/28/1906 | 06/24/1955 | w/o and shares a headstone with Raymond S. Ladner |
| 176 | Ladner | Michael L. | 09/04/1950 | 11/29/2007 | |
| 177 | Ladner | Milton | 09/06/1944 | | Reserved; Will be entombed with wife Sharon Ladner |
| 178 | Ladner | Myra A. (Stieffel) | 11/23/1955 | | Reserved; next to Herman Ray Ladner; Sr |
| 179 | Ladner | Myrtle Elector | 05/27/1915 | 12/29/1995 | w/o and emtombed next to August John Ladner |
| 180 | Ladner | Olues J. | 10/15/1878 | 06/27/1960 | |
| 181 | Ladner | Prince J. | 02/26/1902 | 05/08/1962 | h/o Lillie Mae Ladner |
| 182 | Ladner | Prince Joseph Jr. | 08/31/1935 | 02/26/2000 | h/o Carol Ann (Young) Ladner; Jr |
| 183 | Ladner | Randolph K. | 09/05/1965 | 01/09/1977 | |
| 184 | Ladner | Raymond | 09/29/1852 | 09/27/1929 | |
| 185 | Ladner | Raymond S. | 02/22/1899 | 10/1964 | h/o and shares a headstone with Mary E. Ladner |
| 186 | Ladner | Rosa Adella | 12/30/1904 | 11/03/1991 | Buried near David Leon Ladner |
| 187 | Ladner | Sharon | 07/10/1949 | | Reserved; Will be entombed with husband Milton Ladner |
| 188 | Ladner | Steven LeVerl | 03/29/1952 | 04/25/1952 | Buried near Laura Ann Ladner |
| 189 | Ladner | Susan (Carter) | 02/05/1951 | 02/27/1985 | |
| 190 | Ladner | Sylvan "Jack" Jr. | 07/04/1889 | 09/25/1976 | h/o and buried near Ellen E. Ladner |
| 191 | Ladner | Sylvester | 01/09/1895 | 11/13/1953 | h/o and buried near Laura A. (Wainwright) Ladner |
| 192 | Ladner | Thomas Sylvan | 07/06/1972 | 07/06/1972 | |
| 193 | Ladner | Vernon LeVerl | 05/05/1927 | 05/28/1999 | Military marker |
| 194 | Ladner | Wayne Robert | 11/27/1950 | 10/02/2005 | |
| 195 | Ladner | Willie Thomas | 09/17/1889 | 11/19/1949 | Shares a headstone with Mamie Agnes Ladner |
| 196 | Ladnier | Flora (Page) | 02/12/1911 | 10/16/1928 | |
| 197 | Ladnier | Heidi Lynn | 07/19/1973 | 08/22/1975 | Entombed |
| 198 | Lagasse | Althea "Sis" | 1924 | 1970 | Buried near Paul M. Lagasse |
| 199 | Lagasse | Patrick | 1958 | 1991 | Buried near Althea "Sis" Lagasse |
| 200 | Lagasse | Paul M. | 1907 | 1960 | Buried near Althea "Sis" Lagasse |
| 201 | Lee | Arthur J. | 11/06/1903 | 02/24/1964 | Shares a headstone with Jessie Dawsey Lee |
| 202 | Lee | Jessie (Dawsey) | 11/14/1915 | 03/21/1996 | Shares a headstone with Arthur J. Lee |
| 203 | Lee | Miss | | | Just Miss Lee on the stone; no dates; emtombed next to C. B." |
| 204 | Lee | Patricia Ann | 10/01/1959 | 06/26/2002 | Entombed next to Bobby Joseph Louis Asher |
| 205 | Lehto | Steven Vincent | 11/24/1973 | 01/09/1974 | |
| 205a | Levens | Irma Joan Lee | 07/29/1933 | 10/20/2007 | |
| 206 | Lind | Alphonse J. | 11/17/1909 | 12/25/1962 | Shares a headstone with Luvenia M. Lind |
| 207 | Lind | Betty Ann | | | Shares a headstone with Elwood Lind & Paul Gilbert Lind; II |
| 208 | Lind | Elwood | | | Shares a headstone with Paul Gilbert Lind; II & Betty Ann Lind |
| 209 | Lind | Louisa M. | 02/09/1890 | 11/27/1932 | Shares a headstone with Zeno O. Lind |
| 210 | Lind | Luvenia M. | 04/17/1911 | 03/17/1994 | Shares a headstone with Alphonse J. Lind |
| 211 | Lind | Zeno O. | 03/04/1887 | 01/04/1937 | Shares a headstone with Louisa M. Lind |
| 212 | Little | Nora (Wainwright) | 07/17/1902 | 11/04/1990 | |
| 213 | Loiacano | Luvenia A. | 12/30/1913 | 06/05/1961 | |
| 214 | Lusich | Donald J. Jr. | 04/22/1957 | 04/21/1982 | Military marker |
| 215 | Lusich | George M. | 01/17/1909 | 12/10/1980 | |
| 216 | Lusich | Magnolia Agnes "Maggie" | 01/12/1914 | 05/03/1999 | Entombed next to and w/o Rufus Joseph Lusich; m. 10-25-1933 |
| 217 | Lusich | Rufus Joseph | 11/24/1910 | 02/01/1997 | Entombed next to h/o Magnolia Agnes Lusich; m. 10-25-1933 |
| 218 | Luxich | Albert F. | 09/13/1913 | 08/18/1990 | |
| 219 | Luxich | Andrew Austin | 07/01/1898 | 12/14/1916 | |
| 220 | Luxich | Annie | 1882 | 07/23/1956 | Buried near Felix Luxich |
| 221 | Luxich | Chris J. | 05/14/1911 | 08/21/1999 | Entombed next to and h/o Virgie M. Luxich |
| 222 | Luxich | Clara | 01/11/1903 | 04/02/1974 | |
| 223 | Luxich | Denis | 09/09/1879 | 08/29/1943 | Buried near Eliza S. Luxich |
| 224 | Luxich | Dill R. | 04/15/1902 | 02/09/1972 | |
| 225 | Luxich | Edmond | 09/26/1876 | 07/28/1945 | Buried near Mary J. Luxich |
| 226 | Luxich | Eliza S. | 09/04/1881 | 02/05/1961 | Buried near Denis Luxich |
| 227 | Luxich | Felix | 01/24/1872 | | Buried near Ann Luxich |
| 228 | Luxich | Ferdinand R. | 1883 | 1953 | Entombed next to and h/o Sedonia L. Luxich |
| 229 | Luxich | Georgianna C. | 06/18/1912 | 06/21/1962 | |
| 230 | Luxich | Henry J. | 12/06/1918 | 02/09/1989 | |
| 231 | Luxich | Juittie Bernice | 08/29/1925 | | Reserved; Will be entombed next to and w/o Rapheul Luther Luxich |
| 232 | Luxich | Louis Sylvester | 07/24/1881 | 03/23/1959 | Entombed next to and h/o Sylvania Luxich |
| 233 | Luxich | Mary J. | 05/06/1881 | 05/18/1936 | Buried near Edmond Luxich |
| 234 | Luxich | Nina Marie | 02/17/1937 | 02/17/1937 | |
| 235 | Luxich | Rapheul Luther | 12/10/1912 | 11/28/1985 | Entombed next to and h/o Juittie Bernice Luxich |
| 236 | Luxich | Rita E. | 09/10/1908 | 11/08/1982 | Entombed next to William F. Luxich |
| 237 | Luxich | Sarah Mathilda (Sones) | 08/30/1876 | 09/11/1923 | w/o Bernard Luxich |
| 238 | Luxich | Sedonia L. | 1886 | 1968 | Entombed next to and w/o Ferdinand R. Luxich |
| 239 | Luxich | Sylvania | 02/01/1885 | 01/15/1966 | Entombed next to and w/o Louis Sylvester Luxich |
| 240 | Luxich | Virgie M. | 12/31/1919 | 06/04/1989 | Entombed next to and w/o Chris J. Luxich |
| 241 | Luxich | William F. | 03/16/1925 | 01/16/1997 | Entombed next to Rita E. Luxich |
| 242 | Manieri | Emile Peter Sr. | 07/09/1909 | 01/15/2001 | h/o Eva (Zengarling) Maniere; Sr |
| 243 | Manieri | Eva (Zengarling) | 03/16/1917 | | Reserved; Will be buried next and w/o Emile Peter Manieri; Sr |
| 244 | Manieri | Sidney Joseph | 10/17/1978 | 10/17/1978 | |
| 245 | Martin | Corine (Ladner) | 1900 | 1971 | Buried near Lee O. Martin |
| 246 | Martin | Katherine | 03/07/1954 | 04/06/1996 | |
| 247 | Martin | Lee O. | 06/07/1897 | 07/19/1977 | Buried near Corine Ladner Martin |
| 248 | Maskew | John W. | 07/12/1896 | 05/18/1971 | |
| 249 | McGinity | Eunice L. | 08/26/1922 | 05/06/2003 | w/o and buried near Patrick E. McGinity |
| 250 | McGinity | Michael G. | 04/01/1949 | 01/18/2000 | |
| 251 | McGinity | Patrick E. | 08/12/1914 | 06/26/1991 | h/o and buried near Eunice L. McGinity; also has a Military marker |
| 252 | McGuire | Justin | 01/01/1986 | 03/31/2001 | |
| 253 | McKenzie | Deborah Marie | 04/14/1954 | 02/14/2004 | |
| 254 | McNab | Kerry O. | 11/05/1935 | 09/02/1995 | |
| 255 | Miller | Vertis Norman | 02/17/1932 | 08/09/1997 | |
| 256 | Mioton | Viola Mildred (Cospelich) | 09/13/1925 | 06/08/1978 | d/o Joseph & Roselia (Favre) Cospelich |
| 257 | Mitchell | Marianne C. | 03/29/1936 | 10/21/2001 | Funeral home marker |
| 258 | Mocklin | Doris Lee (Sheets) | 02/05/1931 | 05/12/2005 | |
| 259 | Mocklin | Irma (Carver) | 05/05/1909 | 01/12/2000 | |
| 260 | Mollere | Amy Chante` | 05/26/1974 | 10/01/2003 | |
| 261 | Moran | Anthony W. | 09/06/1947 | 07/09/1997 | |
| 262 | Moran | Arthur Reginald | 04/20/1913 | 03/27/2001 | Entombed next to and h/o Pearl (Chouest) Moran |
| 263 | Moran | August | 08/18/1895 | 01/17/1985 | h/o and shares a headstone with Carrie W. Moran |
| 264 | Moran | Carrie W. | 03/28/1895 | 05/12/1982 | w/o and shares a headstone with August Moran |
| 265 | Moran | Jerry Lee | 09/25/1937 | 12/09/1937 | Shares a headstone with Virginia M. Moran |
| 266 | Moran | Lamuel | 04/21/1889 | 06/19/1957 | h/o Marie Z. Moran |
| 267 | Moran | Marie Z. | 10/25/1893 | 09/21/1922 | |
| 268 | Moran | Pearl (Chouest) | 08/16/1913 | 08/1985 | Entombed next to and w/o Arthur Reginald Moran |
| 269 | Moran | Virginia M. | 12/24/1924 | 06/26/1925 | Shares a headstone with Jerry Lee Moran |
| 270 | Morel | Shawn P. | 02/13/1976 | 02/06/1995 | |
| 271 | Morris | Hannah E. (Wainwright) | 08/25/1869 | 07/02/1938 | |
| 272 | Nelson | Emily | 1909 | 1973 | |
| 273 | Nicaise | Celina | 10/03/1863 | 03/12/1920 | |
| 274 | Nilsson | Alice C. | 05/26/1903 | 11/09/1980 | w/o and buried near Walter C. Nilsson |
| 275 | Nilsson | Walter C. | 07/12/1910 | 12/28/2002 | h/o and buried near Alice C. Nilsson |
| 276 | Oliver | Nell V. | 12/07/1921 | 10/27/1980 | |
| 277 | Osbourn | Dennis | 12/30/1898 | 02/25/1978 | Shares a headstone with Katie M. Rutherford Osbourn |
| 278 | Osbourn | Katie M. (Rutherford) | 05/31/1909 | 07/02/1986 | Shares a headstone with Dennis Osbourn |
| 279 | Parsons | Elmer Cardie Sr. | 06/26/1908 | 01/23/1981 | Military marker |
| 280 | Pecoul | Erma (Ladner) | 10/24/1921 | 10/18/2007 | w/o and buried next John Joseph Pecoul; m. 5-8-1942 |
| 281 | Pecoul | John Joseph | 01/01/1920 | 12/15/2007 | h/o and buried next to Erma (Ladner) Pecoul; m. 5-8-1942 |
| 282 | Pesia | Scotty Lee | 06/20/1984 | 03/28/1986 | |
| 283 | Plaisance | Adolph A. | 01/31/1914 | 02/13/1990 | Entombed next to Della Plaisance |
| 284 | Plaisance | Della M. | 03/30/1922 | 02/13/1976 | Entombed nxet to Adolph A. Plaisance |
| 285 | Plaisance | Etha Ree | 02/25/1914 | | Reserved; Will be entombed above to Adolph A. & Della Plaisance |
| 286 | Poolson | Edna G. | 04/23/1915 | 06/03/1995 | w/o and shares a headstone with Jules A. Poolson |
| 287 | Poolson | Jules A. | 07/22/1904 | 12/01/1957 | h/o and shares a headstone with Edna G. Poolson |
| 288 | Ramirez | Antonio | 07/14/1964 | 05/23/2001 | Military marker |
| 289 | Rayborn | Hyman H. | 08/03/1940 | 10/07/1992 | |
| 290 | Reynolds | Emmy Ruth | 10/15/1974 | 10/15/1974 | |
| 291 | Reynolds | Jimmy C. | 01/17/1923 | 09/04/1999 | h/o and buried near Ruth S. Reynolds; has a Military marker |
| 292 | Reynolds | Ruth S. | 10/21/1926 | 03/16/1988 | w/o and buried near Jimmy C. Reynolds |
| 293 | Rutherford | Edgar | 11/25/1928 | 11/25/1928 | Shares a headstone with Edward Rutherford |
| 294 | Rutherford | Edward | 11/25/1928 | 11/25/1928 | Shares a headstone with Edgar Rutherford |
| 295 | Rutherford | Glenda Adelle | 07/20/1931 | 02/21/1945 | |
| 296 | Rutherford | Hazel Toney | 05/30/1925 | 03/02/1990 | Shares a headstone with Selwyn S. Rutherford; Sr |
| 297 | Rutherford | Henrietta | 03/05/1926 | 03/05/1926 | |
| 298 | Rutherford | Henrietta (Farve) | 06/07/1889 | 05/01/1977 | Shares a headstone with John David Rutherford; Sr |
| 299 | Rutherford | James J. | 10/03/1911 | 02/01/1938 | |
| 300 | Rutherford | James J. | 01/02/1947 | 09/07/1999 | |
| 301 | Rutherford | John David Jr. | 06/11/1920 | 08/04/2005 | Shares a headstone with Rosemary Walle Rutherford |
| 302 | Rutherford | John David Sr. | 08/30/1886 | 04/09/1967 | Shares a headstone with Henrietta Farve Rutherford |
| 303 | Rutherford | Joseph Fabrurn | 02/10/1901 | 07/30/1905 | |
| 304 | Rutherford | Mary Matilda (Williamson) | 08/10/1858 | 11/04/1918 | |
| 305 | Rutherford | Rosemary (Walle) | 05/28/1921 | 05/20/1990 | Shares a headstone with John David Rutherford; Jr |
| 306 | Rutherford | Selwyn S. Sr. | 10/26/1907 | 03/30/1985 | Shares a headstone with Hazel Toney Rutherford |
| 307 | Rutherford | William Barton | 07/20/1838 | 04/14/1914 | |
| 308 | Schoonmaker | Mae | 05/16/1908 | 11/26/1978 | |
| 309 | Sellier | Derick Keith | 08/02/1979 | 08/15/2005 | |
| 310 | Shubert | Adolph | 10/08/1896 | 07/14/1958 | Entombed next to and h/o Emily Shubert |
| 311 | Shubert | Delores M. | 08/29/1938 | 01/14/1996 | Entombed next to and w/o Llyod James Shubert; m. 12-16-1954 |
| 312 | Shubert | Emily Victoria (Asher) | 04/14/1902 | 12/03/1963 | Entombed next to and w/o Adolph Shubert |
| 313 | Shubert | George Howard | 04/06/1928 | 07/11/2003 | h/o and buried near Rose Mary Shubert; m. 7-3-1952 |
| 314 | Shubert | Joseph C. Sr. | 06/27/1926 | 02/24/1981 | h/o and shares a headstone with Willie M. Shubert; also has a Military marker |
| 315 | Shubert | Llyod James | 01/28/1930 | 09/19/1994 | Entombed next to and h/o Delores M. Shubert; m. 12-16-1954; has a Military marker" |
| 316 | Shubert | Robert Anthony Jr. | 12/24/1958 | 03/27/2008 | Buried near Robert A. Shubert; Sr. |
| 317 | Shubert | Robert Anthony Sr. | 09/20/1934 | 08/11/2008 | Entombed next to and h/o Shirley A. Shubert |
| 318 | Shubert | Rose Mary (Wainwright) | 11/23/1931 | 12/05/1989 | w/o and buried near George H. Shubert; m. 7-3-1952 |
| 319 | Shubert | Shirley Ann (Lizana) | 07/19/1939 | 11/30/2005 | Entombed next to and w/o Robert A. Shubert; Sr. |
| 320 | Shubert | Willie M. | 12/31/1928 | | Reserved; next to and w/o Joseph C. Shubert; Sr |
| 321 | Siewart | James William Sr. | 08/15/1942 | 07/19/2003 | Funeral home marker |
| 322 | Singley | Dorrie Lynn | 09/19/1960 | 10/14/1987 | |
| 323 | Smith | Dill | 12/26/1895 | 03/29/1974 | Entombed next to and h/o Eva Smith |
| 324 | Smith | Eva | 07/02/1920 | 03/10/1989 | Entombed next to and w/o Dill Smith |
| 325 | Sones | Andrew J. | 03/08/1879 | 09/04/1966 | h/o and buried near Lorena M. (Cuevas) Sones |
| 326 | Sones | Earl Anthony | 12/14/1915 | 01/13/1994 | h/o and buried near Lillian (Ladner) Sones |
| 327 | Sones | Herman LaVern, Sr | 08/15/1945 | 07/22/2011 | |
| 328 | Sones | Lillian (Ladner) | 12/13/1914 | 05/21/1995 | w/o and buried near Earl Anthony Sones |
| 329 | Sones | Lorena M. (Cuevas) | 12/21/1891 | 04/18/1966 | w/o and buried near Andrew J. Sones |
| 330 | Sones | Russell Isaac | 11/14/1983 | 07/21/1984 | |
| 331 | Spiers | Bertha (Asher) | 08/27/1917 | 08/29/2000 | w/o and shares a headstone with George T. Spiers; m. 5-23-1933 |
| 332 | Spiers | George T. | 01/10/1901 | 07/05/1984 | h/o and shares a headstone with Bertha (Asher) Spiers; m. 5-23-1933; also has a Military marker" |
| 333 | Spiers | Infant Son | 01/15/1960 | 01/15/1960 | s/o Tommy Ray & Alice Spiers |
| 334 | Spiess | Harold Joseph | 12/16/1932 | | Reserved; Will be entombed next to Myra; Harold Jr and Jimmy Spiess |
| 335 | Spiess | Harold Joseph Jr. | 10/11/1956 | 06/11/1983 | Entombed next to Harold Sr; Myra and Jimmy Spiess; Military marker" |
| 336 | Spiess | Jimmy Clarence | 02/28/1937 | 06/25/1999 | Entombed next to Harold Sr; Harold Jr and Myra Spiess |
| 337 | Spiess | Myra Elisabeth Esperance | 05/28/1937 | 01/07/1996 | Entombed next to Harold Sr; Harold Jr and Jimmy Spiess |
| 338 | Stiglets | Beatrice Elizabeth | | | buried next to Joseph Stiglets; no dates |
| 339 | Stiglets | Joseph | | | buried next to Beatrice Stiglets; no dates |
| 340 | Stiglets | Mary Teresa | | | w/o Toney Joseph Stiglets; no dates |
| 341 | Stiglets | Sylvnia (Ladner) | 02/07/1885 | 08/01/1938 | Shares a headstone with Zeno Stiglets |
| 342 | Stiglets | Toney Joseph | 05/05/1880 | | h/o Mary Teresa Stiglets; no dates on marker; b. 5 MAY 1880" |
| 343 | Stiglets | Zeno | | | h/o and shares a headstone with Sylvnia Stiglets; b. 2 SEP 1876 |
| 344 | Strehle | Danny H. | 08/09/1952 | 12/08/1979 | Buried next to Rebeil Lee Strehle |
| 345 | Strehle | Harold Peter | 06/29/1924 | 12/07/1991 | Buried next to Rebeil Lee Strehle |
| 346 | Strehle | Rebeil Lee | 08/29/1932 | 07/27/1985 | Buried next to Harold and Danny Strehle |
| 347 | Summers | Ernest L. | 02/27/1956 | 09/15/1992 | Buried next to George Summers |
| 348 | Summers | George | 05/26/1921 | 10/31/1993 | Buried nest to Ernest Summers |
| 349 | Tartavoulle | Jane E. | 04/02/1941 | 10/08/2004 | Buried near Michael Andrew Boden |
| 350 | Tartavoulle | Rose Marie | 04/21/1939 | 06/16/1987 | Entombed next to and w/o Terry Mathew Tartavoulle |
| 351 | Tartavoulle | Terry Mathew | 04/07/1933 | 11/02/1985 | Entombed next to and h/o Rose Marie Tartavoulle |
| 352 | Taylor | Jesse L. | 03/21/1914 | 05/30/1995 | h/o and buried next to Rose (Nixon) Taylor; no death date on marker |
| 353 | Taylor | Rose (Little) | 01/08/1921 | 02/24/1987 | d/o Asa & Nora (Wainwright) Little |
| 354 | Taylor | Virgil Loren | 02/16/1913 | 09/05/1994 | |
| 355 | Thomas | Brandon Curtis | 03/17/1986 | 03/21/1986 | Entombed |
| 356 | Thomas | Curtis A. Sr. | 03/07/1942 | 01/18/2000 | Entombed |
| 357 | Thornton | John Edward Sr. | 02/07/1946 | 06/10/2004 | Entombed |
| 358 | Verderbar | Matthew | 02/02/1811 | 10/22/1883 | Buried near Barbara M. Zengarling |
| 359 | Verderbar | Victoria | 01/06/1798 | 06/20/1883 | Buried near Matthew Verderbar |
| 360 | Wainwright | David Hyrum | 12/15/1904 | 12/05/1998 | h/o and shares a headstone with Iona (Sones) Wainwright; also has a Military marker |
| 361 | Wainwright | George Albert | 09/08/1912 | 10/14/1996 | h/o Mary Margaret Wainwright |
| 362 | Wainwright | George Henry | 08/22/1872 | 01/19/1958 | h/o and buried near Rose (Bourgeois) Wainwright |
| 363 | Wainwright | Harvey | 02/03/1939 | 04/01/1940 | |
| 364 | Wainwright | Iona (Sones) | 03/31/1909 | 12/29/1997 | w/o and Shares a headstone with David H. Wainwright |
| 365 | Wainwright | Lorenzo | 02/09/1900 | 08/19/1982 | w/o Rebekah E. Wainwright |
| 366 | Wainwright | Mary Margaret | 04/13/1924 | 10/23/2002 | w/o George Albert Wainwright |
| 367 | Wainwright | Rebekah E. | 08/10/1903 | 03/25/1958 | w/o Lorenzo Wainwright |
| 368 | Wainwright | Rose (Bougeois) | 02/10/1874 | 07/27/1944 | w/o and buried near George Henry Wainwright |
| 369 | Wainwright | Shawn Aaron | 08/31/1990 | 08/31/1990 | |
| 370 | Wainwright | Veda | 01/11/1910 | 02/17/1932 | |
| 371 | Wainwright | William L. | 12/03/1929 | 03/01/1940 | |
| 372 | Waite | Juanita (Brown) | 1925 | 1993 | |
| 373 | Walters | Lela | 06/10/1888 | 04/01/1961 | |
| 374 | Waltman | Beverly Ann | 07/19/1953 | 05/14/1997 | w/o and shares a headstone with Dickie D. Waltman; Sr |
| 375 | Waltman | Dickie D. Sr. | 08/28/1945 | 05/24/1998 | h/o and shares a headstone with Beverly Ann Waltman |
| 376 | Waltman | Harold James | 03/29/1949 | 11/14/1970 | s/o Randolph & Mary Elizabeth (Cospelich) Waltman |
| 377 | Waltman | Mary Elizabeth (Cospelich) | 03/29/1920 | 02/12/1982 | d/o Joseph & Roselia (Favre) Cospelich |
| 378 | Waltman | Reikay Darlene | 09/05/1976 | 05/17/1980 | d/o George & Carman Waltman |
| 379 | Welch | Daniel Lee "Dan", Sr | | 06/16/2011 | |
| 380 | Whitney | Ida (Ladner) | 02/15/1903 | 09/14/1995 | w/o and shares a headstone with Jack Britt Whitney; m. 3-30-1928 |
| 381 | Whitney | Jack Britt | 03/30/1896 | 04/18/1989 | h/o and shares a headstone wtih Ida (Ladner) Whitney; m. 3-30-1928 |
| 382 | Wilkins | Christopher Lawrence | 12/08/1983 | 02/09/1985 | |
| 383 | Williams | Abe Perkins | 03/20/1902 | 11/09/1971 | h/o and buried nexe to Carrie Christina (Hose) Williams; m. 1941; s/o Henry & Lenora (Seals) Williams" |
| 384 | Williams | Carrie Christina (Hose) | 11/23/1908 | 08/27/1986 | w/o and buried next to Abe P. Williams; m. 1941; d/o George & Julie Hose" |
| 385 | Williams | Caseneuve | | | No dates |
| 386 | Williams | Edwin | 04/19/1894 | | s/o Henry & Lenora (Seals) William; no dates on marker |
| 387 | Williams | Henry | | | h/o and buried next to Lenora (Seals) Williams; no dates on marker |
| 388 | Williams | John Hiram | 09/05/1884 | 01/21/1961 | s/o Hiram Moses & Francisca Caroline (Holden) Williams |
| 389 | Williams | Katie | | | No dates |
| 390 | Williams | Lenora (Seals) | | | w/o and buried next to Henry Williams; no dates on marker |
| 391 | Zengarling | Agnes M. (Bourgeois) | 02/02/1908 | 12/24/1964 | Shares a headstone with Joseph L. Zengarling |
| 392 | Zengarling | Alice | 07/13/1957 | 06/11/1990 | w/o and buried near Clement Lucian Zengarling; m. 6-10-1978 |
| 393 | Zengarling | Alice (Maskew) | 08/31/1907 | 10/30/1990 | Buried near Robert M. Zengarling |
| 394 | Zengarling | Andrew | 10/15/1873 | 01/19/1951 | |
| 395 | Zengarling | Barbara M. | 12/31/1836 | 11/03/1911 | Buried near John Zengarling |
| 396 | Zengarling | Clementine Lucian | 03/17/1950 | | Reserved; next to and h/o Alice Zengarling; m. 6-10-1978 |
| 397 | Zengarling | Ethel E. (Sylvester) | 07/06/1897 | 01/15/1964 | w/o and buried near John A. Zengarling |
| 398 | Zengarling | Frances Louise | 01/26/1872 | 02/16/1949 | |
| 399 | Zengarling | George M. | 12/27/1906 | 02/09/1951 | |
| 400 | Zengarling | Herbert Curtis "Bully", Sr | 11/26/1913 | 08/24/1994 | h/o and shares a headstone with Mittie (Maskew) Zengarling |
| 401 | Zengarling | John | 09/15/1815 | 03/28/1896 | Buried near Barbara M. Zengarling |
| 402 | Zengarling | John A. | 03/01/1897 | 09/01/1964 | h/o and buried near Ethel E. (Sylvester) Zengarling |
| 403 | Zengarling | Joseph A. | 08/13/1866 | 08/19/1950 | Shares a headstone with Mary K. Zengarling |
| 404 | Zengarling | Joseph L. | 03/10/1901 | 01/17/1988 | Shares a headstone with Agnes M. Bourgeois Zengarling |
| 405 | Zengarling | Leota (Johnson) | 10/28/1917 | 07/07/1938 | |
| 406 | Zengarling | Mary A. | 10/22/1863 | 06/22/1933 | |
| 407 | Zengarling | Mary K. | 02/20/1877 | 10/05/1928 | Shares a headstone with Joseph A. Zengarling |
| 408 | Zengarling | Matthew B. | 08/17/1869 | 06/09/1958 | Buried near Theresa G. Zengarling |
| 409 | Zengarling | Mittie (Maskew) | 08/05/1931 | | Reserved; next to and w/o Herbert Curtis Zengarling; Sr |
| 410 | Zengarling | Randolph A. | 11/26/1902 | 06/21/1990 | |
| 411 | Zengarling | Robert Jr. | 07/06/1938 | | |
| 412 | Zengarling | Robert M. | 02/17/1909 | 10/11/1991 | Buried near Alice Maskew Zengarling |
| 413 | Zengarling | Rose Elizabeth | 03/17/1876 | 09/27/1952 | |
| 414 | Zengarling | Terri Kay | 05/15/1955 | 09/12/1976 | |
| 415 | Zengarling | Theresa G. | 10/13/1880 | 01/14/1966 | Buried near Matthew B. Zengarling |
| 416 | Zengarling | Thomas Batron | 01/23/1899 | 10/11/1981 | |
| 417 | (Unmarked) | | | | |
| 418 | (Unmarked) | | | | |
| 419 | (Unmarked) | | | | |
| 420 | (Unmarked) | | | | |
| 421 | (Unmarked) | Adult | | | |
| 422 | (Unmarked) | Adult | | | |
| 423 | (Unmarked) | Adult | | | |
| 424 | (Unmarked) | Adult | | | |
| 425 | (Unmarked) | Adult | | | |
| 426 | (Unmarked) | Child | | | |
| 427 | (Unmarked) | Child | | | |
| 428 | (Unmarked) | Child | | | |
| 429 | (Unmarked) | Child | | | |
| 430 | (Unmarked) | Child | | | |
| 431 | (Unmarked) | Child | | | |