Doby Cemetery
Located in a swamp area approximately 5 miles south of Pearlington, it contains unmarked graves belonging to Confederate soldiers slain at the Battle of Gainesville. Note: cemetery is locked off by a gate and there is a no trespassing sign. It's a 2 mile walk from there, through rough terrain.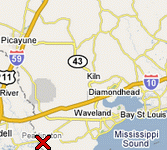 Directions:
Head west on Highway 90, and continue on the 607. Turn left on the 604. After about 1.8 miles, take a left turn on CB Murphy School Road. Keep following this road until you get to Hwy 90 (about 2.2 miles), turn right. After 1.6 miles you will see a subdivision to your left called "Oak Harbour". Turn in here, you will be on Florida Boulevard. Follow this road all the way to the end. It turns to the right and becomes Pensacola Drive. You will see the gate to your left at the end of this road.
Note: The table below is sorted by grave layout. Use Ctrl+F to search for a specific name, or part of a name.
| | | | | | |
| --- | --- | --- | --- | --- | --- |
| # | Last Name | First Name | Birth | Death | Comment |
| | Netto | Florentine | | 10/08/1858 | wife of Francis A. Netto. |
| | Netto | Francis A. | | 1836 | fought in War of 1812; husband of Florentine Netto |
| | Planellas | Estelle | | | widow of the late V. Planellas of New Orleans. (Note: from SCE obituary 03-04-1893) |
| | Splitly | Sarah | 1834 | 12/31/1888 | born in Columbus, Ms.; wife of Henry Gabriel |