Jump to record #10611
Kiln Cemetery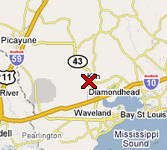 Directions:
From I-10 take the 603 North (= exit 13), then turn left on Kiln-DeLisle Road after about 4.5 miles. (The sign just says 'Kiln Rd'). After about 1/2 mile, turn left on VFW Road, it's the 3rd road to your left and the last one before the bridge. Take the first street to your right (= Road 406). This road will dead-end at a church. You can take a dirt road next to this church to reach the cemetery behind it.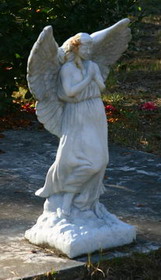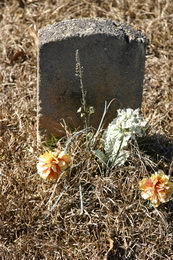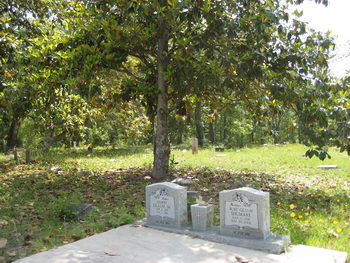 Cemetery layout:
This cemetery has a circular driveway. Graves on the outside are marked 'O', graves inside the circle are marked 'I'. Row numbers start on the church side.

Note: The table below is sorted by grave layout. Use Ctrl+F to search for a specific name, or part of a name.
| | | | | | |
| --- | --- | --- | --- | --- | --- |
| # | Last Name | First Name | Birth | Death | Comment |
| I01-01 | Harrison | Mary | 10/10/1897 | 07/16/1961 | not sure about dates, stone hard to read |
| I01-02 | Harrison | W. M. | | | not sure about name, dates illegible |
| I01-03 | Dunhan | Laura | 1875 | 05/23/1953 | |
| I01-04/06 | (Unmarked) | | | | |
| I01-07 | Thomas | Edward | 09/10/1917 | 11/09/1964 | |
| I01-08 | (Unmarked) | | | | |
| I01-09 | Acker | Luella | 10/23/1889 | 02/24/1977 | |
| I01-10 | Thompson | Spurce Jr. | 05/15/1895 | 06/12/1977 | |
| I01-11 | (Unmarked) | | | | |
| I01-12 | (Unmarked) | | | | |
| I02-01 | Washington | Nikaya Tierra | | | 8 days; dod 11/21/19??, year illegible |
| I02-02 | Washington | Charlie | | 03/06/1996 | 54 yrs. |
| I02-03 | (Unmarked) | | | | |
| I02-04 | Thompson | Wilbert | | | |
| I02-05/07 | (Illegible) | | | | |
| I02-08 | Green | J. C.(?) | 06/02/1909 | 04/10/1942 | |
| I02-09 | Ross | Claiborne | 03/06/1896 | 05/19/1959 | Miss. Pvt Co M 806 Pioneer Inf WWI |
| I02-10 | Louis | Rosie | 07/17/1898 | 03/21/1971 | |
| I02-11 | (Unmarked) | | | | |
| I02-12 | McMillon | Lula | 04/18/1876 | 06/28/1961 | |
| I02-13 | Gillum | Gilbert Sr. | 04/06/1876 | 11/01/1966 | father |
| I02-14 | Shumake | Ruby Gillum | 03/11/1926 | 05/30/2002 | mother |
| I03-01 | (Illegible) | | | | |
| I03-02 | Ray | Bessie | 01/05/1909 | 02/23/1954 | |
| I03-03 | Lindsey | Oris | | 02/11/1935 | |
| I03-04 | Riley | Frank | 09/05/1935 | | date of death not visible |
| I03-05 | (Illegible) | | 09/20/1883 | 12/08/1960 | |
| I03-06 | James | Albert | | 03/23/1876 | |
| I03-07 | Wilson | Mable | | 07/24/1876 | date of birth 12/7/????; very hard to read |
| I03-08 | Benjamin | Beatrice | | 09/11/1971 | |
| I03-09 | Green | Farrell | | 05/18/1926 | son |
| I04-01 | Henry | Ronald Joseph | 02/14/1959 | 08/26/1988 | |
| I04-02 | Henry | Carol Ann | 10/21/1961 | 06/24/1987 | |
| I04-03 | (Unmarked) | | | | |
| I05-01 | Young | Rebecca W. | 11/25/1895 | 06/22/1967 | |
| I05-02 | Gillum | Autobe S. Jr. | 01/31/1924 | 01/05/1961 | Miss. STM2 USNR WWII |
| I05-03 | (Unmarked) | | | | |
| I05-04 | Williams | Florence | 02/09/1930 | 07/08/1930 | |
| I06-01 | James | Marion | 01/31/1929 | 10/03/1995 | |
| I06-02 | James | R. T. | 01/10/1924 | 09/12/1984 | Pvt US Army WWII |
| I06-03 | (Unmarked) | | | | |
| I07-01 | James | Frances | 08/22/1888 | 07/16/1979 | |
| I07-02 | (Illegible) | | | | |
| I07-03 | Reynolds | Payton | | | dates illegible |
| I07-04 | (Unmarked) | | | | |
| I07-05 | James | Robert Sr. | 12/04/1896 | 03/05/1954 | Miss. Pvt 15 BN REPL TNG CEN WWI |
| I07-06 | James | John H. | 12/27/1856 | 09/01/1931 | |
| I07-07 | James | Lolie | 02/01/1865 | 08/05/1963 | |
| I07-08 | (Unmarked) | | | | |
| I07-09 | James | Johnny | 12/16/1891 | 06/14/1962 | |
| I07-10 | Green | Sam "Baby" | 03/11/1912 | 07/26/1966 | |
| I07-11 | Anderson | Angens | 12/25/1891 | 12/10/1954 | |
| I07-12 | Summers | Robert | 08/14/1901 | 07/01/1907 | |
| I08-01 | (Unmarked) | | | | |
| I08-02 | Wilkerson | Clarence L. | 09/20/1923 | 04/20/1967 | Miss. Cpl 3194 OM SVC CO WWII |
| I08-03 | Chapel | Collie | 07/07/1892 | 05/13/1964 | |
| I08-04 | (Unmarked) | | | | |
| I08-05 | Brown | Catherine | 06/03/1923 | 12/13/1992 | "Aunt Cat" |
| I08-06 | Dunmaur | Ruth D. | 12/20/1905 | 01/08/2007 | |
| I08-07 | Dunmaur | (Illegible) | | 06/29/1947 | 49 yrs. |
| I08-08 | Wilson | Lula B. | | 06/28/1936 | |
| I08-09 | Wilson | Robert M. | 09/24/1870 | 10/07/1932 | |
| I08-10 | Dantzler | Elvina | 12/17/1905 | 01/27/1983 | |
| I08-11 | (Unmarked) | | | | |
| I08-12 | (Unmarked) | | | | |
| I08-13 | Parker | Christina | 07/27/1887 | | date of death illegible |
| I08-14 | (Illegible) | | | | |
| I08-15 | Green | Leon | 06/07/1870 | 1955 | date of death illegible |
| I09-01 | (Illegible) | | | | |
| I09-02 | Bowen | Henry | | | dates illegible |
| I09-03 | Bage..(?) | Henry | 03/24/1893 | 12/05/1914 | |
| I09-04 | (Illegible) | | | | |
| I09-05 | (Illegible) | | | | |
| I09-06 | Barnes | Dennis | 05/10/1893 | 12/13/1943 | Miss. Pvf 1 CL 508 Engrs |
| I09-07/08 | (Unmarked) | | | | |
| I10-01 | (Unmarked) | | | | |
| I10-02 | Wilkerson | Eliza | 03/26/1922 | 01/31/1939 | |
| I10-03 | (Unmarked) | | | | |
| I10-04 | Harris | Joseph | | 10/1934 | |
| I10-05 | Harris | Ludie | 1880 | 1967 | |
| I10-06 | Green | Denise | 1900 | 1986 | same as I11-15? |
| I10-07/10 | (Unmarked) | | | | |
| I11-01 | Wright | Mattie | 12/20/1879 | 08/16/1924 | wife of Jas. W. Wright; mother of Albert & Mary F. |
| I11-02 | (Unmarked) | | | | |
| I11-03 | May | E. J. | 10/21/1869 | 04/06/1947 | |
| I11-04/06 | (Unmarked) | | | | |
| I11-07 | Frederick | Beatrice Gillum | 1883 | 1953 | |
| I11-08 | (Unmarked) | | | | |
| I11-09 | Frederick | Leonard Sr. | 1869 | 1941 | |
| I11-10 | (Unmarked) | | | | |
| I11-11 | Wilkerson | Armeata Frederick | 1923 | 1948 | |
| I11-12 | Smith | Erbie Frederick | 1917 | 1956 | |
| I11-13 | Fields | Murriel F. | 1919 | 1972 | |
| I11-14 | (Unmarked) | | | | |
| I11-15 | Green | Denise | 04/22/1900 | 10/31/1986 | same as I10-06? |
| I11-16 | Lee | Bessie C. | | 06/12/1876 | 75 yrs. |
| I11-17 | (Unmarked) | | | | |
| I11-18 | Carter | Lucinda Neason | | | no dates |
| I12-01 | Lewis | Maggie Flax | 03/26/1910 | 11/27/1988 | |
| I12-02 | Gaines | Lugenia | | 02/14/1945 | 48 yrs. |
| I12-03 | (Unmarked) | | | | |
| I12-04 | (Illegible) | | | 03/10/1928 | 53 yrs.; tombstone broken, date only thing visible |
| I12-05 | Lee | Eliza | | | no dates |
| I12-06 | Robinson | Lizzie | | | no dates |
| I12-07 | Sams | Samuel Sr., Rev. | 09/07/1887 | 08/05/1950 | dates hard to read |
| I12-08 | (Unmarked) | | | | |
| I12-09 | Sams | Annie L. | 12/01/1888 | 03/14/1968 | 12 children |
| I12-10 | Cheatham | Rebecca | 08/27/1903 | 07/16/1974 | |
| I12-11 | Sams | Nathaniel, Rev. | 1897 | 1981 | |
| I12-12 | (Unmarked) | | | | |
| I12-13 | Fredrick | Dan Vellian | 04/30/1943 | 09/21/1998 | Capt US Army Vietnam |
| I12-14/16 | (Unmarked) | | | | |
| I12-17 | Frederick | Isabell James | 07/04/1919 | 05/16/1972 | |
| I12-18 | Frederick | Leonard Jr. | 03/30/1914 | 02/08/1970 | |
| I12-19 | Frederick | Alan | 06/11/1940 | 08/27/2006 | |
| O01-01 | Gillum | Charlie R. | 12/25/1913 | 06/22/1979 | |
| O01-01 | Gillum | Emelda Henry | 12/04/1917 | 11/02/1975 | |
| O02-01 | Haynes | Louise | 1890 | 01/07/1977 | 86 yrs. |
| O02-02 | Haynes | Troy | | 07/14/1944 | 73 yrs. |
| O02-03 | Haynes | Bertha Mae | 04/28/1926 | 04/11/1943 | |
| O02-04 | Haynes | Louise | | 04/11/1943 | 34 yrs. |
| O03-01 | Haynes | Louis | 12/02/1931 | 12/14/1995 | |
| O03-02 | Haynes | Bridie | 11/15/1936 | 06/29/1981 | |
| O03-03 | Haynes | Louis Dextr | 06/08/1957 | 08/10/1978 | |
| O03-04 | Wilson | Willie | 09/20/1905 | 08/08/1976 | |
| O04-01 | Butler | Leather Walker | 03/23/1915 | 01/22/1978 | |
| O05-01 | Lang | Dolly Girtrude | 06/26/1887 | 06/08/1972 | |
| O06-01 | Bonner | John Henry | 02/24/1924 | 07/01/1944 | MS STM1c US Navy WWII |
| O06-02 | Bowens | Monroe | 05/10/1890 | 06/21/1959 | LA Pvt 419 RES LABOR BN QMC WWI |
| O07-01 | Gray | Mella | 1940 | 1997 | |
| O07-02 | Lewis | Ovier Mae | 08/13/1923 | 09/21/1973 | |
| O07-03 | Harrison | Betty Jean | 10/22/1956 | 08/04/1971 | |
| O08-01 | Haynes | Mazie Marlene | 02/22/1934 | 02/05/1996 | |
| O09-01 | (Unmarked) | | | | |
| O09-02 | (Unmarked) | | | | |
| O09-03 | Gaines | Nataniel | 05/29/1916 | 05/14/1970 | |
| O09-04 | (Unmarked) | | | | |
| O09-05 | Marshell | Alisker | 12/16/1891 | 11/10/1925 | |
| O09-06 | Haynes | Tillie Mae | 10/02/1914 | 04/08/1994 | |
| O09-07 | Haynes | Lexie | 09/25/1908 | 12/09/1997 | |
| O10-01/03 | (Unmarked) | | | | |
| O11-01/02 | (Unmarked) | | | | |
| O11-03 | Gillum | Josphine | | 03/21/1966 | 77 yrs. |
| O11-04 | Parker | Willie | | | tombstone buried, dates not visible |
| O11-05 | (Unmarked) | | | | |
| O12-01 | (Unmarked) | | | | |
| O12-02 | (Illegible) | | | | |
| O12-03 | Cunningham | Ernest Joseph Jr. | 06/02/1945 | 01/13/1987 | |
| O12-04 | (Unmarked) | | | | |
| O12-05 | Hicks | Carrie | | 04/13/1978 | 71 yrs, 7 mos, 10 days |
| O12-06 | Williams | Otis | 02/06/1932 | 01/06/1956 | MS Pvt 13 Inf 8 Inf Div |
| O12-07 | Haynes | Wallace Sr. | 06/22/1910 | 09/27/1991 | US Army WWII |
| O12-08 | (Unmarked) | | | | |
| O13-01/03 | (Unmarked) | | | | |
| O13-04 | Harrington | Rose | 1924 | 2001 | |
| O13-05 | (Illegible) | | | | |
| O13-06 | (Illegible) | | | | |
| O13-07 | McMillie (May?) | Williemay | | 11/17/1987 | date not certain |
| O13-08 | (Illegible) | | | | |
| O14-01 | Wilson | Charles I. | 06/04/1896 | 03/23/1964 | LA Pvt Co D 162 Depot Brigade WWI |
| O14-02 | Johnson | Cora | 05/05/1899 | 06/17/1973 | |
| O14-03 | Saucier | Cliera | | 06/14/1943 | |
| O14-04 | Saucier | Gloria | 07/1900 | 06/14/1943 | |
| O14-05 | (Unmarked) | | | | |
| O14-06 | (Unmarked) | | | | |
| O14-07 | Wilkerson | Carrie Louise | 03/13/1852 | 03/16/1852 | |
| O14-08/12 | (Unmarked) | | | | |