Leetown Cemetery
Belongs to the Lee's Chapel Baptist Church No. 2.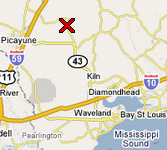 Directions:
From I-10 take the 603 North (= exit 13), then turn left on State Road 43 after about 5.7 miles. Turn right on Leetown Road after about 7.4 miles, then left at Road 231 after 3.8 miles. You will see Lee's Chapel Baptist Church to your left and the cemetery to the right.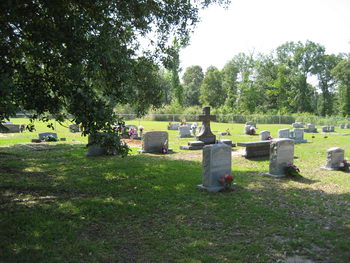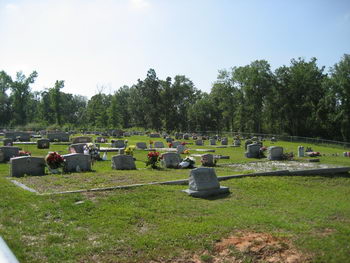 Note: The table below is sorted by last name. Use Ctrl+F to search for a first, middle or maiden name, or part of a name.
| | | | | | |
| --- | --- | --- | --- | --- | --- |
| # | Last Name | First Name | Birth | Death | Comment |
| 001 | Angel | Heaven's | 04/15/1992 | 04/15/1992 | |
| 002 | Aubert | Doylene L. | | | |
| 003 | Aubert | Henry D | 01/30/1933 | 01/17/2008 | |
| 004 | Baehr | Christen M. A. | 04/03/1983 | 01/23/1999 | |
| 005 | Baehr | Susan K | 12/16/1946 | 01/23/1999 | |
| 006 | Baker | David W | | | |
| 007 | Baker | Irene | 04/10/1920 | 12/13/1994 | |
| 008 | Baker | John L | 1887 | 1953 | |
| 009 | Baker | Ola Lee | | | |
| 010 | Baker | Rebecca | 1889 | 1951 | |
| 011 | Beal | Willie | 01/14/1905 | 08/28/1978 | |
| 012 | Berry | Carl N, Jr | 11/27/1954 | 08/13/2005 | |
| 013 | Carrol | Linda Lee | 03/09/1949 | 09/30/1998 | |
| 014 | Castelin | Pansy Louise | 09/27/1934 | 07/23/1990 | |
| 015 | Coker | Craig Jackie Allen "C. J." | 09/19/1996 | 08/22/2000 | |
| 016 | Coker | Jackie Shawn | | | |
| 017 | Coker | Monique Lynn A | 07/27/1974 | 08/22/2000 | |
| 018 | Crenshaw | Dorothy L | 02/11/1913 | 09/29/1968 | |
| 019 | Crespo | Irene | 09/24/1934 | 02/08/2009 | |
| 020 | Crespo | Louis | | | |
| 021 | Croll | Audrey Mae Lee | 01/19/1934 | 11/26/1981 | |
| 022 | Croll | Capt Wallace J | 09/05/1928 | 11/26/1981 | |
| 023 | Croll | Cheryl Ann | 04/18/1967 | 11/26/1981 | |
| 024 | Cuevas | Audrey N Lee | | | |
| 025 | Cuevas | Mary Jane | 05/29/1909 | 09/07/1954 | |
| 026 | Cuevas | Monvel J "Sam" | 08/28/1936 | 11/12/2001 | |
| 027 | Dawson | Julie Ann | 1966 | 2003 | |
| 028 | Dunaway | Elmo S | 02/01/1926 | 05/21/2006 | |
| 029 | Dunaway | Homer L., Sr | | | |
| 030 | Duxworth | Ann Lee | 1911 | 1996 | |
| 031 | Duxworth | Joseph R | 1912 | 1985 | |
| 032 | Fleming | Agnes B | | | |
| 033 | Fleming | Hayward Ivy, Sr | 07/06/1927 | 07/22/2007 | |
| 034 | Guest | Peggy G | 02/04/1934 | 01/08/2000 | |
| 035 | Guest | Vernon M | 11/18/1928 | 04/02/1970 | |
| 036 | Hailey | Clinton J | 1987 | 1988 | |
| 037 | Ladner | Michael H | 05/19/1964 | 08/02/2005 | |
| 038 | Landry | A D | 1929 | 1978 | |
| 039 | Landry | Henrietta L | | | |
| 040 | Lee | Adron A | | | |
| 041 | Lee | Alphus Joshua | 05/21/1901 | 09/10/1979 | |
| 042 | Lee | Alvin Buron | 1932 | 03/09/2010 | |
| 043 | Lee | Archie L | 02/22/1906 | 01/22/1959 | |
| 044 | Lee | Ardella S | 06/21/1919 | 12/04/2008 | |
| 045 | Lee | Billie | 01/08/1911 | 12/24/1965 | |
| 046 | Lee | Catherine L | | | |
| 047 | Lee | Charles "C. J." | 1929 | 2009 | |
| 048 | Lee | Charlie L | 06/12/1898 | 05/04/1971 | |
| 049 | Lee | Chester C | 01/13/1906 | 08/26/1985 | |
| 050 | Lee | Christine R | 02/12/1933 | 01/27/2008 | |
| 051 | Lee | Clara F. | | | |
| 052 | Lee | Clifton L. | 05/18/1910 | 10/15/1993 | |
| 053 | Lee | Culbert P | 07/01/1903 | 10/13/1961 | |
| 054 | Lee | Cullen S | 02/15/1908 | 06/20/1966 | |
| 055 | Lee | Dale Joshua | 01/22/1955 | 07/11/2008 | |
| 056 | Lee | Dana | | | |
| 057 | Lee | Davie E "Big Mama" | 01/03/1904 | 09/25/1984 | |
| 058 | Lee | Dorothy T | 06/20/1927 | 07/12/2002 | |
| 059 | Lee | Dorothy H | 09/09/1908 | 04/02/1998 | |
| 060 | Lee | Effie Jane | 12/22/1909 | 05/01/2004 | |
| 061 | Lee | Elsie | 09/09/1898 | 03/16/1951 | |
| 062 | Lee | Ernest, Sr | 1934 | 1998 | |
| 063 | Lee | Eunice K | 01/12/1912 | 03/31/1984 | |
| 064 | Lee | F. J. | | | |
| 065 | Lee | Francis | 08/05/1907 | 07/25/1977 | |
| 066 | Lee | Franklin D | | | |
| 067 | Lee | Gary B | 05/11/1949 | 05/13/1949 | |
| 068 | Lee | Gaston A "Big Daddy" | 10/18/1896 | 06/25/1977 | |
| 069 | Lee | Gerdell "Dell" Smith | 1933 | 07/26/2011 | |
| 070 | Lee | Gracie C | 07/26/1896 | 01/24/1960 | |
| 071 | Lee | Grady W | 08/29/1923 | 06/11/1994 | |
| 072 | Lee | Harbert H | 07/20/1912 | 04/14/1986 | |
| 073 | Lee | Harvey L | 08/10/1895 | 04/15/1948 | |
| 074 | Lee | Herber | 07/30/1908 | 01/29/1979 | |
| 075 | Lee | Irene Stockstill | 11/14/1916 | 01/18/1999 | |
| 076 | Lee | Isham Kimbell | 06/16/1923 | 05/10/1973 | |
| 077 | Lee | J. C. | 03/27/1915 | 11/18/1963 | |
| 078 | Lee | James Oren | 11/09/1935 | 09/14/2006 | |
| 079 | Lee | James Thomas | 10/05/1920 | 01/30/1982 | |
| 080 | Lee | Jennie Virginia | 04/17/1870 | 02/22/1948 | |
| 081 | Lee | Jesse Mae S | 07/25/1912 | 09/15/2000 | |
| 082 | Lee | Kathy G | 07/16/1951 | 09/15/1951 | |
| 083 | Lee | Ken | 07/15/1964 | 07/15/1964 | |
| 084 | Lee | Labron | 06/03/1901 | 11/12/1988 | |
| 085 | Lee | Lionel R | 09/19/1930 | 01/26/2002 | |
| 086 | Lee | Lori Evelyn | 01/07/1969 | 01/07/1969 | |
| 087 | Lee | Lorraine O | 1904 | 1951 | |
| 088 | Lee | Louis C "Papa" | 09/05/1891 | 12/08/1963 | |
| 089 | Lee | Louis L | 12/11/1874 | 12/13/1961 | |
| 090 | Lee | Lourenia S | 03/17/1910 | 11/23/1986 | |
| 091 | Lee | Luther Clinton | 11/06/1927 | 07/20/2000 | |
| 092 | Lee | Luther L | 12/14/1949 | 12/14/1949 | |
| 093 | Lee | Margaret Elodie | 08/25/1937 | 03/10/2003 | |
| 094 | Lee | Marvin Atrice | 10/07/1915 | 04/17/1999 | |
| 095 | Lee | Mary Opal | 02/13/1911 | 03/07/1977 | |
| 096 | Lee | Mattie D | 11/21/1912 | 03/30/1997 | |
| 097 | Lee | Mertie Mae | 11/14/1910 | 02/25/1983 | |
| 098 | Lee | Minnie | 07/31/1908 | 05/14/1975 | |
| 099 | Lee | Mittie A | 01/18/1902 | 12/12/1975 | |
| 100 | Lee | Mrs Mary E | 1877 | 1949 | |
| 101 | Lee | Ollie V | 06/24/1924 | 05/27/2007 | |
| 102 | Lee | Ollie E | 01/20/1919 | 01/12/1993 | |
| 103 | Lee | Ouida Faye | 05/04/1945 | 04/09/1958 | |
| 104 | Lee | Payton W | 05/24/1876 | 03/23/1961 | |
| 105 | Lee | Perry Dean | 01/12/1935 | 06/27/1999 | |
| 106 | Lee | Priscilla M | | | |
| 107 | Lee | Rev James Vairin | 09/13/1921 | 03/07/1967 | |
| 108 | Lee | Rev James "Jimmie" | 02/01/1898 | 11/28/1964 | |
| 109 | Lee | Rev Leo W | 02/24/1914 | 04/19/1969 | |
| 110 | Lee | Rev Zach T | 1904 | 1984 | |
| 111 | Lee | Robert Carson | 02/05/1916 | 08/25/1958 | |
| 112 | Lee | Roger S | 07/24/1893 | 03/19/1956 | |
| 113 | Lee | Rogers Elmer | 1834 | 1867 | |
| 114 | Lee | Ruby L | 08/16/1927 | 08/24/1986 | |
| 115 | Lee | Rufus | 10/09/1895 | 06/18/1954 | |
| 116 | Lee | Thomas Payton | 07/11/1938 | 04/03/2007 | |
| 117 | Lee | Thomas J | 1873 | 1952 | |
| 118 | Lee | Vanessa G. Stockstill | 1958 | 01/20/2011 | |
| 119 | Lee | Vera S | 01/16/1908 | 10/24/1986 | |
| 120 | Lee | Verna Lee Jordan | 10/06/1921 | 05/01/1999 | |
| 121 | Lee | Vernice S | 08/16/1912 | 01/24/1998 | |
| 122 | Lee | Victoria R. | | | |
| 123 | Lee | Virgil Ray | 05/14/1930 | 03/28/1992 | |
| 124 | Lee | Virgil L | 03/08/1902 | 01/22/1980 | |
| 125 | Lee | Washington H | 1832 | 1875 | |
| 126 | Lee | Willa M | 09/23/1935 | 02/06/1982 | |
| 127 | Lee | William F | 03/29/1879 | 02/06/1958 | |
| 128 | Lee | Willie Mae | 06/20/1910 | 11/08/2002 | |
| 129 | Lee | Willie P | 01/29/1904 | 12/28/1980 | |
| 130 | Lee | Woodson Viron | 08/07/1935 | 06/23/1988 | |
| 131 | Loper | Ryan C | 01/29/1974 | 02/02/2005 | |
| 132 | Lowe | R. V. | 05/10/1917 | 10/06/1983 | |
| 133 | Lowe | Valerie S | | | |
| 134 | Lumpkin | Herlon Kelly | 1943 | 06/11/2011 | |
| 135 | Marshall | Bobbie Jean | 02/21/1932 | 06/21/2006 | |
| 136 | Marshall | Lucious O | | | |
| 137 | McCormick | Bessie Maud | 06/13/1897 | 07/23/1977 | |
| 138 | McCormick | Etta P. "Dockie" | 11/30/1885 | 10/12/1968 | |
| 139 | McCormick | Lewis W | 05/27/1910 | 07/24/1978 | |
| 140 | McCormick | Malda Cox | 10/30/1867 | 08/15/1960 | |
| 141 | McCormic | Michael A | 11/03/1958 | 05/25/2001 | |
| 142 | McCormic | Mildred R | | | |
| 143 | McCormick | Nellie B | 10/27/1899 | 11/05/1990 | |
| 144 | McCormic | Patrick F | | | |
| 145 | McDuffie | Brenda Rose Stockstill | 10/11/1945 | 03/03/2007 | |
| 146 | McDuffie | Willard Eugene | 11/03/1941 | 08/30/2004 | |
| 147 | Miles | Beulah E | 01/16/1919 | 02/27/2003 | |
| 148 | Miles | Paul | 03/22/1923 | 10/29/1978 | |
| 149 | Moore | Aileen S | 07/14/1974 | 03/09/2001 | |
| 150 | Moore | Deborah Kaye "Debbie" | 12/03/1954 | 11/27/1959 | |
| 151 | Moore | Ina Mae | | | |
| 152 | Moore | Rev John Elder | 04/18/1918 | 01/07/2006 | |
| 153 | Necaise | Mary C Lee | 01/27/1947 | 02/22/2002 | |
| 154 | Oakley | John Henry | 07/08/1915 | 02/20/1990 | |
| 155 | Oakley | Verna Lee | 04/05/1915 | 12/03/1999 | |
| 156 | Odom | Hugh Hillary, Jr | 02/28/1950 | 12/01/1989 | |
| 157 | Palmer | Ella Ree Lee | 12/26/1937 | 02/17/1998 | |
| 158 | Palmer | James W "Bill" | 08/23/1958 | 10/20/2006 | |
| 159 | Palmer | Roland D | | | |
| 160 | Pearson | Floy Haze | 1932 | 2008 | |
| 161 | Pearson | Neville Austin | 12/25/1931 | 06/03/2008 | |
| 162 | Peneguy | Louis Albert, Sr | 01/25/1886 | 04/02/1975 | |
| 163 | Reeves | Clyde H | | | |
| 164 | Reeves | Deloris L | | | |
| 165 | Rigaud | Adam | 06/12/1900 | 03/27/1995 | |
| 166 | Rigaud | Eve R Signes | 08/04/1904 | 08/06/1997 | |
| 167 | Rigaud | Leonce | 08/07/1907 | 01/15/1973 | |
| 168 | Rigaud | Martha L | 01/24/1898 | 12/13/1970 | |
| 169 | Scott | Judith Grace | 02/28/1944 | 07/09/2008 | |
| 170 | Smith | Ciara | 06/21/1996 | 06/21/1996 | |
| 171 | Smith | Clifton C | 05/01/1917 | 11/29/1974 | |
| 172 | Smith | Floyd M "Sonny", Jr | 11/26/1943 | 07/21/1962 | |
| 173 | Smith | Jennifer M | 07/16/1947 | 10/06/1977 | |
| 174 | Smith | John M | 04/06/1921 | 03/19/1996 | |
| 175 | Smith | Myrtle L | | | |
| 176 | Smith | Wilmer | 04/11/1915 | 05/03/1966 | |
| 177 | Spell | Christopher Wayne | | | |
| 178 | Spiers | David | 02/26/1914 | 01/10/1975 | |
| 179 | Spiers | Mary | 12/12/1916 | 04/08/1978 | |
| 180 | Spooner | Jazmine Abagale | 08/05/1999 | 10/24/1999 | |
| 181 | Stockstill | Ardell | | | |
| 182 | Stockstill | Francis M | 11/28/1914 | 08/12/1997 | |
| 183 | Stockstill | Glenn C | 08/13/1942 | 01/04/2007 | |
| 184 | Stockstill | Hazel L | 08/18/1919 | 05/15/1983 | |
| 185 | Stockstill | Jennifer E | 1973 | 2009 | |
| 186 | Stockstill | Ladell L | 03/26/1925 | 01/07/2005 | |
| 187 | Stockstill | Leonard J | 10/13/1886 | 08/31/1965 | |
| 188 | Stockstill | Linda L | | | |
| 189 | Stockstill | Louvenia S | 11/14/1907 | 05/06/1983 | |
| 190 | Stockstill | Nelson Levi | 05/05/1943 | 11/04/1987 | |
| 191 | Stockstill | Otis R | 10/25/1906 | 01/26/1986 | |
| 192 | Stockstill | Ricky Wade | 07/16/1969 | 08/15/2003 | |
| 193 | Stockstill | Rosie E | 10/27/1889 | 12/27/1967 | |
| 194 | Stockstill | Rowena O | 02/10/1889 | 10/13/1949 | |
| 195 | Stockstill | Theodore W | 08/05/1914 | 07/14/1986 | |
| 196 | Stockstill | Thomas A | 05/05/1877 | 11/23/1970 | |
| 197 | Stockstill | Virgil E | 06/24/1908 | 08/04/1999 | |
| 198 | Strahan | Patsy Lee | 02/13/1937 | 05/26/1994 | |
| 199 | Strickland | Alvy Irene | 06/06/1918 | 12/24/2008 | |
| 200 | Strickland | Helen T | | | |
| 201 | Strickland | Lonnie James | 09/19/1947 | 06/17/2011 | |
| 202 | Strickland | Lonnie V | 08/06/1905 | 01/29/1993 | |
| 203 | Strickland | Lonnie E | 08/24/1939 | 09/19/1988 | |
| 204 | Strickland | Vaiden Eddie | 08/04/1937 | 04/18/1979 | |
| 205 | Taylor | Edward D | 01/04/1925 | 06/28/1973 | |
| 206 | Thompson | Floyd Robert, Jr | 12/20/1961 | 12/24/1966 | |
| 207 | Thrash | Edward D | 03/17/1906 | 12/20/1991 | |
| 208 | Thrash | Edward Jackson, Sr | 04/13/1931 | 07/22/1989 | |
| 209 | Thrash | Pearl W | 12/17/1911 | 12/10/1993 | |
| 210 | Unknown | Unknown | | | |
| 211 | Unknown | Unknown | | | |
| 212 | Waldrop | Bennie L, Sr | | | |
| 213 | Waldrop | Rose R | | | |
| 214 | Walker | Alice Juanita | 06/16/1927 | 02/21/1997 | |
| 215 | Walker | Earl H | 03/10/1909 | 09/14/1992 | |
| 216 | Walston | Elizabeth I | 10/11/1930 | 11/25/2006 | |
| 217 | Walston | Lloyd C | | | |
| 218 | Warden | Joseph Wade | 05/22/2008 | 05/22/2008 | |
| 219 | Watkins | Mildred Baker | 06/21/1925 | 12/19/1991 | |
| 220 | Watkins | Thomas Henry | 12/17/1910 | 04/30/1994 | |
| 221 | Weems | Annie Kate | 01/25/1908 | 12/30/1975 | |
| 222 | Weems | Roy Lee | 08/21/1906 | 11/09/1993 | |
| 223 | Werth | Dovie C L | 03/17/1904 | 12/13/1995 | |
| 224 | Werth | Herman H | 1910 | 1949 | |
| 225 | Williamson | Nettie | 04/08/1888 | 05/11/1962 | |
| 226 | Young | Aubrey A | 04/18/1908 | 08/11/1969 | |
| 227 | Young | Tavie R | 07/17/1908 | 07/10/1990 | |