McQueen Cemetery
Single tombstone of William McQueen, located in the Westonia area. There are several people buried here but all other headstones were destroyed in the aftermath of hurricane Camille in 1969.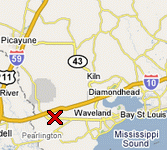 Directions:
Starting point: State Road 607 and 604 intersection. Head east on the 607. Proceed approximately 250 ft past the first mileage sign you see. There is a clear area there just before 2 magnolia trees at right edge of ditch, and a trail leading due south. The grave is located about a 100 yards off the highway.
Note: The table below is sorted by grave layout. Use Ctrl+F to search for a specific name, or part of a name.
| | | | | | |
| --- | --- | --- | --- | --- | --- |
| # | Last Name | First Name | Birth | Death | Comment |
| 1 | McQueen | William Arthur | 01/1826 | 10/15/1874 | son of Emily Goodson and John McQueen |
| 2 | McQueen | Mary Polly Craft | 05/1827 | 12/03/1903 | wife of William Arthur McQueen |
| 3 | Holden | Susanna Lott | 11/22/1838 | 1875 | daughter of Jesse Lott, Sr. and Ellen Holden; first wife of Mahlon Beason Holden |
| 4 | Holden | Daniel | 1875 | 1895 | son of Susanna & Mahlon Holden |
| 5 | Dawsey | Sarah Adeline | 03/27/1877 | 1880 | daughter of Rufus Dawsey & Susan Painter. Buried with grandparents. |
| 6 | Dawsey | David O. | 1800 | 1870 | second husband of Emily Goodson |
| 7 | Dawsey | Emily Goodson | 1810 | 1869 | wife of David Dawsey; first husband John McQueen; mother of William Arthur McQueen |
| 8 | Dawsey | Samuel Aaron | 1850 | | son of David & Emily Dawsey; dod after 1900 |