Jump to record #2875
New Hope Baptist Church Cemetery
175 Graves from the Gainesville cemetery were reinterred here by Nasa in 1964.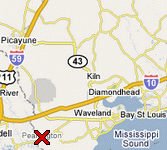 Directions:
Head west on Highway 90, and turn left to continue on Highway 90 where it splits into the 607. After 4.2 miles, turn right on Whites Road. You will see the New Hope Baptists church building and the adjacent cemetery on the right hand side after about 2.2 miles.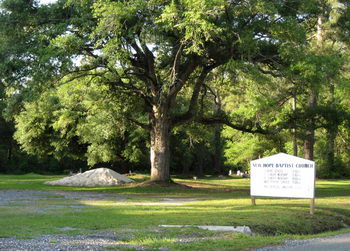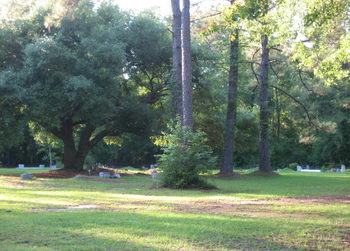 This cemetery has only partially been indexed.
Note: The table below is sorted by grave layout. Use Ctrl+F to search for a specific name, or part of a name.
| | | | | | |
| --- | --- | --- | --- | --- | --- |
| # | Last Name | First Name | Birth | Death | Comment |
| | (Unidentified) | | | | 114 unidentified, reinterred by Nasa from the Gainesville cemetery |
| 4-03 | Williams | Myra Willis | | 1911 | Reinterred by Nasa from the Gainesville cemetery #033 |
| 4-04 | Williams | Joe | | 1938 | Reinterred by Nasa from the Gainesville cemetery #035 |
| 4-06 | Fulton | Robert C. | 09/21/1901 | 09/23/1924 | Reinterred by Nasa from the Gainesville cemetery #141 |
| 4-07 | Fulton | Ella | | 1898 | Reinterred by Nasa from the Gainesville cemetery #142 |
| 4-08 | Fulton | Robert | | 1900 | Reinterred by Nasa from the Gainesville cemetery #143 |
| 4-23 | Young | Courtney C. | | 1945 | Reinterred by Nasa from the Gainesville cemetery #157 |
| 4-24 | Young | Mosley | | 1900 | Reinterred by Nasa from the Gainesville cemetery #158 |
| 4-27 | Wingate | Minerva | | 1913 | Reinterred by Nasa from the Gainesville cemetery #150 |
| 4-28 | Wingate | Washington | | 1916 | Reinterred by Nasa from the Gainesville cemetery #151 |
| 5-01 | Handy | Wingate | | | Reinterred by Nasa from the Gainesville cemetery #149 |
| 5-02 | Williams | Rosa | | 1927 | Reinterred by Nasa from the Gainesville cemetery #114 |
| 5-04 | Williams | Stillborn Child Of Rosa | 1917 | 1917 | Reinterred by Nasa from the Gainesville cemetery #115 |
| 5-06 | Fulton | Mary | | 1951 | Reinterred by Nasa from the Gainesville cemetery #139 |
| 5-08 | Fulton | William | | 1952 | Reinterred by Nasa from the Gainesville cemetery #140 |
| 5-09 | Warren | Edna | | 1922 | Reinterred by Nasa from the Gainesville cemetery #121 |
| 5-10 | Warren | James Ellery | | 1951 | Reinterred by Nasa from the Gainesville cemetery #124 |
| 5-12 | Warren | Minervia | | 1932 | Reinterred by Nasa from the Gainesville cemetery #123 |
| 5-25 | Wingate | Frank | | | Reinterred by Nasa from the Gainesville cemetery #161 |
| 5-26 | Wingate | Beline | | | Reinterred by Nasa from the Gainesville cemetery #162 |
| 5-27 | Wingate | Victoria | | | Reinterred by Nasa from the Gainesville cemetery #163 |
| 5-28 | Sims | Asaline Young | | | Reinterred by Nasa from the Gainesville cemetery #159 |
| 6-01 | Acker | Charles Sr. | | 04/06/1932 | Reinterred by Nasa from the Gainesville cemetery #016 |
| 6-03 | Acker | Louisa | | 1912 | Reinterred by Nasa from the Gainesville cemetery #017 |
| 6-05 | Acker | Philomena | | 1932 | Reinterred by Nasa from the Gainesville cemetery #023 |
| 6-06 | Acker | Simon | 11/01/1891 | 1930 | Reinterred by Nasa from the Gainesville cemetery #019 |
| 6-07 | Benjamin | Clark | | 1914 | Reinterred by Nasa from the Gainesville cemetery #021 |
| 6-08 | Benjamin | Emma | | 1911 | Reinterred by Nasa from the Gainesville cemetery #020 |
| 6-09 | George | Phyllis | 1902 | 1903 | Reinterred by Nasa from the Gainesville cemetery #026 |
| 6-10 | George | Evangeline | | 1906 | Reinterred by Nasa from the Gainesville cemetery #027 |
| 6-11 | George | Magnolia | | 1907 | Reinterred by Nasa from the Gainesville cemetery #028 |
| 6-12 | George | Ernest | | 1908 | Reinterred by Nasa from the Gainesville cemetery #029 |
| 6-15 | Williams | Maggie | | | Reinterred by Nasa from the Gainesville cemetery #120 |
| 6-16 | Russaw | (Indian) | | | Reinterred by Nasa from the Gainesville cemetery #130 |
| 6-17 | Acker | Juston | 1873 | 1960 | Reinterred by Nasa from the Gainesville cemetery #069 |
| 6-18 | Acker | Lucinda Williams | | 1945 | Reinterred by Nasa from the Gainesville cemetery #070 |
| 6-19 | Acker | Evelina | | 1910 | Reinterred by Nasa from the Gainesville cemetery #071 |
| 6-20 | Acker | Carolina | | 1931 | Reinterred by Nasa from the Gainesville cemetery #122 |
| 6-21 | Starling | Charlie | | | Reinterred by Nasa from the Gainesville cemetery #054 |
| 6-22 | Starling | Harriet | | 1912 | Reinterred by Nasa from the Gainesville cemetery #055 |
| 6-23 | Acker | Claudis | | 1916 | Reinterred by Nasa from the Gainesville cemetery #108 |
| 6-24 | Acker | Mildret | | 1911 | Reinterred by Nasa from the Gainesville cemetery #109 |
| 7-01 | Acker | Maeretha | 02/13/1941 | 04/01/1942 | Reinterred by Nasa from the Gainesville cemetery #022 |
| 7-03 | Acker | Luther | 05/13/1893 | 1953 | Reinterred by Nasa from the Gainesville cemetery #015 |
| 7-05 | Connley | Mary Virginia Acker | | 1911 | Reinterred by Nasa from the Gainesville cemetery #018 |
| 7-06 | Sims | Eula Acker | | | Reinterred by Nasa from the Gainesville cemetery #160 |
| 7-07 | George | Phyllis | | 1924 | Reinterred by Nasa from the Gainesville cemetery #046 |
| 7-08 | George | Jashua | | 1920 | Reinterred by Nasa from the Gainesville cemetery #047 |
| 7-10 | Acker | Viola George | | 1939 | Reinterred by Nasa from the Gainesville cemetery #025 |
| 7-11 | Acker | Henry | 03/15/1875 | 1897 | Reinterred by Nasa from the Gainesville cemetery #024 |
| 7-13 | Willis | Henry | | 1934 | Reinterred by Nasa from the Gainesville cemetery #030 |
| 7-14 | Willis | Patsy | | 1933 | Reinterred by Nasa from the Gainesville cemetery #031 |
| 7-15 | McCann | Cora Willis | | 1909 | Reinterred by Nasa from the Gainesville cemetery #032 |
| 7-16 | Williams | Fred | | 1960 | Reinterred by Nasa from the Gainesville cemetery #037 |
| 7-17 | Acker | Floyd Jr. | 01/17/1960 | 01/17/1960 | Reinterred by Nasa from the Gainesville cemetery #001 |
| 7-18 | Acker | Emma Douglas | 01/16/1961 | 02/05/1961 | Reinterred by Nasa from the Gainesville cemetery #002 |
| 7-19 | Willis | Louisa Louis | | 1932 | Reinterred by Nasa from the Gainesville cemetery #034 |
| 7-20 | Willis | Charlie | | 1958 | Reinterred by Nasa from the Gainesville cemetery #036 |
| 7-21 | Peters | Charles | | 1925 | Reinterred by Nasa from the Gainesville cemetery #113 |
| 7-22 | Peters | Elizabeth | | 1914 | Reinterred by Nasa from the Gainesville cemetery #112 |
| 7-23 | Peters | Ruth | | 1903 | Reinterred by Nasa from the Gainesville cemetery #111 |
| 7-24 | Jackson | Iris Denise | 07/06/1958 | 07/06/1958 | Reinterred by Nasa from the Gainesville cemetery #138 |
| unk | Acker | Corine Totts | 05/25/1918 | 06/29/1999 | |
| unk | Acker | Nathan Necile | 08/24/1947 | 06/21/2004 | |
| unk | Jackson | Charmine | | 12/26/2004 | |
| unk | Oliver | Joseph | | 01/02/2000 | |
| unk | Oliver | Mary Pearl "Mae Pearl" Williams | 01/01/1907 | 03/31/1999 | |