Powell Cemetery
Private family cemetery with about 6 graves, located inside the Port Bienville industrial park, on property owned by Wellman Plastics. Cemetery is not accessible without permission.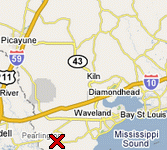 Directions:
Head west on Highway 90. Turn left at Lower Bay Road, which is approximately 2 miles after the intersection with the 603. Follow this road for about 10.9 miles until you see the main entrance to the Port Bienville Industrial Park. The cemetery is located inside the complex.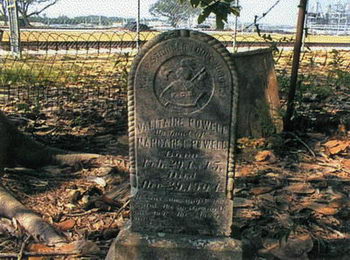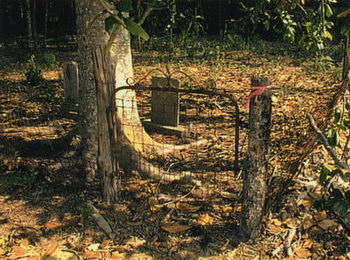 Note: The table below is sorted by grave layout. Use Ctrl+F to search for a specific name, or part of a name.
| | | | | | |
| --- | --- | --- | --- | --- | --- |
| # | Last Name | First Name | Birth | Death | Comment |
| | Galmore | Annette Powell | 1892 | 1968 | |
| | Lewis | Everlina Powell | 08/15/1875 | 07/31/1935 | |
| | Powell | Valitaire | 02/28/1845 | 12/29/1904 | husband of Margaret Powell; K of P Stringer Lodge no. 141 |
| | (Unmarked) | | | | plain squared marble slab, set in concrete. No inscription. |
| | (Unmarked) | | | | sunken grave, no inscription. |
| | (Unmarked) | | | | possible grave marker, 3 cypress boards nailed together. |