Jump to record #3275
Pearlington Cemetery
Final resting place of General George Henry Nixon (1778-1824). 11 Graves from the Gainesville cemetery were reinterred here by Nasa in 1964.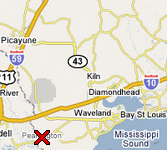 Directions:
Head west on Highway 90, and turn left to continue on Highway 90 where it splits into the 607. After about 7.7 miles turn right on the 604. It's the last right hand turn you can make before the bridge. Turn right again on Washington Street (about 1/2 mile), then take the first left on Hancock Avenue. The cemetery will be to your right, about a block down this road.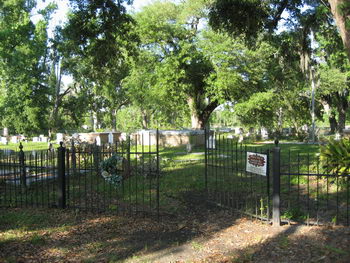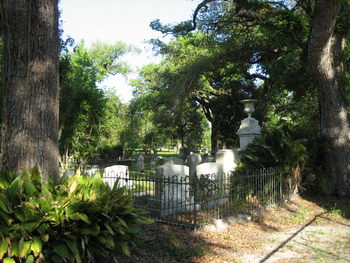 Note: The table below is sorted by grave layout. Use Ctrl+F to search for a specific name, or part of a name.
| | | | | | |
| --- | --- | --- | --- | --- | --- |
| # | Last Name | First Name | Birth | Death | Comment |
| 001 | Cowart | John W. | 1884 | 1893 | |
| 002 | Cowart | Delliah D. | 1840 | 1928 | |
| 003 | Cowart | Annie S. | 1878 | 1890 | |
| 004 | Cowart | Sarah M. | 1861 | 1864 | |
| 005 | Cowart | Walter E. | 1870 | 1871 | |
| 006 | Cowart | Ida C. | 1872 | 1949 | |
| 007 | Cowart | William B. | 1867 | 1938 | |
| 008 | Cowart | Mother | | | illegible |
| 009 | Seal | Martha V. | 04/22/1858 | 05/03/1923 | wife of John A. Seal |
| 010 | Seal | John A. | 10/18/1853 | 07/06/1918 | WOW stone |
| 011 | Bennett | Clara L. | 12/26/1888 | 10/13/1938 | |
| 012 | Bennett | John C. | 05/03/1886 | 04/06/1943 | |
| 013 | Bennett | Nellie | 1915 | | 1915 only date |
| 014 | Bennett | Martha | | | No dates |
| 015 | Aldridge | Jesse Whichard | 1902 | 1953 | |
| 016 | Whichard | Henry Young | 1853 | 1906 | Double tombstone |
| 017 | Whichard | Violetta Lott | 1861 | 1912 | Double tombstone; wife of Henry Young Wichard |
| 018 | (Unmarked) | | | | |
| 019 | Whichard | Henry Hardy | 11/10/1818 | 12/07/1883 | Double tombstone |
| 020 | Whichard | Virginia Seal | 07/19/1833 | 08/29/1888 | Double tombstone |
| 021 | Whichard | Infant son | | | Infant son of H. Y. & V. Whichard; no dates |
| 022 | Whichard | Arthur | 09/05/1881 | 11/16/1893 | son of Henry Y. & Violetta Lott Whichard |
| 023 | Little | Louise Bage | 11/15/1896 | 01/31/1974 | |
| 024 | Little | Asa | 10/20/1899 | 07/03/1954 | Mississippi Pvt. Co. D. 142 Machine Sun Bn WW I |
| 025 | Boyden | Marceline | | 06/09/1961 | |
| 026 | Boyden | John M. | | 02/27/1956 | |
| 027 | Boyden | Mary Isabella | | 03/27/1949 | |
| 028 | Whichard | Sybilote S. | 11/29/1888 | 06/18/1890 | son of F. V. & H. G. Whichard |
| 029 | Whichard | Hardy | | 1907 | |
| 030 | Seal | F. V. | 08/08/1859 | 11/04/1892 | wife of H. J. Whichard |
| 031 | Poitevent | Eads | 11/05/1879 | 06/09/1969 | |
| 032 | Poitevent | John | 07/17/1877 | 05/15/1937 | son of Mary Hansbrough and John Poitevent |
| 033 | Poitevent | John | 06/04/1840 | 03/27/1899 | |
| 034 | Hansbrough | Mary | 02/11/1854 | 04/13/1889 | wife of John Poitevent |
| 035 | Poitevent | Ester | 02/22/1882 | 11/30/1882 | daughter of John & Mary Poitevent |
| 036 | Poitevent | Heloise | 03/02/1889 | 06/30/1931 | Mother of Pierre Lelong III; wife of P. A. LeLong |
| 037 | Poitevent | Lee Richardson | 01/10/1935 | 02/06/1936 | |
| 038 | LeLong | Pierre A. III | 09/27/1910 | 10/09/1937 | |
| 039 | Poitevent | W. J. | 08/25/1868 | 12/09/1912 | son of John Poitevent & Emily L. Toomer |
| 040 | Poitevent | Bennie | | 1872 | son of John & Emily Poitevent; Age 2 mos |
| 041 | Toomer | Emily L. | 10/02/1843 | 04/01/1874 | wife of John Poitevent |
| 042 | Poitevent | Mary Geneva | 08/07/1865 | 08/14/1947 | wife of Gordon Smets Orme |
| 043 | Poitevent | Calla | 1887 | 1973 | Mother |
| 044 | Poitevent | June | 1884 | 1965 | son of John & Mary Poitevent |
| 045 | Richardson | Louise | 1897 | 1972 | wife of June Poitevent; born Vicksburg, Miss., died Mandeville, La. |
| 046 | Tognotti | Joseph Albert | 1880 | 1936 | stone broken |
| 047 | Boardman | Angeline C. | 1851 | 1940 | Mother |
| 048 | Favre | Theophilus Moody | 12/10/1848 | 10/31/1901 | |
| 049 | Favre | Wiley T. | 1877 | 1935 | |
| 050 | Favre | Sadie | 1879 | 11/1895 | month of death from obit SCE. |
| 051 | Favre | Ernest | 1920 | | son of Joe & Rita; 1920 only date |
| 052 | Favre | Joe | 1931 | 1932 | son of Joe & Rita |
| 053 | (Unmarked) | | | | |
| 054 | Favre | Dan | 1875 | 1900 | |
| 055 | Favre | Thomas Ford | 1893 | 1939 | |
| 056 | Lombardo | Nettie | 04/09/1885 | 07/18/1968 | |
| 057 | Fryatt | William H. | 08/04/1890 | 12/11/1954 | PHM 2 US Navy WW I |
| 058 | Fryatt | Vivienne M. | 10/18/1897 | 03/14/1969 | Eastern Star |
| 059 | (Unmarked) | | | | Double concrete slab |
| 060 | (Unmarked) | | | | Double concrete slab |
| 061 | (Unmarked) | | | | |
| 062 | (Unmarked) | | | | |
| 063 | Cottingly | Mary Little | 09/30/1889 | 06/20/1935 | daughter of Andrew Little |
| 064 | Cottingly | Robert R. | 05/29/1924 | 08/01/1932 | Grandson of Andrew Little |
| 065 | Little | Charlotte Stocker | 09/24/1865 | 09/27/1942 | Mother |
| 066 | Little | Cathy G. | 10/07/1893 | 08/05/1911 | Daughter |
| 067 | Little | Andrew D. C. | 02/10/1858 | 06/16/1908 | |
| 068 | White | Cornelius Courrege | 05/07/1918 | 02/01/1968 | |
| 069 | Courrege | Elizabeth L. | 03/01/1865 | 03/18/1965 | |
| 070 | Courrege | Bertram J. | 05/27/1856 | 07/05/1921 | |
| 071 | Courrege | Bertram Simon | | 10/17/1919 | Miss. Electrician 3CL US NRE |
| 072 | Courrege | May | 05/03/1891 | 04/17/1977 | Mother |
| 073 | White | Neil R. | 1868 | 1938 | Double tombstone |
| 074 | (Unmarked) | | | | Double tombstone |
| 075 | Smith | John R. | 05/07/1893 | 03/06/1969 | Kentucky US Army WW I |
| 076 | Smith | Thomas Arthur Jr. | 08/10/1924 | 07/23/1969 | |
| 077 | White | Garreau | 1904 | 1905 | |
| 078 | Garreau | Armand | 08/31/1888 | 09/19/1926 | |
| 079 | Garreau | Rene | 1897 | 1898 | |
| 080 | Garreau | Armand | 12/07/1910 | 01/10/1970 | son of Armand & Mamie Garreau |
| 081 | Garreau | Angeline Seal | 1863 | 1916 | Double tombstone |
| 082 | Garreau | Armand | 1829 | 1900 | Double tombstone |
| 083 | Brown | Geo. W. | 02/22/1841 | 07/10/1891 | |
| 084 | Favre | Cordelia A. | 08/09/1841 | 11/05/1898 | |
| 085 | Wallace | W. W. Sr. | 1867 | 1938 | |
| 086 | Wallace | Rebecca Brown | 04/05/1868 | 09/06/1960 | |
| 087 | Davis | Ella | 06/04/1874 | 05/02/1894 | wife of J. E. Davis |
| 088 | Hover | Lorena P. | 1869 | 1960 | |
| 089 | White | Mrs. Rebecca A. | 1870 | 1903 | |
| 090 | White | Mr. Albert | 1847 | 1898 | |
| 091 | White | Betina M. | 10/01/1892 | 08/02/1894 | daughter of A. & R. White |
| 092 | Howze | Marguerite E. | 03/01/1834 | 05/23/1894 | wife of Augustine V. Favre |
| 093 | Favre | Augustine V. | 1834 | 01/28/1898 | |
| 094 | Favre | Cecil E. | 02/14/1896 | 10/18/1905 | son of Lula & Hunter Favre |
| 095 | Favre | Medora P. | 09/03/1904 | 02/18/1906 | daughter of Lula & Hunter Favre |
| 096 | Hover | Eugene | | | |
| 097 | Hoover | Edvese | 1899 | 1919 | |
| 098 | Russ | Asa | 03/14/1855 | 09/07/1940 | |
| 099 | Boardman | Hattie | 04/07/1856 | 09/11/1932 | wife of Asa Russ |
| 100 | Boardman | Nancy Graham | 1874 | 1951 | |
| 101 | Boardman | Roderick S. | 1858 | 1939 | Mason |
| 102 | Whitchard | Martha M. | 12/03/1864 | 11/26/1893 | wife of F. Mitchell |
| 103 | Mitchell | Nettie B. | 01/02/1896 | 10/11/1972 | |
| 104 | Mitchell | Russel W. | 06/02/1915 | 02/04/1967 | son of Mr. & Mrs. Ora Mitchell |
| 105 | Mitchell | Bennie | 06/06/1890 | 05/24/1891 | infant son of Ora & Emma Mitchell |
| 106 | Mitchell | William Ora | 11/21/1863 | 12/16/1893 | |
| 107 | Mitchell | Emma | | 05/20/1938 | age 78 years |
| 108 | Gutierrez | Frank | 11/04/1873 | 04/21/1940 | |
| 109 | (Unmarked) | infant | | | concrete slab |
| 110 | (Unmarked) | infant | | | concrete slab |
| 111 | Giveans | John S. | 12/20/1903 | 08/21/1976 | |
| 112 | William | Elmer J. | 11/12/1925 | 10/15/1938 | |
| 113 | (Unmarked) | | | | |
| 114 | (Unmarked) | | | | |
| 115 | Llambiss | Doby Secessia | 11/22/1862 | 12/06/1933 | |
| 116 | Llambiss | Thomas C. | 11/04/1862 | 07/11/1935 | |
| 117 | Little | Amelia Ellis | 07/1862 | 08/1920 | Double tombstone; wife of Willis C. Little |
| 118 | Little | Willis C. | 1865 | 1944 | Double tombstone |
| 119 | Ellis | Samuel W. | | 1910 | Pvt. 12 Miss. Inf. CSA |
| 120 | (Unmarked) | | | | |
| 121 | Hursey | Lottie | 1915 | 1940 | wife of Joseph Casanova; Mother of Glenn |
| 122 | Hursey | William Abner | 03/12/1887 | 02/15/1931 | |
| 123 | Beyer | Christina Eliza | 11/04/1882 | 09/01/1956 | wife of William Abner Hursey |
| 124 | Hursey | William A. Jr. | 1911 | 1958 | |
| 125 | Mitchell | Russ | 06/30/1912 | | Double tombstone |
| 126 | Mitchell | Eleanor | 01/29/1915 | 05/15/1979 | Double tombstone |
| 127 | Mitchell | George Asa | 02/26/1876 | 12/02/1921 | |
| 128 | Miller | Alice | 06/29/1875 | 07/23/1917 | wife of G. A. Mitchell; age 43 yrs. |
| 129 | Mitchell | James | 03/01/1835 | 07/04/1888 | |
| 130 | Summers | Mary E. | 10/08/1842 | 12/09/1893 | wife of James R. Mitchell; age 51 yrs. |
| 131 | Mitchell | Rebecca Ann | 02/26/1887 | 04/07/1888 | daughter of James & Mary Mitchell |
| 132 | Ellis | Margaret | 06/18/1874 | 05/25/1947 | |
| 133 | Ellis | W. M. | 1877 | 1935 | |
| 134 | Schmolke | Rudolph | 11/12/1893 | 08/05/1954 | La. Pvt. Co. C 127 Inf. WW I |
| 135 | Schmolke | Rosetta | 07/06/1902 | 07/05/1966 | |
| 136 | Favre | Mrs. J. J. | | 07/26/1929 | Double tombstone |
| 137 | Favre | J. J. | | 04/17/1932 | Double tombstone |
| 138 | Favre | Joseph Augustine | 02/21/1834 | 11/05/1909 | |
| 139 | Toomer | Rebecca Ann | 10/11/1841 | 12/21/1902 | wife of Joseph Augustine Favre |
| 140 | Favre | Simon | 01/21/1868 | 07/09/1939 | |
| 141 | Rudolf | William | 03/26/1864 | 01/04/1908 | husband of Emily Favre |
| 142 | White | Albert H. | 1894 | 1968 | Double tombstone |
| 143 | White | Anna | 1896 | 1964 | Double tombstone |
| 144 | Fountain | James Quitman Jr. | 08/04/1904 | 05/23/1905 | |
| 145 | Brown | Angeline | 10/17/1874 | 04/27/1918 | wife of James Q. Fountain Sr. |
| 146 | Brown | Louisa F. | 03/02/1873 | 11/06/1904 | mate of Alexander Orr |
| 147 | (unmarked) | | | | |
| 148 | Finhood | Ernest C. | 05/30/1864 | 09/02/1902 | |
| 149 | (unmarked) | | | | Concrete enclosed square 12 x 12, No markers |
| 150 | Kent | Capt. Levy S. | 12/25/1835 | | Mason; born Bucksport, Maine |
| 151 | (illegible) | | | | |
| 152 | Howell | Mrs. Coralee | | 12/1969 | 91 years; Schoen FHM |
| 153 | Mitchell | Leroy | 1894 | 1940 | NN Sgt. Maj. WW I |
| 154 | Mitchell | Lucille | 07/30/1903 | 09/07/1925 | |
| 155/165 | (unmarked) | | | | |
| 166 | (unmarked) | infant | | | wooden cross |
| 167 | Orr | Charles Porter | 03/04/1893 | 11/30/1893 | infant son of C. D. & (?) Orr |
| 168 | Orr | John | | 01/06/1891 | age 76 yrs. |
| 169 | Orr | M. C. | | 10/22/1897 | 67 years |
| 170 | Fountain | Joseph | 12/13/1895 | 09/13/1897 | son of Rev. W. G. Forsyth & Mary Howell |
| 171 | Orr | Charles Dudley | 08/08/1863 | 11/26/1940 | Father |
| 172 | Champlin | Isabel | 1872 | 1932 | wife of Chas. D. Orr; "Mother" |
| 173 | Boyden | Oscar M. | 05/25/1843 | 06/30/1893 | |
| 174 | Orr | Mary F. | 05/25/1850 | 06/16/1895 | wife of Oscar Boyden |
| 175 | Boyden | Morris Oscar | 03/21/1869 | 05/22/1891 | |
| 176 | Summers | George W. | 02/16/1859 | 04/17/1929 | Mason |
| 177 | Russ | Clara B. | 05/12/1864 | 07/20/1946 | wife of George W. Summers |
| 178 | Russ | Ralph Quitman | 02/08/1899 | 06/03/1900 | son of G. W. Summers & C. B. Russ |
| 179 | Summers | Myra I. | 10/25/1892 | 08/04/1938 | |
| 180 | Summers | George Russell | 01/24/1891 | 06/19/1963 | 72 years |
| 181 | Orr | Warren M. | 1852 | 1928 | |
| 182 | Miller | Mary T. | 1861 | 1943 | wife of Warren M. Orr |
| 183 | Orr | Adloe | 1877 | 1952 | |
| 184 | Disimone | Rosalie | 1884 | 1961 | wife of Adloe Orr |
| 185 | Furey | Robert Michael | 05/01/1935 | 03/26/1959 | Miss. A20 4500 Support SQAF |
| 186 | Crawford | Daniel L. | 01/26/1908 | 10/28/1955 | Miss. S Sgt. 77 Ordinance Co. WW II |
| 187 | Brown | Sam S. | 08/22/1895 | 10/05/1940 | |
| 188 | Brown | Cecile Doby | 01/13/1895 | 08/20/1967 | |
| 189 | Bennett | William Gordon | 06/18/1891 | 12/01/1949 | |
| 190 | Courege | A. Gordon Sr. | 02/27/1905 | 02/25/1961 | |
| 191 | Hursey | Ames Mead | 1882 | 1946 | |
| 192 | Hursey | Sidney Ann | 09/21/1912 | 02/18/1917 | |
| 193 | Hursey | Laura Jane Orr | 1856 | 1944 | |
| 194 | Hursey | Asa | 06/02/1845 | 12/06/1912 | WOW monument |
| 195 | Russ | Archibald H. | 01/03/1859 | 05/03/1934 | |
| 196 | Russ | Viola | 11/12/1877 | 03/10/1899 | wife of Samuel Gray |
| 197 | Russ | Thomas | | 05/1893 | son of Ernest & E. Russ |
| 198 | Russ | Emmett Floyd | 10/29/1896 | 02/19/1954 | |
| 199 | Russ | Luther | | | son of B. & M. Russ; age 3 yrs. & 6 mos. |
| 200 | Russ | Elliot | | 04/02/1912 | son of B. & M. Russ; aged 19 yrs. |
| 201 | Miller | Capt. Putnam Randall | 09/26/1877 | 08/22/1948 | 50 year member WOW |
| 202 | Miller | Pearl | 12/07/1883 | 03/04/1896 | daughter of Capt. J. Miller and Corinne Brown |
| 203 | Miller | Sgt. Jeremiah | | | Co. G. 3 Miss. Inf. CSA |
| 204 | Russ | Mary E. Miller | 05/18/1875 | 10/21/1939 | Double Tombstone |
| 205 | Russ | Ben F. | 01/08/1871 | | Double Tombstone |
| 206 | Wilkinson | Mattie M. | 12/17/1889 | 09/01/1908 | wife of M. M. Wilkinson |
| 207 | Champion | Golda E. | 06/08/1893 | 02/23/1981 | |
| 208 | Champion | Harold J. | 06/20/1891 | 02/16/1964 | Illinois PVT. Btry F 6 Regt. PA Repl WW I |
| 209 | Toomer | David R. | | | |
| 210 | Summers | William E. | 09/10/1887 | 08/28/1924 | |
| 211 | Summers | Forest | 08/01/1885 | 10/13/1918 | WOW monument |
| 212 | Summers | Louisa Russ | 12/02/1860 | 02/06/1953 | wife of Wm. Summers |
| 213 | Summers | William | 02/10/1861 | 04/13/1893 | married Louisa Russ |
| 214 | Summers | June P. | 12/05/1899 | | dod 01/27/19??, year illegible |
| 215 | Beyer | Amanda | 01/25/1857 | 03/21/1951 | wife of John Beyer |
| 216 | Beyer | John | 07/04/1842 | 12/02/1905 | |
| 217 | Beyer | John M. | 04/07/1885 | 06/14/1942 | |
| 218 | Madison | Annie Teresa | 09/20/1890 | 09/30/1972 | |
| 219 | Lahey | Bridget | 1858 | 1967 | wife of Anders Madison, year of death not certain |
| 220 | Madison | Anders | 02/05/1852 | 10/23/1930 | |
| 221 | Madison | Georgia | 09/08/1893 | 08/23/1904 | |
| 222 | Graci | Mary Madison | 01/15/1897 | 11/10/1974 | |
| 223 | Blackman | George | | 03/22/1882 | Aged 64 years |
| 224 | Grask | Henry J. | 01/29/1885 | 02/13/1886 | son of H. R. & M. Grask |
| 225 | Ilshner | Rosina | 12/16/1840 | 08/06/1889 | |
| 226 | (Unmarked) | | | | |
| 227 | (Unmarked) | | | | |
| 228 | (Unmarked) | infant | | | |
| 229 | Johnson | John C. | 06/09/1839 | 10/05/1887 | Double tombstone |
| 230 | Johnson | Martha E. | 07/02/1845 | 03/04/1883 | Double tombstone |
| 231 | Hancock | Rosemary | 1920 | 1930 | |
| 232 | Hancock | S. W. | 1859 | 1942 | |
| 233 | Hancock | Claude F. | 1884 | 1956 | |
| 234 | Hancock | Cassie | 1885 | 1953 | |
| 235 | Steele | Verna D. | 1922 | | Double tombstone |
| 236 | Steele | Frank J. | 09/14/1911 | 02/13/1979 | Pvt. US Marine Corps WW II; Double tombstone |
| 237 | Pullman | Manuel W. | 05/29/1915 | 09/02/1968 | Miss. Pvt. 1321 Service Unit WW II |
| 238 | Bagley | Edyth L. | 1883 | 1955 | |
| 239 | Bagley | Alta | 1903 | 1964 | |
| 240 | Riggs | Richard Sr. | | | No dates |
| 241 | Riggs | Mary Bennett | | | No dates |
| 242 | Bowers | Albert B. | 1888 | 1917 | |
| 243 | Potter | Hugh E. | 1893 | 1935 | |
| 244 | Bowers | Abin | 01/10/1862 | 12/26/1892 | husband of Mary Glover |
| 245 | (Unmarked) | | | | |
| 246 | (Unmarked) | | | | |
| 247 | Watson | Jessie Sturm | 08/10/1895 | 08/31/1979 | |
| 248 | Watson | Homer Paul | 06/28/1915 | | |
| 249 | (Unmarked) | | | | |
| 250 | Davis | Horace G. Sr. | 09/09/1908 | 11/16/1969 | |
| 251 | Mars | Rebecca | 04/05/1823 | 12/17/1893 | wife of Wm. Summers |
| 252 | Summers | Wm. | 1813 | | stone broken; d. date illegible |
| 253 | Lombardo | Paul T. | 1947 | | |
| 254 | Delacroix | Clement J. | 12/01/1922 | 02/04/1975 | AMM 2 US Navy WW II |
| 255 | Davidson | Henry Macuvain Sr. | 07/1895 | 11/1969 | |
| 256 | Davis | Dora Louise | 11/1956 | | infant |
| 257 | Jeanfreau | Charles L. | 02/07/1885 | 09/23/1950 | |
| 258 | Aboehaon | Sarah | | | Grandmother; No dates |
| 259 | Winslow | Ann Maria | 07/09/1819 | 04/22/1884 | |
| 260 | Winslow | Caroline | 09/18/1839 | 09/09/1851 | |
| 261 | Winslow | Moses | 06/09/1806 | 01/19/1869 | |
| 262 | Winslow | William C. | 12/31/1845 | 10/1853 | |
| 263 | Gosselin | George J. | 11/26/1875 | 04/13/1965 | |
| 264 | Gosselin | Minnie E. | 12/15/1879 | 02/08/1882 | daughter of Paul Gosselin & T. Murray |
| 265 | Gosselin | Bertha | | | age 15 yrs. |
| 266 | Gosselin | Paul | 03/12/1825 | 01/07/1912 | |
| 267 | Murray | E. T. | 10/16/1834 | 02/16/1911 | wife of Paul Gosselin |
| 268 | Gosselin | Edna T. | 03/18/1865 | 07/02/1913 | daughter of E.T. Murray & Paul Gosselin |
| 269 | Gosselin | Nellie | 01/16/1862 | 01/27/1942 | daughter of E. T. Murray & Paul Gosselin |
| 270 | Garcia | F. O. | 07/11/1902 | 04/18/1919 | |
| 271 | (Unmarked) | | | | |
| 272 | (Unmarked) | | | | |
| 273 | (Unmarked) | infant | | | |
| 274 | (Unmarked) | infant | | | |
| 275 | (Unmarked) | infant | | | |
| 276 | Miles | Alice W. | 02/01/1857 | 12/24/1893 | Double tombstone |
| 277 | Winslow | Sara J. | 11/26/1844 | 03/24/1937 | Double tombstone |
| 278 | Hursey | Maria Miles | 01/10/1880 | 06/04/1959 | |
| 279 | Williams | Thomas Cripps | 01/13/1887 | 12/21/1958 | |
| 280 | Knighton | Bertha | 10/12/1892 | 10/16/1968 | wife of A. Knighton |
| 281 | Knighton | Samuel A. | 07/22/1859 | 01/12/1932 | |
| 282 | McGuire | W. A. | 02/17/1908 | | age 76 years |
| 283 | McGuire | Rolee R. | 08/24/1860 | 04/10/1879 | |
| 284 | McGuire | Herbert E. | 03/03/1866 | 01/17/1907 | |
| 285 | McGuire | Amanda | | | sister of Herbert E. McGuire; No dates |
| 286 | Armistead | Anderson J. | 04/06/1817 | 10/09/1869 | Mason |
| 287 | Hollins | Harriet | 11/05/1823 | 12/13/1907 | wife of Anderson J. Armistead |
| 288 | (Unmarked) | infant | | | |
| 289 | Armistead | Mary E. | 08/23/1848 | 02/09/1878 | wife of Jasper E. Russ |
| 290 | Armistead | Julia F. | 07/27/1841 | 05/21/1923 | wife of Wm. Abner McGuire |
| 291 | Russ | Joseph F. | 05/13/1890 | 10/31/1892 | son of A. H. & Ida Russ |
| 292 | Russ | Mae E. | 06/27/1892 | 07/06/1892 | Twin babies of A.H. & Ida Russ; age 9 days |
| 293 | Russ | Mary A. | 06/27/1892 | 06/27/1892 | Twin babies of A.H. & Ida Russ |
| 294 | Russ | John | 05/13/1890 | 09/09/1931 | |
| 295 | Dunham | Ida Ann | 12/20/1860 | 10/06/1911 | wife of A. H. Russ |
| 296 | Russ | Christy K. Jr. | | 10/23/1936 | Miss. Pvt. 42nd. Regt. CAC(?) |
| 297 | Toomer | Sarah Francis | 07/14/1855 | 03/31/1929 | wife of Christy Koch Russ |
| 298 | Dunham | Joshua Rayburn | 06/13/1813 | 05/12/1883 | ships carpenter 1880 Pearlington |
| 299 | Dunham | Jane | 04/16/1868 | 01/23/1937 | |
| 300 | Dunham | Selinan | 10/21/1862 | 07/31/1878 | |
| 301 | Cooper | Isabella Sophia | 04/05/1838 | 04/18/1892 | wife of Joshua Rayburn Dunham |
| 302 | (Unmarked) | | 02/19/1862 | 10/11/1918 | marble slab, no name |
| 303 | Russ | Edwin P. | 02/01/1857 | 08/22/1886 | son of Luther F. & Nancy A. Russ |
| 304 | Russ | Mary J. | 04/13/1875 | | date of death ??/26/18??; illegible |
| 305 | Russ | Edwin T. | 1821 | 05/17/1859 | date of birth ??/11/1821, month illegible |
| 306 | Russ | George W. | 02/22/1873 | 09/07/1890 | |
| 307 | Russ | Nancy A. | 04/05/1836 | 11/03/1890 | wife of Luther F. Russ |
| 308 | Russ | L. F. | 02/25/1825 | 04/18/1899 | |
| 309 | Evans | Mary E. | 01/17/1841 | 06/24/1911 | wife of James A. Guyther |
| 310 | Guyther | Grace | 11/15/1866 | 07/13/1920 | wife of Geo. W. Parker Jr. |
| 311 | Parker | Geo. W. Jr. | 02/20/1863 | 12/01/1944 | |
| 312 | Davis | Mamie P. Garreau | 09/16/1886 | 04/25/1970 | |
| 313 | Bosary | Joseph Jr. | | 11/14/1941 | age 3 years |
| 314 | Pullman | Henry | 03/01/1897 | 07/12/1950 | Double tombstone |
| 315 | Pullman | Martha G. | 03/18/1894 | 12/24/1967 | Double tombstone |
| 316 | Garcia | Gus Sr. | 03/18/1905 | 04/05/1978 | |
| 317 | Garcia | Harold Edwin | 06/26/1942 | 03/14/1943 | |
| 318 | Garcia | Clara B. | 05/09/1906 | 11/05/1974 | |
| 319 | Garcia | Frank J. | 06/04/1889 | 07/01/1970 | |
| 320 | Geiger | Martha | 09/24/1835 | 03/31/1928 | |
| 321 | Bennett | Lawrence Claiborne | 04/10/1911 | 09/29/1979 | |
| 322 | (illegible) | Carl | | | Name & date illegible |
| 323 | Favre | Louise F. | | 11/18/1928 | daughter of Onezan Favre & Mary Moody |
| 324 | Favre | Onezan Sr. | 12/23/1807 | 05/10/1875 | |
| 325 | Moody | Mary M. | 01/14/1890 | | age 84, years; wife of Onezan Favre |
| 326 | Toomer | Margaret C. | | 06/03/1889 | wife of Onezin Favre; aged 40 years |
| 327 | Favre | Onezan Jr. | | | illegible |
| 328 | Favre | Elizabeth | 04/05/1844 | 05/09/1862 | |
| 329 | Favre | Simon | 01/09/1832 | 04/12/1853 | |
| 330 | LeNoir | Mary B. | 02/22/1827 | 03/10/1864 | widow of the late Bolivar Randall |
| 331 | McGuire | Rebecca | | 02/02/1853 | wife of John Toomer; age 41 years |
| 332 | Toomer | Sarah Maninc | | 06/07/1862 | age 16 yrs. |
| 333 | Toomer | Isaac | | 09/01/1853 | aged 94 years |
| 334 | Toomer | John | | 09/12/1867 | aged 66 yrs. |
| 335 | Toomer | Benjamin | | 10/22/1865 | age 19 yrs. |
| 336 | Toomer | Eugenia H. | | | |
| 337 | Netto | Louisa E. | 02/18/1830 | 07/16/1883 | wife of George W. Parker |
| 338 | Orr | John A. | 1858 | 1926 | |
| 339 | Russ | Mamie R. | 06/10/1856 | 11/03/1884 | wife of John A. Orr |
| 340 | Orr | Rietta | 07/01/1884 | 05/07/1915 | wife of M. E. Perron |
| 341 | Orr | Eva | | 12/08/1896 | age 5 years; daughter of Eva P. Stroble & John A. Orr |
| 342 | Summers | Sister Nellie Irene | 10/01/1917 | 01/25/1931 | daughter of J. Louis & Nellie Summers |
| 343 | Socker | W. T. | | 1858 | No markers |
| 344 | Duffuel | Sautdtrs ? B. | | | |
| 345 | Boardman | Daniel A. | 1809 | 1859 | |
| 346 | Lenoir | Catharine B. | 08/20/1817 | 06/18/1823 | |
| 347 | Sones | Naomi | 07/04/1781 | 04/10/1868 | widow of the late B. F. Lenoir; Native of So. Carolina |
| 348 | Randall | Andrew B. | 10/20/1839 | 02/09/1864 | |
| 349 | Randall | Missouri A. | 05/16/1815 | 02/04/1890 | wife of S. T. Randall |
| 350 | Randall | S. Thomas | 04/25/1819 | 11/13/1878 | a native of So. Carolina |
| 351 | Randall | Sarah Cause | 10/18/1849 | 09/18/1935 | |
| 352 | Randall | A. B. | | | No dates; aged 23 years; son of P. P. & S. A. Randall |
| 353 | Randall | Putnam P. | 06/04/1841 | 12/18/1890 | |
| 354 | Stocker | T. R. | 03/26/1850 | 08/02/1908 | |
| 355 | Rea | Samuel | | 10/08/1841 | 5th yr. of age |
| 356 | Davidson | Henry Macewan Sr. | 07/1895 | 11/1969 | |
| 357 | Treddin | Annie Belle | | 03/06/1975 | |
| 358 | Delacroix | Clement J. | 12/01/1922 | 02/04/1975 | AHM2 US Navy WW II |
| 359 | Little | G. | | | Co. C 38 Miss. Cav. CSA |
| 360 | Boardman | Daniel A. | 08/24/1847 | 07/27/1909 | Mason |
| 361 | Seal | Martha | 08/17/1823 | 09/18/1903 | wife of Daniel A. Boardman |
| 362 | Boardman | Abram P. | 12/31/1857 | 12/30/1878 | born in Pearlington, Miss. |
| 363 | Miller | Missouri A. | 02/10/1854 | 03/19/1880 | daughter of Bolivar & Mary Randall |
| 364 | Miller | S. T. R. | 06/29/1870 | 11/14/1876 | |
| 365a | Nixon | George Henry | 1778 | 08/20/1824 | General George Henry Nixon; age 46 years; born in Virginia; married 05/28/1806 |
| 365b | Nixon | Rebecca Bracey | 1788 | 12/24/1868 | wife of general George H. Nixon |
| 366 | Seal | Eliza Julia Nixon | | 04/04/1885 | daughter of Gen. George H. & Rebecca Nixon; wife of Roderic Seal |
| 367 | Gutierrez | Foster Hawthorne | | | |
| 368 | Foster | Nathaniel | | 09/07/1836 | age 46 yrs. |
| 369 | McCarty | Charles W. | 1831 | 07/19/1897 | |
| 370 | McCarty | Emma H. | 1843 | 1912 | |
| 371 | McCarty | Julia | 1865 | 1875 | |
| 372 | McCarty | Charles D. | 1867 | 1869 | |
| 373 | Hursey | Isabella M. | 04/23/1822 | 03/28/1885 | married Mar. 23, 1843 |
| 374 | Hursey | Asa H. | 10/28/1812 | 12/24/1871 | |
| 375 | Sheriff | Capt. George | | 09/27/1846 | aged 61 years 5 months; Mason |
| 376 | White | Jasper | 01/30/1834 | 05/15/1898 | |
| 377 | White | Samuel | 04/05/1795 | 09/24/1876 | |
| 378 | White | Beatina M. | 02/17/1807 | 10/10/1885 | |
| 379 | McArthur | James L. | 1874 | 1965 | |
| 380 | McArthur | Elizabeth | 1899 | | |
| 381 | Murphy | James H. | 1920 | | |
| 382 | Russ | Lucy A. | 1831 | 09/10/1859 | Disenterred from Gainesville Baptist Church Grave #159 |
| 383 | Mead | ?? | | | Disenterred from Gainesville Baptist Church Grave #160 |
| 384 | Russ | Mary Elizabeth | 07/08/1810 | 12/11/1810 | daughter of Asa & Mary Russ; Disenterred from Gainesville Baptist Church Grave #161 |
| 385 | Mead | Stephen Artemis | 05/21/1844 | 10/30/1845 | Disenterred from Gainesville Baptist Church Grave #162 |
| 386 | Mead | Asa S. A. | 01/21/1843 | 10/30/1853 | Disenterred from Gainesville Baptist Church Grave #163 |
| 387 | Mead | Monroe H. | | | Aged 8 months; Disenterred from Gainesville Baptist Church Grave #173 |
| 388 | Mead | Amelia R. | 02/05/1849 | 06/18/1909 | wife of Dr. J. A. Mead; Disenterred from Gainesville Baptist Church Grave #166 |
| 389 | Mead | Adeline | 06/30/1816 | 12/15/1896 | relict of Stephen Mead; A native of Wilmington, N.C.; Disenterred from Gainesville Baptist Church Grave #165 |
| 390 | Mead | Stephen | 06/25/1808 | 06/02/1870 | A native of Bedford, Mass.; Disenterred from Gainesville Baptist Church Grave #164 |
| 391 | Russ | Sempronius | 1810 | 09/14/1843 | Disenterred from Gainesville Baptist Church Grave #171 |
| 392 | Russ | Mrs. Amelia | 1876 | 01/12/1951 | Disenterred from Gainesville Baptist Church Grave #172 |
| 393 | Fay | Cynthia Elizabeth | 05/06/1901 | 02/23/1973 | |
| 394 | Fay | George John | 08/02/1900 | 01/09/1969 | |
| 395 | Fernandez | Lot P. Jr. | 06/03/1893 | 05/01/1973 | Pfc U.S. Army WW II |
| 396 | Furey | James | 12/24/1904 | 03/27/1978 | |