Jump to record #4330
Turtleskin Cemetery
Turtle Skin Cemetery is located at the site of the old Corinth Baptist Church near the old town of Santa Rosa. It is now located in the Buffer Zone near the main gate. 18 Graves from the Gainesville cemetery were reinterred here by Nasa in 1964.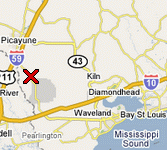 Directions:
From I-10 take the 603 north (= exit 13). Turn left on Texas Flat Road. You can also simply follow the signs to the McLeod State Park. Follow this road all the way to the end (about 13 miles), then turn left on State Road 607. After approximately 1.2 miles, you will see the cemetery on the right hand side.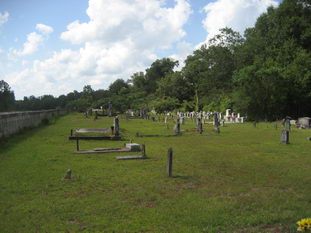 Note: The table below is sorted by grave layout. Use Ctrl+F to search for a specific name, or part of a name.
| | | | | | |
| --- | --- | --- | --- | --- | --- |
| # | Last Name | First Name | Birth | Death | Comment |
| 001 | Cuevas | Baby Boy | | 12/16/1961 | age 0 |
| 002 | Pepper | Cage | 10/28/1875 | 02/25/1947 | |
| 003 | Dawsey | Putnam Randle | 01/18/1874 | 03/18/1958 | Reinterred from Gainesville #005 |
| 004 | Dawsey | Jeanette Hill | 04/13/1881 | 11/25/1957 | Reinterred from Gainesville #006 |
| 005 | Dawsey | Chester Putnam | 06/08/1917 | 06/08/1917 | Reinterred from Gainesville #007 |
| 006 | Dawsey | Cynthia | 1918 | 1918 | Reinterred from Gainesville #008 |
| 007 | Dawsey | Annie Ruth | 1919 | 1919 | Reinterred from Gainesville #009 |
| 008 | Dunhurst | Stanley | 1866 | | (Father) |
| 009 | Dunhurst | Floranna R. | 1876 | 1951 | (Mother) |
| 010 | Dunhurst | Henry O. | 02/05/1904 | 10/13/1954 | |
| 011 | Dunhurst | Leo | 01/31/1952 | 02/01/1952 | 1 day |
| 012 | Wood | Mary Elizabeth (Mitchell) | 02/22/1892 | 01/15/1975 | Mrs. Lizzie |
| 013 | Mitchell | S. B. , Sr | 06/14/1862 | 11/12/1949 | |
| 014 | Mitchell | William S. | 02/25/1918 | 05/18/1946 | Mississippi Pvt. C1. 142 Inf. |
| 015 | Keller | Henry C. | 12/25/1874 | 03/26/1947 | double tomb |
| 016 | Keller | Josephine S. | 08/30/1882 | 09/25/1969 | double tomb |
| 017 | Whitfield | Seaborn Britt Jr. | 12/18/1909 | 04/27/1974 | Brother |
| 018 | Whitfield | Winne Frierson | 06/28/1878 | 03/21/1969 | |
| 019 | Whitfield | Seaborn Britt | 10/20/1873 | 06/06/1943 | |
| 020 | Taylor | James | 12/03/1912 | 02/18/1950 | Mississippi S2 USNR World War II |
| 021 | Krier | Henry L. | 1879 | 1945 | |
| 022 | Smith | William Albert | 12/03/1867 | 12/23/1942 | |
| 023 | Bennett | Lillie | 10/07/1901 | 02/09/1928 | daughter of W. M. and Susie Bennett |
| 024 | Bennett | William O. | 1875 | 1930 | Father |
| 025 | Bennett | Susie E. | 06/01/1883 | 11/24/1924 | wife of W. M. Bennett |
| 026 | Martin | Ora | 04/23/1900 | 12/03/1925 | |
| 027 | Lott | Tony | 03/31/1868 | 05/22/1941 | |
| 028 | Whitfield | Carrie Pearl | 03/04/1897 | 01/03/1903 | |
| 029 | Whitfield | Lena L. | 09/02/1895 | 09/02/1895 | |
| 030 | Whitfield | William Aultman | 06/29/1867 | 11/24/1939 | |
| 031 | Whitfield | Louisa Margaret Lott | 11/02/1865 | 11/18/1943 | |
| 032 | Thigpen | Eliza Elizabeth Frierson | 07/13/1846 | 12/15/1924 | Wife of Louis Thigpen, Sr. |
| 033 | Thigpen | Lewis (Louis), Sr. | 07/05/1846 | 07/28/1916 | |
| 034 | Craft | Michael Hugh | | 10/24/1950 | Age 3 months |
| 035 | Craft | Ralph | 1900 | 1935 | |
| 036 | (Unmarked) | | | | |
| 037 | Kellar | Thomas Edward Sr. | 09/04/1881 | 09/08/1961 | Father |
| 038 | Kellar | Ruby Pearl McAlphine | 08/06/1898 | 10/26/1924 | Mother |
| 039 | Seal | George D. | 10/02/1846 | 12/22/1893 | |
| 040 | Seal | Millard P. | 03/08/1855 | 10/16/1914 | |
| 041 | Seal | Infant | | 01/30/1935 | son of Albert and Jessie Seal |
| 042 | Miller | Louisa M. | 03/01/1861 | 09/09/1893 | Wife of Robert B. Miller |
| 043 | Miller | Sarah M. | 07/22/1893 | 03/18/1894 | Dau. of L. M. & R. B. Miller |
| 044 | Robines | John | | | unmarked |
| 045 | (Unmarked) | | | | |
| 046 | Keller | Loach | 1907 | 1929 | |
| 047 | Fleming | Joseph | | | |
| 048 | Fleming | Louise R. Mitchell | | 1887 | Aged 38 years; Wife of Joseph J. Fleming |
| 049 | Fleming | Samantha Thigpen | 08/15/1855 | 05/25/1950 | |
| 050 | Fleming | William J. Sr. | 12/17/1847 | 01/05/1937 | Uncle Tep |
| 051 | Gamble | W.A. | 1857 | 1937 | |
| 052 | Gamble | Mary J. Thigpen | | | illegible |
| 053 | Fleming | Hosea L. | 05/07/1850 | 04/05/1931 | Broken Stone |
| 054 | Kellar | Mrs. N.M. | 09/12/1849 | 01/25/1934 | Mother |
| 055 | Kellar | Henry W. | 07/23/1846 | 03/30/1912 | Father |
| 056 | Fleming | George. W. | 12/1871 | 03/04/1879 | son of Aurthur Daniel and Sara Jane Fleming |
| 057 | Lott | Sarah E. | 10/06/1873 | 08/29/1910 | Wife of Jno. W. Lott |
| 058 | Lott | Infant | 12/08/1900 | 01/08/1901 | Son of John W. and Sarah E. Lott |
| 059 | Lott | Infant | 12/11/1901 | 12/11/1901 | daughter of John W. and Sarah E. Lott |
| 060 | Lott | I.W. | 05/17/1896 | 09/25/1898 | |
| 061 | Johnson | Louella Loveler Octavia | 03/22/1885 | 09/20/1901 | |
| 062 | Johnson | Lillie A. | 10/07/1901 | 05/20/1902 | Daughter of Sidney J. & Victoria Johnson |
| 063 | Johnson | Ollie Octbiathe | 02/08/1900 | 04/18/1910 | Daughter. of A.J. & W.E. Johnson |
| 064 | Thigpen | Rebecca E. | | 07/18/1900 | Age 27 yrs.; wife of Jack Thigpen |
| 065 | Keller | Asilore | | | illegible |
| 066 | (Unmarked) | | | | |
| 067 | Craft | Henry A. | 07/20/1898 | 10/13/1918 | In the U.S. Army |
| 068 | Mitchell | Mary | 08/13/1882 | 03/25/1917 | Wife of L.L. Albritton |
| 069 | (Illegible) | | | | |
| 070 | Murphey | Marindia A. | 04/10/1870 | 11/21/1905 | Wife of J. H. Murphey |
| 071 | Stewart | George Garland | 06/09/1928 | 12/26/1928 | Son of Mr. & Mrs. George W. Stewart |
| 072 | Welch | Archie H. | 01/14/1897 | 12/21/1930 | |
| 073 | Smith | Hillard E. | 12/06/1901 | 03/06/1931 | |
| 074 | McQueen | Rebecca A. | | 09/01/1911 | Wife of James A. Kellar; Age 43 Yrs. |
| 075 | Kellar | James A. | 01/30/1861 | 06/08/1924 | |
| 076 | Thigpen | Infant | | | son of H. and Estele Thigpen |
| 077 | Curry | William Henry | 11/21/1870 | 06/08/1946 | Father |
| 078 | Curry | Mary Lee Bell | 03/23/1874 | 12/29/1954 | Mother |
| 079 | Curry | Wilson L. | 08/22/1892 | 11/08/1951 | Mississippi Cpl. 8 Regt. Usmc World War I |
| 080 | Vancil | Otto Edward | 1886 | 1950 | |
| 081 | (Illegible) | | | | |
| 082 | Durapan (Durapau?) | Brenda Joyce | 06/17/1946 | 06/17/1946 | Aged 2 Hours |
| 083 | Kellar | John Franklin | 03/22/1901 | 03/18/1956 | |
| 084 | Kellar | Samantha | | 01/25/1904 | |
| 085 | Hasselvander | Marion. T. | 1901 | 1950 | Mother |
| 086 | Hasselvander | Lulu K. | 02/13/1902 | 02/12/1959 | |
| 087 | Lee | Lamar Jessie | 12/18/1903 | 10/09/1974 | |
| 088 | Miller | Jerry Myre | 07/09/1879 | 02/02/1963 | |
| 089 | Kellar | Lola Cleo Alsobrooks | 02/02/1806 | | |
| 090 | Kellar | Columbus C. "Lumbia" | 02/14/1884 | 10/20/1964 | |
| 091 | Carbonettee | Vera | 07/08/1918 | 04/04/1957 | |
| 092 | Craft | Ben W. | 1900 | 1963 | |
| 093 | Kellar | James A. | 04/01/1888 | 11/09/1972 | |
| 094 | Kellar | Lora M. | 06/05/1893 | 03/1986 | |
| 095 | Kellar | Ruby Renee | 12/03/1973 | 12/04/1973 | Aged 1 Day |
| 096 | Kellar | William A. | 01/10/1890 | 01/24/1979 | |
| 097 | Kellar | Dora Lee | 12/02/1890 | 05/08/1956 | |
| 098 | Stewart | George W. | 02/22/1895 | 06/17/1964 | Mississippi Pfc 28 Inf Ww I |
| 099 | Stewart | Agnes N. | 07/02/1891 | 07/12/1970 | |
| 100 | Pittman | Sarah E. Mitchell | 03/01/1868 | 01/07/1948 | Wife Of H. Clem Pittman |
| 101 | Pittman | Hosea Clem | 08/06/1869 | 09/08/1955 | Husband Of Sarah E. |
| 102 | Welch | Willie Roy | 11/23/1908 | 04/12/1971 | "Father" |
| 103 | Welch | Marie Kellar | 08/26/1920 | 12/01/1976 | "Mother" |
| 104 | Kellar | Henry Washington | 08/25/1885 | 08/29/1965 | |
| 105 | Kellar | Beatrice McQueen | 04/07/1885 | 07/16/1966 | |
| 106 | Lott | Andrew J | 12/02/1844 | 06/27/1906 | Husband Of Gasporine Scopas |
| 107 | Lott | Gasporine Scopas | 10/12/1847 | 07/31/1935 | Wife Of Jack Lott |
| 108 | Brown | Victoria E. | 02/28/1877 | 08/07/1925 | Wife Of John Q. Brown |
| 109 | Brown | Jesse | 11/16/1908 | 11/16/1908 | |
| 110 | Brown | John B. | 10/01/1873 | 01/04/1929 | |
| 111 | Bennett | J. O. | 03/04/1833 | 10/20/1906 | "Father" |
| 112 | Bennett | Mrs. S. A. | 03/31/1845 | 07/15/1920 | wife of J. O. Bennett |
| 113 | Fleming | Sarah Jane | 12/24/1850 | 05/27/1929 | |
| 114 | Adams | Willie | | 10/30/1974 | Mr. Willie ; 81 years |
| 115 | Fleming | Bertha Holden | 11/18/1885 | 11/24/1957 | |
| 116 | Fleming | William Jasper Jr. | 10/15/1875 | 08/10/1964 | Uncle Bill |
| 117 | Seal | Joseph E. | 06/30/1865 | 09/28/1868 | |
| 118 | Malaer | Shirlie G. | 1903 | 1958 | |
| 119 | (Unmarked) | | | | Illegible except for the words "Dear Mother" |
| 120 | Gamble | Mary J . | 1868 | 1911 | |
| 121 | Kellar | Absalum M. | 01/23/1872 | 01/07/1879 | Son of H. W. & M. M. Kellar |
| 122 | Kellar | Infant | 10/07/1894 | 10/07/1894 | Son of H. W. & M. M. Kellar |
| 123 | Frierson | Winney V. Mahaley Seal | 05/05/1822 | 12/02/1882 | |
| 124 | Frierson | Aaron Myers | 10/16/1820 | 05/05/1896 | |
| 125 | (Illegible) | infant | 12/22/1871 | 12/10/1874 | |
| 126 | Pierce | Rebecca | 1819 | 10/31/1899 | wife of Ivy Thigpen |
| 127 | Thigpen | Henry Lorain | 06/27/1858 | 08/24/1866 | |
| 128 | Thigpen | Ivy | 02/14/1808 | 07/07/1875 | |
| 129 | Kellar | John | 02/15/1822 | 09/08/1886 | |
| 130 | Seal | Martha E. | 04/20/1825 | 08/12/1896 | wife of J. Kellar |
| 131 | Witchee | Sarah H. J. | 01/1861 | 01/1892 | wife of C. O. Witchee |
| 132 | (Unmarked) | infant | 11/22/1882 | 11/22/1882 | son of Jas. and M.A. (?) (illegible; no headstone) |
| 133 | (Unmarked) | | | | |
| 134 | McQueen | Dave S. | 01/14/1883 | 12/04/1906 | |
| 135 | McQueen | William | 10/07/1890 | 06/17/1902 | |
| 136 | Nelson | infant | | 05/1904 | Infant of Henry G. and Malisa. A. Nelson |
| 137 | Nelson | Malisa | 05/31/1871 | 12/22/1926 | |
| 138 | Nelson | Henry | 07/16/1856 | 09/30/1928 | |
| 139 | Smith | William J. | 02/24/1876 | 02/18/1908 | |
| 140 | Jackson | Carl Doc | | 04/22/1926 | Mississippi Pvt. 1CL 142 Inf 36 DIV |
| 141 | Jackson | Infant | 04/16/1897 | 04/16/1897 | Child of W.B. & E. Jackson |
| 142 | Jackson | W. B. | 09/20/1868 | 06/14/1926 | |
| 143 | Lott | Mary J. | 10/08/1847 | 11/30/1923 | "Mother" |
| 144 | Martin | Gladys Marie | 08/14/1920 | 12/13/1921 | daughter of W.A. and Dora Martin |
| 145 | Martin | Mury E. | 05/13/1871 | 12/19/1907 | |
| 146 | Miller | Baby | | 07/12/1905 | baby of A.T. and M.J. Miller |
| 147 | Brown | Sarah Miller | 01/19/1835 | 12/11/1920 | |
| 148 | Gipson | Rebeka | 09/15/1881 | 07/06/1901 | |
| 149 | Curry | George Luc | 04/06/1926 | 07/06/1927 | |
| 150 | Curry | Edna | 10/16/1910 | | Reserved |
| 151 | Shelton | William | 11/24/1893 | 03/17/1964 | Kentucky CPT 2 Co US USFLN |
| 152 | Mitchell | Willie Ellis | 05/14/1895 | 12/29/1964 | |
| 153 | Alsobrooks | Robert Eli | 09/14/1901 | 08/31/1973 | |
| 154 | Kennedy | Alf | 12/12/1910 | 11/20/1966 | |
| 155 | Kennedy | Lois A. | 09/14/1923 | | reserved |
| 156 | Ott | John Nelson | 12/30/1947 | 04/27/1971 | |
| 157 | Gayle | Judy | 12/15/1946 | | reserved |
| 158 | Stockstill | Arthur E. | 06/08/1928 | | reserved |
| 159 | Stockstill | Lola Rae | 01/16/1927 | 12/11/1952 | |
| 160 | Bond | D. Alger | 1904 | 1950 | |
| 161 | Bond | Ricky Altazan | 03/02/1968 | 03/02/1968 | |
| 162 | (Unmarked) | baby | | | |
| 163 | Mitchell | Elsie Smith | 06/04/1897 | 03/07/1935 | |
| 164 | Miller | Lillie | 1914 | 1943 | |
| 165 | Keller | Laura Elizabeth | 03/26/1801 | 03/01/1920 | wife of C. H. Miller |
| 166 | Miller | Charles H. | 1875 | 1960 | |
| 167 | Stiber | Charles Horace | 01/21/1927 | 04/06/1927 | |
| 168 | Miller | Ola R. | 1902 | 1970 | |
| 169 | Kellar | Lillian J. | 11/04/1882 | 04/26/1952 | wife of C.J. Baker |
| 170 | Baker | Gladys | 06/03/1914 | 05/21/1917 | |
| 171 | Baker | Florence | 06/03/1914 | | reserved |
| 172 | Baker | Tomey | 07/01/1910 | 12/17/1912 | |
| 173 | Blackmon | Sallie Elizabeth | 01/26/1854 | 01/30/1936 | |
| 174 | Blackmon | Oliver Newton | 08/31/1861 | 05/07/1924 | |
| 175 | Hover | Victoria L. Jones | 09/1893 | 1961 | |
| 176 | Blackmon | Frank | 09/22/1882 | 11/18/1919 | husband of Victoria |
| 177 | Tarver | Mrs. Crystal | | 02/08/1937 | Age 28 |
| 178 | Shoemaker | Mrs. Elmee | | 04/30/1954 | Age 67 years 4 mos 3 days |
| 179 | Shoemaker | Thomas B. | | 09/20/1952 | Age 67 years, 9 mos 21 days |
| 180 | Kellar | Amanda S. | 08/12/1878 | 06/13/1949 | |
| 181 | Kellar | William A. | 03/10/1878 | 05/29/1919 | |
| 182 | Kellar | Harold Glen | 02/02/1938 | 02/02/1938 | |
| 183 | Kellar | Clinton A. | 10/05/1918 | 12/23/1933 | PFC US Inf H Co 709th TK BN |
| 184 | Kellar | Lucille C. | 07/30/1921 | | reserved |
| 185 | (Illegible) | | | | |
| 186 | Bennett | Joel Amos | 1909 | 1954 | "Father" |
| 187 | Thigpen | Sarah S. | 12/06/1879 | 08/06/1965 | "Mother" |
| 188 | Thigpen | John A. | 06/10/1886 | 10/11/1961 | "Father" |
| 189 | (Unmarked) | | | | Initials only: L.C.K. & C.A.K. |
| 190 | (Illegible) | | | | |
| 192 | McQueen | Martha B. | 09/05/1905 | 09/16/1969 | |
| 193 | McQueen | Lorett K. | 12/21/1864 | 07/20/1952 | |
| 194 | Carver | Petronia Elizabeth Dawsey | 12/01/1887 | 02/18/1967 | |
| 195 | Carver | Joseph | 01/18/1876 | 02/08/1947 | |
| 196 | Peterman | Johnnie Freeman | 12/05/1915 | 01/09/1931 | |
| 197 | Smith | Baby | | 02/06/1911 | infant of Joe Smith |
| 198 | Smith | Baby | | 04/08/1910 | infant of Joe Smith |
| 199 | Smith | Baby | | 02/25/1913 | infant of Joe Smith |
| 200 | Lott | Jesse | 07/30/1872 | 12/14/1933 | |
| 201 | Lott | Lena | 10/08/1870 | 07/29/1948 | |
| 202 | Seal | Eva | 09/22/1929 | 09/24/1929 | |
| 203 | Henley | Mary McQueen | 03/26/1873 | 12/10/1943 | |
| 204 | Henley | John | 09/22/1867 | 07/24/1951 | |
| 205 | Henley | Jeabymire | | 04/14/1903 | Age 79 years |
| 206 | Henley | Amanda | 06/30/1830 | 09/08/1891 | |
| 207 | Henley | Infant | 05/31/1918 | 06/01/1918 | Child of John Henley |
| 208 | Evans | Infant | | 09/15/1941 | son of Mr. & Mrs. C C Evans |
| 209/211 | (Unmarked) | | | | |
| 212 | Dawsey | Trecia Holden | 06/02/1893 | 01/01/1930 | |
| 213 | Holden | Maylon Joseph | 08/01/1864 | 05/03/1942 | son of Maylon Holden, Sr. and Susanna Lott; m. Louisa V. Kenmar |
| 214 | Holden | Louisa V. Kenmar | 01/30/1872 | 10/27/1949 | |
| 215 | McGehee | James Ira | 05/26/1864 | 11/25/1922 | |
| 216 | McGehee | Mary Alice | 04/30/1882 | 06/06/1952 | |
| 217 | Strain | Emma McGehee | 02/27/1870 | 04/09/1922 | |
| 218 | Jones | Norris Hermon | 07/10/1910 | 04/13/1969 | |
| 219 | Jones | Louis N. | 03/22/1865 | 07/29/1947 | |
| 220 | Jones | Otissa | 06/18/1877 | 02/23/1939 | |
| 221 | Healey | Infant | 11/24/1926 | 11/30/1926 | son of J.Z. and M.E. Healey |
| 222 | Favre | William Chris | 1893 | 1938 | |
| 223 | Favre | Nellie Thompson | 1894 | 05/13/1938 | |
| 224 | Holden | Edward Joseph "Rufus" | 1905 | 1947 | |
| 225 | Holden | Gideon | 1871 | 1925 | |
| 226 | Holden | Catherine Dorian "Katie" Dawsey | 03/03/1881 | 1948 | |
| 227 | Holleman | Touime Victor Sr. | 03/13/1869 | 05/09/1948 | |
| 228 | McCarty | Mary A. | 09/05/1874 | 05/05/1937 | wife of T. V. Holleman |
| 229 | Frierson | Mary Alice Lee | 07/04/1863 | 12/13/1932 | "Mother"; wife of T.J. Frierson |
| 230 | Frierson | Thomas Jefferson | 11/21/1863 | 09/22/1937 | "Father" |
| 231 | Frierson | Benjamin Luther | 10/25/1801 | 06/20/1955 | |
| 232 | Frierson | Maude M. | 03/11/1892 | 09/15/1958 | |
| 233 | Frierson | G.A. Chadwick | 08/09/1912 | 04/13/1937 | |
| 234 | Smith | Archie B. | 01/30/1900 | 08/20/1910 | |
| 235 | Smith | Leona | 04/20/1863 | 10/14/1911 | |
| 236 | (Illegible) | | | | |
| 237 | Parker | Bonnie Lou | 10/18/1958 | 07/08/1974 | |
| 238 | Williams | Eugene | 08/02/1939 | 01/07/1972 | |
| 239 | Williams | Irma | 07/31/1939 | 11/18/1943 | |
| 240 | (Illegible) | | | | |
| 241 | Williams | Buck | 08/24/1874 | 01/28/1949 | |
| 242 | Williams | Reba | 06/02/1882 | 02/04/1958 | |
| 243 | Willis | Jeff | | | no dates |
| 244 | Holden | Earl | 04/14/1910 | 06/26/1977 | |
| 245 | Holden | Oscar Louise Thigpen | 03/12/1918 | 04/09/2001 | |
| 246 | Holden | August, Rev. | 08/30/1902 | 06/04/1968 | |
| 247 | Holden | Eugenia "Didro" Kennedy | 11/13/1907 | 08/30/1996 | |
| 248 | Kellar | Simon | 06/21/1912 | 05/28/1978 | |
| 249 | F. | Cleo | 08/25/1919 | | reserved |
| 250 | Kemp | William Otho | 09/20/1911 | | reserved |
| 251 | Kemp | Janie Kellar | 09/15/1917 | 05/05/1980 | |
| 252 | Smith | John W. "Tater Pone" | 07/29/1838 | 02/18/1916 | |
| 253 | Johnson | Mary A. Landrun | 08/24/1842 | 11/03/1916 | m. John W. Smith |
| 254 | Kellar | A. A. | 11/20/1860 | 06/01/1914 | |
| 255 | Holden | Belle | 10/15/1908 | 01/23/1939 | Wife Of W. E. Ruffin |
| 256 | Kellar | Luther Turner | 02/19/1917 | 09/14/1978 | Pfc Us Army Ww Ii |
| 257 | Kellar | Daniel Leander | 01/08/1906 | 08/24/1976 | |
| 258 | Kellar | Louise Shaw | | | Reserved; "Married March 2, 1932" |
| 259 | Kellar | Ethel | 08/25/1913 | 09/05/1913 | |
| 260 | Kellar | Infant | 12/05/1921 | 11/23/1922 | Infant Of C. C. And Lola Kellar |
| 261 | Kellar | Flora Edith | 10/04/1908 | 10/23/1986 | |
| 262 | Kellar | Albert L. | 09/25/1927 | 01/23/1986 | |
| 263 | Kellar | Ina L. | 09/04/1935 | 03/22/1952 | |
| 264 | Kellar | James Claude | 10/10/1924 | 03/04/1988 | Cpl Us Army Air Corps |
| 265 | Kellar | Dorothy H. | 1988 | 1988 | |
| 266 | Kellar | Annie Lenora Stewart | 07/23/1902 | 08/07/1954 | |
| 267 | Kellar | Charley Wesley | 06/29/1893 | 12/02/1982 | |
| 268 | Simmons | John | 09/03/1920 | 03/28/1952 | Reinterred from Gainesville #023 |
| 269 | Whitfield | Ollie Ada | 01/10/1867 | 01/23/1924 | Reinterred from Gainesville #070 |
| 270 | Davis | Infant | | | Reinterred from Gainesville #213 |
| 271 | Davis | Infant | | | Reinterred from Gainesville #212 |
| 272 | Davis | Infant | | | Reinterred from Gainesville #211 |
| 273 | Moolekamp | Lou | | | Reinterred from Gainesville #074 |
| 274 | Moolekamp | Frank | | | Reinterred from Gainesville #073 |
| 275 | Moolekamp | Molinda | | | Reinterred from Gainesville #072 |
| 276 | Miller | Abby Lee | 1825 | 1902 | Reinterred from Gainesville #062 |
| 277 | Miller | Mary J. | 12/21/1852 | 01/21/1901 | Reinterred from Gainesville #061 |
| 278 | Miller | Sylvester | 12/22/1846 | 01/03/1877 | Reinterred from Gainesville #060 |
| 279 | Carbonett | James | | | Reinterred from Gainesville #225 |
| 280 | Dunegan | Claud T. | | | |
| unk | Alsobrooks | Gasparine McQueen | 01/14/1877 | 03/22/1914 | |
| unk | Alsobrooks | John Albert | 04/27/1872 | 04/09/1938 | |
| unk | Alsobrooks | L. | 08/14/1848 | 08/28/1919 | |
| unk | Alsobrooks | Myrtle Stewart | 10/09/1906 | 06/18/1993 | |
| unk | Alsobrooks | T W | 02/11/1889 | 10/06/1911 | |
| unk | Andrews | Ellwood | 11/11/1927 | | |
| unk | Andrews | Loya Lee Alsobrooks | 05/12/1926 | 11/30/2002 | |
| unk | Asher | Maude D Mitchell | 10/01/1888 | 03/18/1920 | |
| unk | Bennett | Andrew Daniel | 06/01/1865 | 03/16/1932 | |
| unk | Bennett | Lavinia | 05/30/1895 | 02/17/1959 | |
| unk | Bennett | Nancy Smith | 12/18/1869 | 09/24/1934 | |
| unk | Billiott | Patricia Ann Dunn | 02/23/1947 | 03/14/2003 | |
| unk | Bond | James A | 10/31/1942 | 03/23/2001 | |
| unk | Brown | Caroline "Carrie" Lott | 12/31/1884 | 11/15/1939 | |
| unk | Brown | James Wilton | 08/23/1907 | 05/21/1926 | |
| unk | Brown | Lula | 1904 | 1991 | |
| unk | Brown | Mary Ann Whitfield | 01/08/1844 | 03/20/1921 | |
| unk | Brown | Media L | 05/12/1896 | 07/17/1968 | |
| unk | Brown | Reuben, Jr | 03/31/1885 | 05/21/1926 | |
| unk | Brown | Reuben, Sr | 11/15/1846 | 12/07/1925 | |
| unk | Brown | Surriller Thigpen | 09/29/1847 | 07/17/1939 | |
| unk | Brown | Thornton | 01/13/1833 | 04/11/1925 | |
| unk | Brown | Thorton S. | 1904 | 1961 | |
| unk | Brown | Willaby Thornton | 08/08/1870 | 09/26/1897 | |
| unk | Burks | Emily E. Thigpen | 12/08/1872 | 12/20/1948 | |
| unk | Burks | Leonard Emile | 10/31/1872 | 06/02/1946 | |
| unk | Carver | Joseph, Jr | 1913 | 1919 | |
| unk | Casanova | Charles C | 02/07/1892 | 12/26/1955 | |
| unk | Casanova | Emma McQueen | 02/02/1898 | 04/29/1997 | |
| unk | Craft | Horace W | 11/24/1910 | 08/19/1973 | |
| unk | Cuevas | Chester Raymond | 02/17/1895 | 08/11/1961 | |
| unk | Cuevas | Edith Dawsey | 01/02/1928 | 10/23/1989 | |
| unk | Cuevas | Elder Frank | 09/30/1920 | 10/07/1978 | |
| unk | Cuevas | Infant Daughter | 04/10/1951 | 04/10/1951 | |
| unk | Cuevas | John Norris | 05/24/1896 | 03/1975 | |
| unk | Cuevas | L. C. Edward | 05/09/1923 | 10/15/1983 | |
| unk | Cuevas | Madie Ella Brady | 03/10/1892 | 05/10/1971 | |
| unk | Cuevas | Pearl Floyd | 12/27/1906 | 12/15/1998 | |
| unk | Curry | Jas Doc | 1902 | 1959 | |
| unk | Davis | Lucille Marie | | 09/05/1984 | |
| unk | Dawsey | Andrew | 10/26/1915 | 11/27/1923 | |
| unk | Dawsey | Elias | 07/30/1903 | 07/04/1915 | |
| unk | Dawsey | Evelyn Dallie "Dallie" Carver | 07/16/1904 | 05/01/1985 | |
| unk | Dawsey | Francis Elizabeth "Fanny" Holden | 03/10/1883 | 12/06/1966 | |
| unk | Dawsey | Georgia Lynn | 01/15/1959 | 01/15/1959 | |
| unk | Dawsey | James Jefferson | 03/31/1889 | 09/04/1973 | |
| unk | Dawsey | Jessie "Bud" | 03/23/1887 | 10/16/1947 | |
| unk | Dawsey | John | 07/07/1893 | 05/05/1964 | |
| unk | Dawsey | Malon | 01/11/1896 | 09/08/1956 | |
| unk | Dawsey | Martha E. Davis | 05/13/1921 | 12/07/2006 | |
| unk | Dawsey | Martha Magnolia Fleming | 02/19/1905 | 03/27/1968 | |
| unk | Dawsey | Nancy Keziah Smith | 01/19/1902 | 06/22/1972 | |
| unk | Dawsey | Nancy Levicy Frierson | 10/15/1885 | 02/03/1969 | |
| unk | Dawsey | Rufus | 08/20/1837 | 05/11/1913 | |
| unk | Dawsey | Rufus Leonard | 10/01/1875 | 06/13/1959 | |
| unk | Dawsey | Rufus Leonard, II | 09/20/1907 | 10/01/1990 | |
| unk | Dawsey | Russell | 07/21/1934 | 02/28/1991 | |
| unk | Dawsey | Sammy | 08/24/1907 | 06/15/1978 | |
| unk | Dawsey | Susan Elizabeth Painter | 08/09/1850 | 02/06/1923 | |
| unk | Dawsey | Ulman | 04/18/1913 | 12/07/1937 | |
| unk | Dawsey | Virgil London | 01/16/1916 | 04/25/1917 | |
| unk | Dawsey | William Whitfield "Bill" | 06/23/1880 | 08/13/1948 | |
| unk | Dawsey | Winnie Mae Kenmar | 10/22/1898 | 11/05/1980 | |
| unk | Dean | Aaron Otis | 10/15/1898 | 03/21/1968 | |
| unk | Dean | Harlan G. (Boogie), Sr | | 11/17/2005 | |
| unk | Dean | Henry D | 04/06/1890 | 06/15/1981 | |
| unk | Dean | Lillian P | 06/05/1902 | 08/19/1985 | |
| unk | Dean | Oma Pittman | | | |
| unk | Dean | Oscar David | 03/1888 | | |
| unk | Dean | Thomas Hardy | 03/07/1884 | 01/19/1954 | |
| unk | Dean | William H | 07/18/1895 | 12/29/1966 | buried next to Alice O. Denty, shared headstone, married? |
| unk | Dean | William Hardy | 07/25/1845 | 01/25/1924 | vault; next to William Dean |
| unk | Dedeaux | Louvia Frierson | 10/21/1896 | 10/30/1972 | |
| unk | Denty | Alice O. | | | buried next to William Dean, shared headstone, married? |
| unk | Dillard | Edith Mae Dawsey | 04/25/1922 | 05/11/1999 | |
| unk | Dillard | Rev Johnny, Sr | 03/30/1913 | 03/12/1996 | |
| unk | Dunn | Cyril James "Jim" | 12/08/1924 | 06/27/1992 | |
| unk | Evans | Loyola K | 1914 | 1985 | |
| unk | Ferguson | Donna (Jones) | 06/28/1948 | 01/03/2009 | |
| unk | Fleming | Eveline Woodcock | 1827 | 1887 | |
| unk | Fleming | Iyone | 11/01/1945 | 12/10/1955 | |
| unk | Fleming | James Alexander | 07/07/1818 | 12/25/1894 | |
| unk | Fleming | James A. | 12/27/1875 | 08/28/1954 | |
| unk | Fleming | Mary | 1864 | 06/1871 | |
| unk | Fleming | Mary L | | 04/19/1946 | |
| unk | Frierson | Aaron M. | 11/07/1888 | 06/25/1973 | |
| unk | Frierson | Alton "Dot" | 10/01/1917 | 06/05/1983 | |
| unk | Frierson | Archie | 1883 | 1960 | |
| unk | Frierson | Carrie Angeline Thigpen | 08/01/1883 | 11/15/1972 | |
| unk | Frierson | Clarence P. | 01/27/1893 | 03/29/1991 | |
| unk | Frierson | Clayton | 12/18/1923 | 08/02/1987 | |
| unk | Frierson | George | 10/22/1898 | 11/06/1967 | |
| unk | Frierson | Georgie Etta | 08/02/1958 | 11/26/1960 | |
| unk | Frierson | Harry Lee, Sr | 01/22/1935 | 12/05/1992 | |
| unk | Frierson | Isaac M. | 1893 | 1965 | |
| unk | Frierson | J D | 04/26/1911 | 08/05/1930 | |
| unk | Frierson | James Daniel | 03/03/1880 | 02/15/1969 | |
| unk | Frierson | James G. | 01/03/1853 | 02/12/1922 | |
| unk | Frierson | James G. | 12/10/1887 | 03/22/1952 | |
| unk | Frierson | Jennie | 1884 | 1974 | |
| unk | Frierson | John Edward | 09/22/1912 | 12/04/1986 | |
| unk | Frierson | Joshua A. S. | 10/08/1976 | 09/15/1990 | |
| unk | Frierson | Josie Bilbo | 03/12/1910 | 10/27/1987 | |
| unk | Frierson | Lucy Victoria | 10/30/1897 | 09/02/1985 | |
| unk | Frierson | Maggie M. | 1901 | 1972 | |
| unk | Frierson | Mary E. | 09/12/1858 | 03/06/1938 | |
| unk | Frierson | Mary Turner Graham | 08/06/1798 | 12/20/1890 | |
| unk | Frierson | Molly M. C. | 02/02/1934 | 09/15/1990 | |
| unk | Frierson | Oneal [ Ted ] | 03/14/1916 | 11/1976 | |
| unk | Frierson | Randolph | 06/17/1900 | 07/12/1968 | |
| unk | Frierson | Ray M. | 09/02/1929 | 09/15/1990 | |
| unk | Frierson | Rosa J. | 04/28/1894 | 04/23/1970 | |
| unk | Frierson | William | 08/20/1797 | 01/11/1869 | |
| unk | Garcia | Annette McQueen | 1906 | 1935 | |
| unk | Garriga | Jannet M | 06/05/1940 | 02/16/2007 | |
| unk | Haas | Louisa McQueen | 03/13/1884 | 04/13/1906 | |
| unk | Henley | Antoney Hezekiah | 12/29/1865 | 08/14/1915 | |
| unk | Hillhouse | Minis M | | 02/25/1960 | |
| unk | Hogan | John | 03/30/1878 | 05/28/1958 | |
| unk | Hogan | Nellie Edna Dawsey | 02/22/1885 | 11/17/1923 | |
| unk | Hover | James Lester | 08/30/1926 | 10/28/2002 | |
| unk | Hover | Marietta Favre | 08/19/1927 | 1994 | |
| unk | Hover | Mary Darlene | 07/15/1965 | 07/15/1965 | |
| unk | Howard | Pamela Ann | 02/03/1952 | 09/15/1990 | |
| unk | Hyatt | Alma McQueen | 04/09/1911 | 03/08/1993 | |
| unk | ----00 | Infant | | | |
| unk | ----00 | Infant | | | |
| unk | Jarrell | Forrest | 03/06/1927 | 07/11/1994 | |
| unk | Jarrell | Georgia Etta | 01/03/1944 | 08/17/1960 | |
| unk | Jarrell | Horace | 03/16/1920 | 08/21/2001 | |
| unk | Jarrell | Mentora Woods | 08/08/1928 | 02/13/1994 | |
| unk | Jarrell | Mildred Lee | 1911 | 1989 | |
| unk | Jarrell | William C | 1932 | 1991 | |
| unk | Jarrell | Willie Mae | 01/02/1924 | 10/29/1995 | |
| unk | Johnson | Jana Jewel Dickerson | | 01/30/2008 | |
| unk | Jones | Corbett Denton, Jr | 11/02/1946 | 02/21/1971 | |
| unk | Jones | Joseph Casimere | 04/18/1889 | 1955 | |
| unk | Jones | Malissa Rester | 04/03/1894 | 07/07/1984 | |
| unk | Jordan | Dorothy M. Thigpen | 1926 | 1961 | |
| unk | Kellar | Dora Lee | 08/21/1931 | 01/13/2000 | |
| unk | Kellar | Olivia "Aunt B" | 08/06/1898 | 07/22/1994 | |
| unk | Kellar | William H | 09/09/1926 | 03/21/2006 | |
| unk | Kemp | Roland | 11/10/1949 | 08/21/1966 | |
| unk | Kennedy | Ada Pearl Carver | 04/21/1926 | 01/01/1969 | |
| unk | Kennedy | Clarence Obrey "Toby" | 01/27/1945 | 02/15/2008 | |
| unk | Kennedy | Emma Pearl Thigpen | 04/15/1883 | 10/16/1967 | |
| unk | Kennedy | Gladys Hines Miller | 1911 | 09/29/1949 | |
| unk | Kennedy | Horace Edward | 08/08/1946 | 11/26/2003 | |
| unk | Kennedy | James Richard "JR" | 1928 | 1930 | |
| unk | Kennedy | Louis Bolden | 01/23/1877 | 07/01/1926 | |
| unk | Kennedy | Prentice, Sr | 12/20/1911 | 01/05/2005 | |
| unk | Kennedy | Ruby | 01/21/1918 | 01/08/1919 | |
| unk | Kennedy | William Richard | 04/02/1904 | 03/1969 | |
| unk | Kimp | Marvin Lee | 04/11/1959 | 01/20/1999 | |
| unk | Ladner | Ervin | 03/12/1914 | | |
| unk | Ladner | Mattie Elizabeth Thames | 01/23/1919 | 04/01/1967 | |
| unk | Ladner | Norman | 11/16/1937 | 12/28/2003 | |
| unk | Ladner | Norman Charles | 1972 | 08/21/1989 | |
| unk | Lee | Angeline Kenmore | 12/03/1881 | 10/12/1941 | |
| unk | Lee | Ardella K | 06/16/1911 | 06/04/1997 | |
| unk | Lee | Bryan Howard | 12/19/1971 | 01/22/1988 | |
| unk | Lee | Deborah L | 11/29/1964 | 01/08/1966 | |
| unk | Lee | Durwood A | 05/15/1961 | 03/30/1982 | |
| unk | Lee | Elijah Ezar | 05/16/1915 | 01/14/1994 | |
| unk | Lee | Elizabeth | 1836 | 1912 | |
| unk | Lee | Ester Esaw | 12/22/1907 | 10/04/1989 | |
| unk | Lee | Helen Ruffin | 04/30/1919 | 05/07/1993 | |
| unk | Lee | James Daniel | 11/25/1854 | 11/11/1941 | |
| unk | Lee | Larry Howard | 1947 | 1968 | |
| unk | Lee | Nancy | 07/19/1807 | 1870 | |
| unk | Lee | Pearl | 1952 | 1968 | |
| unk | Lee | Thomas Edward | 08/04/1938 | 06/14/2002 | |
| unk | Lee | Thomas L | 1825 | 1909 | |
| unk | Lowe | Leon L | 12/23/1912 | 11/04/1999 | |
| unk | Luxich | Christopher "Chris" | 08/28/1903 | 03/08/1976 | |
| unk | Luxich | May Olivia "Mam" Dawsey | 09/29/1905 | 05/19/2001 | |
| unk | McArthur | Emelina Cuevas | 06/22/1872 | 09/30/1939 | |
| unk | McArthur | Marsoline | 05/14/1867 | 01/21/1933 | |
| unk | McArthur | Mary Mathilda McCarty | 09/1834 | 1926 | |
| unk | McArthur | Solomon, Jr | 09/16/1867 | 10/20/1944 | |
| unk | McArthur | Solomon, Sr | 10/03/1834 | 11/27/1891 | |
| unk | McArthur | Thomas L | 1864 | 1946 | |
| unk | Mcduffie | Doris Lindsey Frierson | | | |
| unk | McGehee | Ira E | 06/16/1888 | 05/07/1966 | |
| unk | McGehee | Mary Alice Seal | 11/16/1891 | 09/01/1970 | |
| unk | McQueen | Andrew | 06/15/1909 | 04/18/1953 | |
| unk | McQueen | Antonette Seal | 10/01/1859 | 03/30/1926 | |
| unk | McQueen | Archie | 06/11/1901 | 02/22/1973 | |
| unk | McQueen | Bob | 03/28/1910 | 06/13/1993 | |
| unk | McQueen | Bobbie | 07/24/1930 | 01/22/1933 | |
| unk | McQueen | Bobby | 01/11/1937 | 10/09/1980 | |
| unk | McQueen | Clyde Sylvester | 02/10/1926 | 02/13/1926 | |
| unk | McQueen | Curtis | 1919 | 2009 | |
| unk | McQueen | Daisy Wilson | 01/31/1921 | 07/08/2001 | |
| unk | McQueen | Dave O | 07/07/1886 | 06/10/1969 | |
| unk | McQueen | David O | 11/18/1863 | 05/14/1886 | |
| unk | McQueen | Dicie Ann Frierson | 07/25/1888 | 07/19/1981 | |
| unk | McQueen | Doris | 04/09/1925 | 03/18/2011 | |
| unk | McQueen | Elizabeth | 1872 | 1961 | |
| unk | McQueen | Erve | 1871 | 1966 | |
| unk | McQueen | Eunice C | 06/06/1917 | | |
| unk | McQueen | Evelyn | 11/11/1926 | | |
| unk | McQueen | Gilley A Steward | 07/10/1852 | 08/27/1906 | |
| unk | McQueen | Horace | 06/10/1892 | 08/13/1964 | |
| unk | McQueen | infant | 08/18/1897 | 08/24/1897 | |
| unk | McQueen | Infant | 05/26/1908 | 11/04/1908 | |
| unk | McQueen | Infant | 05/03/1913 | 05/05/1913 | |
| unk | McQueen | Infant Son | 11/11/1928 | 11/12/1928 | |
| unk | McQueen | J Berkley | 08/10/1948 | 12/06/1993 | |
| unk | McQueen | J.H. "Harve" | 06/02/1904 | 10/26/1974 | |
| unk | McQueen | James J | 1888 | 1937 | |
| unk | McQueen | James Julius "Sleepy", Sr | 06/13/1922 | 07/01/1980 | |
| unk | McQueen | James T "Sugar" | 02/25/1925 | 11/01/1993 | |
| unk | McQueen | Jane A | 02/18/1896 | 09/10/1993 | |
| unk | McQueen | Jas. J | 10/30/1849 | 03/17/1914 | |
| unk | McQueen | John Franklin | 12/09/1878 | 1945 | |
| unk | McQueen | Mable Bernice | 08/31/1921 | 04/15/1964 | |
| unk | McQueen | Mamie A | 02/12/1897 | 01/04/1974 | |
| unk | McQueen | Marie J | 1930 | 1994 | |
| unk | McQueen | Martha Reva Craft | | 12/09/1959 | |
| unk | McQueen | Mary | 1827 | | |
| unk | McQueen | Mary Frances Eason | 02/02/1934 | 03/27/2002 | |
| unk | McQueen | Mary Jane S | 05/09/1892 | 03/26/1975 | |
| unk | McQueen | Nora D | 02/27/1900 | 01/14/2001 | |
| unk | McQueen | Opal | 09/20/1906 | 12/10/1999 | |
| unk | McQueen | Arven Leroy | 10/07/1921 | 08/01/1999 | |
| unk | McQueen | Randolph | 03/01/1900 | 08/05/1930 | |
| unk | McQueen | Revie C | 09/16/1892 | 12/09/1960 | |
| unk | McQueen | Rod | 08/31/1946 | 09/06/2000 | |
| unk | McQueen | Rufus | 05/20/1886 | 05/05/1959 | |
| unk | McQueen | Van | 06/07/1892 | 02/12/1928 | |
| unk | McQueen | Verna M Seal | 03/07/1926 | 10/03/1965 | |
| unk | McQueen | William Jasper "Tobe" | 12/29/1856 | 04/13/1936 | |
| unk | Meador | Baby Carl | 09/03/1918 | 09/03/1918 | |
| unk | Meador | Brenda J | 10/31/1959 | | |
| unk | Meador | Grace Smith Whitney | 10/09/1934 | 01/03/2003 | |
| unk | Meador | Lillie E McQueen | 04/28/1894 | 09/03/1918 | |
| unk | Miller | Arthur R | 09/04/1883 | 04/29/1961 | |
| unk | Miller | Pearl Marguerita Holden | 02/17/1886 | 09/10/1966 | |
| unk | Mitchell | Albert C | 07/19/1900 | 11/18/1937 | |
| unk | Mitchell | Alice Marie | 06/26/1927 | 08/02/1992 | |
| unk | Mitchell | Ben | 11/13/1865 | 05/05/1943 | |
| unk | Mitchell | Bessie | 1909 | 1975 | |
| unk | Mitchell | Deborah S | 11/24/1964 | | |
| unk | Mitchell | Frank | 11/06/1887 | 05/06/1903 | |
| unk | Mitchell | Harry J | 06/21/1902 | 08/22/1940 | |
| unk | Mitchell | Henry | 04/12/1886 | 01/27/1952 | |
| unk | Mitchell | Inez L | 08/29/1863 | 06/28/1908 | |
| unk | Mitchell | Ira L | 02/21/1925 | 06/19/1995 | |
| unk | Mitchell | John William | 04/16/1861 | 04/16/1935 | |
| unk | Mitchell | Lena | 08/08/1901 | | |
| unk | Mitchell | Lydia Lucy | 07/03/1912 | 11/27/1918 | |
| unk | Mitchell | Marvin L | 07/09/1912 | 02/16/1950 | |
| unk | Mitchell | Mary C. | 03/28/1870 | 09/05/1947 | |
| unk | Mitchell | Obedia T | 10/27/1901 | 09/13/1978 | |
| unk | Mitchell | Percy | | 09/27/1934 | |
| unk | Mitchell | Sarah Watts | 06/18/1888 | 09/04/1948 | |
| unk | Mitchell | T. J. | 07/07/1885 | 10/25/1922 | |
| unk | Mitchell | Travis B. | 03/08/1870 | 10/09/1953 | |
| unk | Necaise | Mary C. Thigpen | 05/06/1934 | 11/17/1994 | |
| unk | Norton | Barbara Sue Wood | 12/13/1957 | 12/11/2008 | |
| unk | Perry | Autry, Sr | 1923 | 2006 | |
| unk | Peterman | Leo Eugene | 12/12/1914 | 12/18/1914 | Reinterred from Gainesville #219 |
| unk | Pierce | Joseph B. | 07/20/1920 | 12/02/2004 | |
| unk | Pittman | Edna Mae | 01/23/1916 | 11/22/1972 | |
| unk | Pittman | Herbert | 06/13/1900 | 10/03/1969 | |
| unk | Porter | Silona Hinley | 02/02/1879 | 09/22/1948 | |
| unk | Pullman | George Henry | | 08/28/2011 | |
| unk | Rester | Rankin Thomas | 09/16/1902 | 08/19/1971 | |
| unk | Ruffin | Infant | 01/13/1939 | 01/13/1939 | |
| unk | Seal | Douglas H | 02/05/1922 | 12/09/1971 | |
| unk | Seal | Hiram T. | 01/25/1887 | 11/08/1971 | |
| unk | Seal | Jessie Lucille Van Dee | 06/06/1912 | 05/07/1939 | |
| unk | Seal | John Joseph | 1800 | 1850 | |
| unk | Seal | Lenora L. | 04/17/1893 | 11/24/1972 | |
| unk | Smith | Eli | 02/17/1903 | 10/10/1934 | |
| unk | Smith | Frances Angaline Whitfield | 1821 | 1851 | |
| unk | Smith | James Wiley | 01/21/1844 | 01/25/1894 | |
| unk | Smith | Jesse Emitt | 01/21/1840 | 12/01/1922 | |
| unk | Smith | Jordan | 1812 | 08/05/1886 | |
| unk | Smith | Leslie Graham | 08/18/1938 | 08/23/2004 | |
| unk | Smith | Mable Kellar | 10/15/1904 | 09/05/1993 | |
| unk | Smith | Rebecca J. Brown | 11/15/1840 | 12/04/1906 | |
| unk | Smith | Sarah Jane Frierson | 07/31/1831 | 01/03/1907 | |
| unk | Sones | Virginia Elizabeth | 05/1837 | 1912 | |
| unk | Stockstill | Angela [Sissy] | | | |
| unk | Stockstill | Arvin [ Dick ] Lee | 11/29/1947 | 11/30/1978 | |
| unk | Stockstill | Arvin Adolph [Dolph] | 08/27/1921 | 03/19/2001 | |
| unk | Stockstill | Sarah Adeline Frierson | 03/16/1919 | 02/08/1981 | |
| unk | Stockstill | Virgel C | 05/03/1903 | 08/12/1993 | |
| unk | Stockstill | Willie E. | 03/16/1895 | 04/22/1975 | |
| unk | Strahan | Ida Kenmar | 06/29/1904 | 04/25/1986 | |
| unk | Strahan | June | 06/03/1898 | 08/12/1975 | |
| unk | Tarver | Ruby O. | | 05/18/2008 | |
| unk | Thigpen | Albert Wilson | 02/24/1877 | 11/08/1951 | |
| unk | Thigpen | Alice | 01/17/1906 | 12/18/1970 | |
| unk | Thigpen | Cynthia Ellen Dean | 06/22/1892 | 04/22/1990 | |
| unk | Thigpen | Daniel A. | 03/23/1888 | 11/23/1918 | |
| unk | Thigpen | Doc | 05/31/1908 | 01/22/1992 | |
| unk | Thigpen | Elizabeth M. | 05/01/1875 | 01/06/1945 | |
| unk | Thigpen | Flora Victoria | 11/12/1906 | 02/19/1908 | |
| unk | Thigpen | Fred C. | 07/07/1925 | 07/24/1946 | |
| unk | Thigpen | George W. | 01/06/1914 | 01/29/1999 | |
| unk | Thigpen | J. B. | 05/06/1894 | 01/23/1981 | |
| unk | Thigpen | James T. | 03/09/1878 | 11/15/1949 | |
| unk | Thigpen | Janie M. | 11/07/1889 | 02/10/1958 | |
| unk | Thigpen | Jasper | 06/28/1845 | 02/14/1910 | |
| unk | Thigpen | John J. | 02/13/1879 | 04/09/1968 | |
| unk | Thigpen | Leo, Sr | 02/20/1902 | 03/29/1980 | |
| unk | Thigpen | Lily | 09/23/1897 | 03/09/1898 | |
| unk | Thigpen | Mary Aseneth Frierson | 12/02/1855 | 04/29/1934 | |
| unk | Thigpen | Mary Louise | 03/20/1898 | 05/29/1942 | |
| unk | Thigpen | Orine L. | 07/31/1917 | 09/04/1968 | |
| unk | Thigpen | Roy | 05/31/1910 | 05/14/1990 | |
| unk | Thigpen | Sarah Adeline Mitchell | 11/11/1867 | 02/07/1942 | |
| unk | Thigpen | Susan S. | 01/30/1887 | 02/10/1900 | |
| unk | Thigpen | Tenia | 09/21/1899 | 03/08/1976 | |
| unk | Thigpen | Thomas Jefferson | 02/23/1888 | 07/05/1971 | |
| unk | Thigpen | Viola M. | 07/13/1881 | 07/10/1975 | |
| unk | Thigpen | William Arville | 09/27/1923 | 03/11/1977 | |
| unk | Thigpen | William E. | 03/27/1871 | 02/27/1968 | |
| unk | Thigpen | William Graham | 04/23/1868 | 05/27/1939 | |
| unk | Watkins | Mark Elton | 11/10/1940 | 03/10/1996 | |
| unk | Whitfield | John Francis | 09/28/1840 | 09/27/1928 | |
| unk | Whitfield | Josephine | 12/10/1817 | 05/19/1930 | |
| unk | Whitfield | Nancy Bond Byrd | 1815 | 02/15/1860 | |
| unk | Whitfield | Seaborn Britt | 02/28/1805 | 09/18/1881 | |
| unk | Whitfield | William Aultman "Bill" | 12/05/1829 | 12/30/1911 | |
| unk | Whitney | Edwina Carver | 10/21/1908 | 04/07/1990 | |
| unk | Whitney | Henry Crass "Bolse" | 02/18/1901 | 03/09/1992 | |
| unk | Willis | Julia Anna (Seal) | 1787 | 1875 | |
| unk | Wood | Bennie R | 10/18/1961 | 05/19/1980 | |
| unk | Wood | Gussie D | 12/13/1921 | 01/18/2000 | |
| unk | Wood | William D | 01/02/1920 | 10/18/1978 | |
| unk | Woodcock | Jacob | 1798 | 1850 | |
| unk | Woodcock | James Wiley | 02/16/1898 | 10/28/1902 | |
| unk | Woodcock | Josh | 1914 | 1952 | |
| unk | Woodcock | S J | 02/04/1902 | 02/17/1902 | |
| unk | Woodcock | Sarah J. Carlisle | 05/1861 | 01/12/1900 | |
| unk | Woodcock | Sarah Maria Lewis | 1805 | | |
| unk | Woodcock | William Alexander | 08/1857 | 07/23/1903 | |
| unk | Woods | Edith | 10/03/1944 | 01/08/1946 | |
| unk | Woods | Jesse, Sr | 04/28/1919 | 01/04/1988 | |
| unk | Woods | Vera E Dawsey | 05/01/1927 | 08/04/1996 | |
| unk | Young | Janice W | 02/17/1948 | 01/25/1975 | |