Gipson Cemetery
Actually located in Pearl River County, but was part of Hancock County up until 1890. Cemetery has only partially been indexed.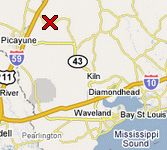 Directions:
From I-10 take the 603 North (= exit 13), then turn left on State Road 43 after about 5.7 miles. Turn right on Leetown Road after about 7.4 miles, then left at Caesar Necaise Road after 5.7 miles. Follow this road, and continue on West Union Road (it changes name at the intersection with Bouie Road). After approximately 4.1 miles, and not a 100 yards past the Caesar Road intersection, the cemetery is on the right hand side.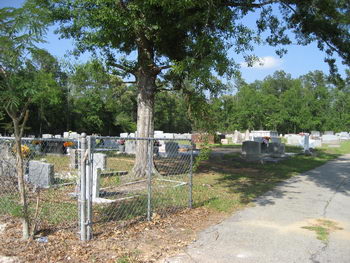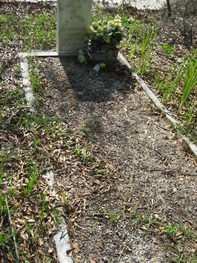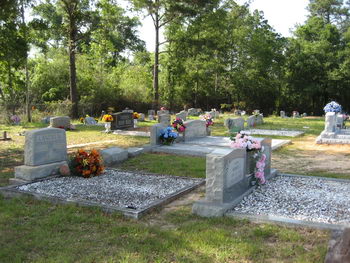 This cemetery has only partially been indexed.
Note: The table below is sorted by last name. Use Ctrl+F to search for a first, middle or maiden name, or part of a name.
| | | | | | |
| --- | --- | --- | --- | --- | --- |
| # | Last Name | First Name | Birth | Death | Comment |
| | Brogdon | Arminda D. | 01/14/1909 | 05/23/1948 | |
| | Brogdon | J. Denson | 07/28/1912 | 08/09/1956 | |
| | Gibson | James Allen | 04/09/1900 | 02/14/1975 | |
| | Gibson | Stella Smith | 02/22/1899 | 04/11/1975 | |
| | Gipson | Alford | 10/03/1903 | 08/14/1904 | |
| | Gipson | Eliza Ann Smith | 12/29/1859 | 02/03/1937 | mother |
| | Gipson | Eva Awilda | 05/26/1885 | 06/03/1930 | |
| | Gipson | Gertrude | 10/29/1903 | | |
| | Gipson | Infant Son | 01/12/1919 | 01/12/1919 | son of J.J. & E.A. Gipson |
| | Gipson | J. E. Sr. | | 06/1925 | |
| | Gipson | John E. Jr. | 06/05/1850 | 06/16/1925 | father |
| | Gipson | Joseph J. | 01/11/1878 | 10/08/1963 | |
| | Gipson | Levi A. | 11/22/1888 | 10/28/1953 | |
| | Jordan | Rodger Dale | 08/21/1972 | 02/07/1988 | |
| | Landrum | Agnes V. | 1899 | 1967 | |
| | Landrum | Luler Q. | 1894 | 1958 | |
| | Mckellip | Irese L. | 08/03/1919 | | |
| | Mckellip | Kenneth G. | 04/14/1922 | 12/22/1977 | |
| | Pigot | Alma | 1903 | 1990 | |
| | Smith | C. S. | 01/06/1845 | 03/03/1930 | confederate soldier |
| | Smith | Jordan | 05/06/1886 | 05/25/1973 | |
| | Spiers | Andrew Jackson | 1876 | 1945 | father |
| | Spiers | Mary Gipson | 1882 | 1963 | mother |
| | Spiers | Nyra | 06/23/1903 | 07/29/1904 | |
| | Wilkinson | J. L. | 1905 | 1909 | |
| | (Unmarked) | | 05/10/1907 | 04/25/1908 | |