Hancock County Cemeteries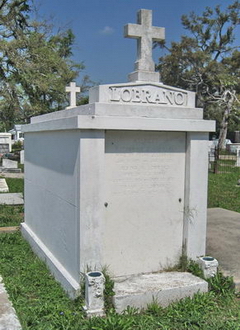 Kate Lobrano's grave in Cedar Rest
cemetery, Bay Saint Louis, MS
The Hancock County Historical Society has been working hard to catalog every possible cemetery in the county, and to create an inventory of all people buried in one of the county cemeteries. This database is always a work in progress, records will be added as they become available.
Click the following link to browse our entire database by last name:
Hancock County Cemetery Index

(13660 records)
Cemetery List
Below is a list of all the cemeteries and graveyards in Hancock County, as known to us. Click on an individual cemetery name to go to that cemetery's page. You will find directions, pictures for some, and - if indexed - an inventory of people buried there ordered by grave layout, so you might find out who's buried in close proximity. Not all cemeteries were indexed this way, but we did the best we could.