Hancock County Live Oak Tree Registration
An old postcard of trees in the road
on Front Street, Bay Saint Louis
Quercus virginiana, also known as the Southern Live Oak, has been part of our landscape for as long as anyone can remember. These majestic trees with Spanish moss hanging from their wide-spread branches are iconic of the Old South. And even in previous times they enjoyed somewhat of a privileged status. When Front Street in Bay Saint Louis was widened, the trees were not cut but simply left standing in the road.
Live Oak trees in Hancock County have been registered with Mississippi's Société des Arbres since 1973, with the intention of protecting and conserving these natural resources that add historical, aesthetic and environmental value to our area. First coordinated by the garden clubs and since 1993 by the Hancock County Historical Society, it became a combined effort between the Historical Society and the Bay-Waveland Garden Club after hurricane Katrina in 2005.
As of November 2011, there are almost 250 trees registered in Hancock County.
Registered trees will receive a certificate free of charge. If you would also like a plaque to mount on the tree itself, they can be ordered in 2 sizes: 4" x 4" at $12.00 or 4" x 6" at $14.00 each.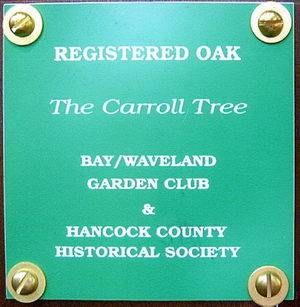 4"x4" plaque
HOW DO I REGISTER MY TREE?
If you have a tree that you think qualifies you need to fill out the request form and email it to Shawn Prychitko at treeregistry@gmail.com.
Click here to download the request form
The forms can also be picked up and dropped off at the Historical Society, or mailed to this location.
Hancock County Historical Society
108 Cue Street
Bay Saint Louis, MS 39520
After the form has been received, someone will contact you and make an appointment to come out to measure and record the necessary data for trees that qualify. Requests are taken in the order that they are received. All documents are kept on file at the Hancock County Historical Society.
WHAT ARE THE REQUIREMENTS?
Trees considered for registration must be located within Hancock County, Mississippi, and have to be located on privately owned property.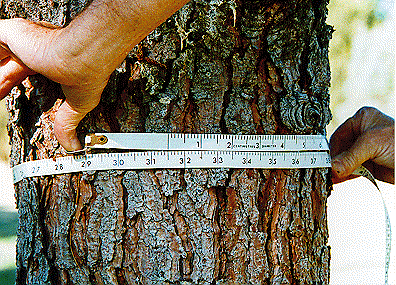 The tree has to have a circumference of 113 inches or greater (which is a diameter of 3 feet or more), measured at 4-1/2 feet from the ground. This puts the tree at an estimated age of 100 years or older.
If the tree forks below 4.5 feet then measure the circumference of the largest fork at 4.5 feet. If the tree forks at 4.5 feet, then measure the circumference at the smallest place below the fork. Needless to say, swellings, buttresses or large lumps have to be avoided.
If you have a particularly odd-shaped tree and are not sure where to measure, don't hesitate to email Shawn and ask.

The easiest way to measure circumference is to use a flexible tape measure or a non-stretch string and a ruler. Make sure the tape or string is perpendicular to the axis of the trunk and is not twisted, or your measurements won't be accurate.
If you have any questions or would like more information, please contact Shawn at treeregistry@gmail.com.
If your tree is not located in Hancock County, or if you want to register a tree other than a Live Oak, you can contact the Société des Arbres directly: Beverly Watson, Registrar-Historian/Co-Chair, 228-497-5679, bsmwatson@bellsouth.net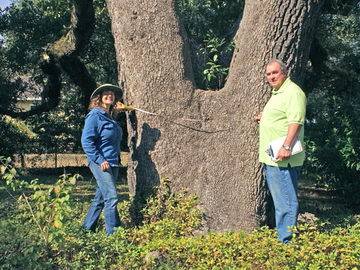 Shawn & Jim measuring a Live Oak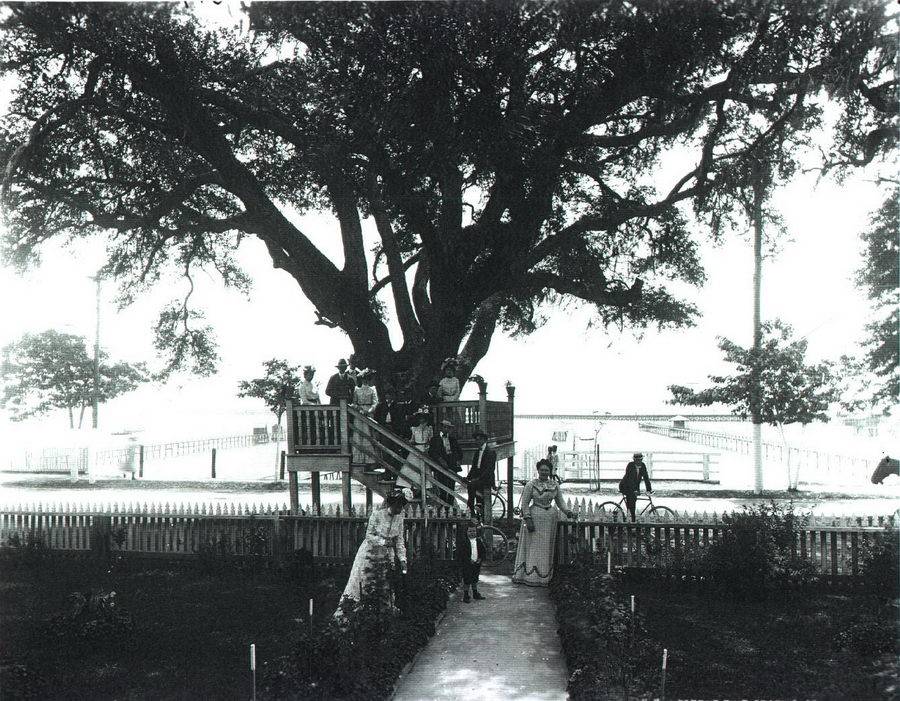 Live Oak with shoo-fly at 216 North Beach Boulevard, Bay Saint Louis