Early Hancock County Land Records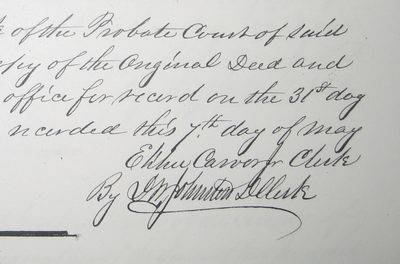 Elihu Carver's signature from Deed Book B
Hancock County land records from early statehood in 1817 were removed from Center, formerly Caesar, to Gainesville in 1837. However, in 1853 the Courthouse was destroyed by fire, and with it 36 years of written history.
It was immediately undertaken to re-register as many deeds and claims as possible. Apparently Deed Books A, B and C were the instruments of the recordings. The analysis of these books is invaluable in establishing early land claims in Hancock County, especially in the Pearl River and Gainesville areas.
Here you will find a synopsis of each of these recorded deeds. In some cases, editorial comments have been added when deemed helpful to researchers. Analysis of Book A was compiled by Russell Guerin with help from society members Louis Fuchs and Norma Jean Soroe. Analysis of Book B was compiled by Dr. Marco Giardino and Russell Guerin.
Further research in being done of Book C for a later presentation.
Copies of the original deeds are available for research at the Historical Society.