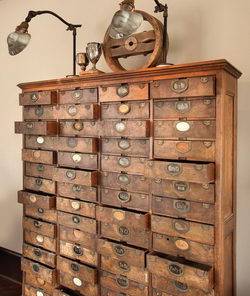 All of our reference materials at Lobrano House are freely available to the public for research.
We have several tables to work on, a copy machine, Wi-Fi, and a coffee maker and are open from 10am-12pm & 1pm-3pm weekdays.
In addition to books and publications, we have several file cabinets filled with family histories sorted by last name.
There is a large number of maps available for research, including the original Sanborn Maps (1892 - 1930 and 1963 updates)
We also have Indian artifacts and accompanying data, plus an extensive photo collection.
Lobrano House
Click on any of the links below to browse the reference materials available at Lobrano House:
List of our vertical files - Surnames
Containing documents about specific individuals and/or families.
We are in the process of digitizing these records and some can already be viewed online.
Online
The following of our records are available online (and accessible directly via the Research/Reference menu above):
Hancock County Cemeteries
Our cemetery section contains a list of all cemeteries and graveyards known to us in Hancock County. You will find directions, pictures for some, and - if indexed - an inventory of people buried there.
There is also a database that allows you to search in all cemeteries for a person by first letter of their last name.
Hancock County Census Records (1820 - 1840)
This database contains an index of the Hancock County Census Records, ranging from 1820 (the very first one) to 1840.
In these early years of the census records, only the name of the head of household was recorded.
This is still a work in progress and for now, we only have the names listed. Once the records have been transcribed and digitized, we will add the complete census data for each household. We will also be adding more recent years to this database, hopefully in the near future.
Catholic Church Records (1847 - 1911)
The Hancock County Historical Society has digitized its collection of Marriage and Baptismal Books as recorded by Our Lady of the Gulf Church in Bay Saint Louis, and the Church of the Annunciation in Kiln, Mississippi. The results have been stored in a database that can be searched by last name.
The names of all parties involved have been extracted individually, so anyone who is mentioned in these records, be they a parent, a godparent, a witness, or else, is included in this index.
Hancock County Marriage Index (1849 - 1956)
This database contains an index of all Hancock County marriages, as recorded by the Court, from 1849 to 1956.
Included are the bride, the groom, and witnesses. Brides are listed under their maiden name as well as their married name.
Starting in 1938, the Court also recorded father and mother of both bride and groom.
Obituaries
A listing of the obituaries we have on file at the Lobrano House.
Records contain the full text of the obituary as it appeared in the newspaper and, if known, source of publication, date of death and a link to the cemetery where the person was interred.
Early Land Records
Hancock County land records from early statehood in 1817 were removed from Center, formerly Caesar, to Gainesville in 1837. However, in 1853 the Courthouse was destroyed by fire, and with it 36 years of written history.
It was immediately undertaken to re-register as many deeds and claims as possible. Apparently Deed Books A, B and C were the instruments of the recordings. Book A has not been made available to the Hancock County Historical Society but this analysis of Book B, compiled by Dr. Marco Giardino and Mr. Russell Guerin, is invaluable in establishing early land claims in Hancock Count, especially in the Pearl River and Gainesville areas.
Alphabet File
The "Alphabet File" is a collection of newspaper articles, short publications and other records about Hancock County and its citizens, indexed by surnames and subjects involved, compiled and typed by Charles H. Gray.
The entire file can be searched.
External Sources
The following two websites are good sources of additional information on the history of Hancock County: